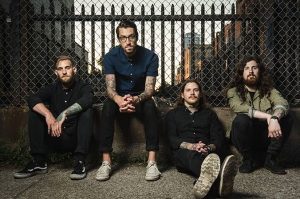 Metalcore heavyweights THE DEVIL WEARS PRADA are set for return to Australian shores in April 2017 in support of their latest release Transit Blues, which marks the bands sixth full-length album.
THE DEVIL WEARS PRADA has been the musical embodiment of a generational shift since their inception 11 years ago. Built on a diverse array of heavy, dark, melodic and genre-defying music, their pivotal breakout With Roots Above and Branches Below in 2009 challenged the status quo and notched widespread critical acclaim, with each subsequent album pushing the boundaries of the genre.
THE DEVIL WEARS PRADA's latest album Transit Blues marks a fresh approach, once again continuing to push the boundaries. Frontman Mike Hranica enthuses, "I think we've taken it to another level without writing radio songs, these new songs make more sense, have personal identity.
"TDWP fans will not be disappointed with this record by a long shot." – New Noise Magazine
"It's a pretty f**Kin' solid record" – Alternative Press
"The Devil Wears Prada, record after record, continue to punch out some of the heaviest, most influential metalcore in the genre." – Music Feeds
Joining the tour is San Diego post- hardcore purveyors BEING AS AN OCEAN. Since their inception, the band have built a massive and devoted following with their relentless touring schedule and sophisticated song writing delivering inspiring music filled with hope, love and inspiration. Australian fans will be some of the first to hear new material from their as yet unreleased 4th album.
THE DEVIL WEARS PRADA is bigger and bolder than any other of their genre. As a result, they have a groundswell of loyal Australian supporters, who've connected with the bands experiences, authenticity and musicianship. Prepare for relentless energy and an unforgettable performance from a group of individuals that stand in defiance of all things mundane.
EXCLUSIVE FAN PRE SALE BEGINS: TUESDAY 15th NOVEMBER – 9AM AEDT
Sign up HERE
TICKETS ON SALE: THURSDAY 17th NOVEMBER – 9AM LOCAL
Tour Dates
THURSDAY APRIL 6TH – EATONS HILL, BRISBANE (LIC/AA)
FRIDAY APRIL 7TH – THE METRO THEATRE, SYDNEY (LIC/AA)
SATURDAY APRIL 8TH – THE CORNER HOTEL, MELBOURNE (18+)
TUESDAY APRIL 11TH – FOWLERS LIVE, ADELAIDE (LIC/AA)
WEDNESDAY APRIL 12TH – AMPLIFIER BAR, PERTH (18+)
PRESENTED BY SELECT TOURING, BLUE MURDER & HYSTERIA MAG