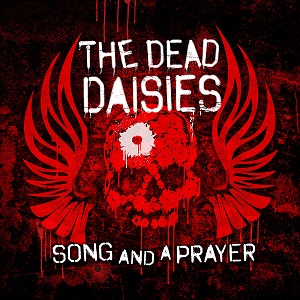 Riveting Hard Rockers The Dead Daisies have lined up the release of their captivating new single 'A Song And A Prayer', for today, November 4th on Spitfire Music / SPV, 8 days prior to kicking off their massive six-week joint-headline UK and European Tour with The Answer.
A brilliant, short film, has been created, reflecting the poignant story behind the lyrics of 'A Song And A Prayer', the fourth single to be taken from The Dead Daisies' much acclaimed new album 'Make Some Noise'. Filmed in Queensland with Producers Sally Madgwick, Benjamin Evans and Matti Crocker – Luminare Media, Direction from Damian Lang, a dynamic cast that include Alex Ftizalan (Ren), Ruby O'Kelly (Grape), Curtis Bock (Bok), and Cliff Ellis (Top Hat Man), 'Song And A Prayer' is unveiled today at: 
'Make Some Noise', crashed into global charts with Top 20's in England, Switzerland, USA, Germany, Sweden and charts in Canada, France, Belgium and Austria, firmly establishing the band in all these territories in August. In The U.S. their single 'Make Some Noise' is the Cardinals Football teams, 'Touch Down' song and NASCAR, one of the biggest car racing Associations in the World, are featuring the track in their latest promotional footage. The band all love their fast cars and are big fans of the awesome racing, thrills and excitement of NASCAR!
Says John Corabi: "This song turned out to have a special vibe to it, very accessible, which is really cool. But the lyrics are rather dark. In the end it's about hope, it talks about all the troubles we're all going through – and that you have to be hopeful, that you will come out of it. Always look on the positive side, that's the message." 
The Dead Daisies, who were recently special guests on KISS' 'Freedom To Rock' US tour, have just played their first ever USO headline tour for Servicemen and women in South Korea. Today, November 4th, they commence performing with KISS on the Kiss Kruise in Cozumel, Mexico, until November 9th.
The Dead Daisies, a 'must-see' live act who sold out their solo UK and European tour dates in July [plus wowed the crowds at three UK rock festivals (Ramblin' Man, Rock & Blues and Steelhouse) in 2 days], now their upcoming European dates are selling out with The Answer taking them through to December 20.
The Dead Daisies are: Doug Aldrich (Whitesnake, Dio), John Corabi (Mötley Crüe, The Scream), Marco Mendoza (Whitesnake, Thin Lizzy), Brian Tichy (Ozzy Osbourne, Foreigner) and David Lowy (Red Phoenix, Mink).
Tour Dates: http://thedeaddaisies.com/shows/