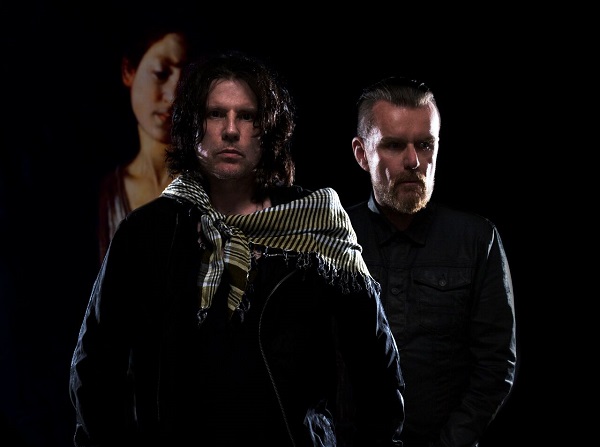 "I think I'm just a more mature gentleman, me and him don't own the songs, they're the property of the fans and I just try and do my best to play them with as much enthusiasm and integrity as I can so that they come and enjoy it, you know? So that's kind of where I'm at with it and it brings me a lot of joy."
From release: One of music's most influential bands with an arsenal of hits including: She Sells Sanctuary, Love Removal Machine and Fire Woman, The Cult bring their Hidden City Tour to Australia this November. The Cult – founding singer Ian Astbury and guitarist Billy Duffy along with drummer John Tempesta, bassist Grant Fitzpatrick and keyboardist/rhythm guitarist Damon Fox – is on the road now in support of their latest full-length release, Hidden City. Hidden City is The Cult's 10th studio album and the final chapter of the band's trilogy of releases which began with 2007's Born Into This followed by 2012's Choice of Weapon.
Just passing through North Carolina, Billy Duffy called in for a chat to discuss the upcoming Australian tour, their new album 'Hidden City', working with Bob Rock and all things The Cult…
Thanks for your time, Billy. Of course you're heading back to Australia in November, what can fans expect on this tour?
Well… the band is good because we're right at the end of a touring cycle, after this Australia / New Zealand tour we're going to take a break for a few months, so the band's got a lot of good muscle memory, we've really played everywhere, from the smallest club in London where Jimi Hendrix first got on stage ever in England to about fifty people because that's all it holds, to playing to a stadium in Mexico City opening for Guns N' Roses to a hundred thousand people or however many got in for free there was a lot. We've done it all this year, so the band's pretty much seasoned and it's a great feeling, I love it as a musician and a player, the band has really solidified and gelled, we've got a couple of new dudes in the band, got a keyboard second guitar player called Damon Fox who's great, it's really adding a different textural feeling to the band rather than just having two guitars for the whole show. The showmanship is good, the performances, we've got a lot of good stage craft together, it's all the stuff the just comes with physically playing and that's the dilemma when you've been around a while not everyone wants to tour as much as other people do, and I like to tour quite a lot because I get better at my job doing it, I play better when I tour that the band I'm in gels better and we go to another level. You just can't rehearse that, you have to do it on stage and kinda it's a cliché you know, a band gets tight on the road, you can rehearse and rehearse and rehearse but it's a whole other matter when you do it in front of people. So the band's good, it's a blessing really, I think we were supposed to come down in May and it didn't work out, so it's actually fortunate I think for Australia and New Zealand.
You've had such a great reception since coming back to Australia, what do you think it is about the band that people attach to?
You know I honestly don't know, I think and this is a personal opinion and mine alone I think that there's an element in The Cult that people got the sort of naked authenticity of it, I mean I used to feel that when I would see AC/DC, I saw AC/DC with Bon Scott in 1977 in England, it was at a punk club because people thought they were a punk band, and that's my era I was sixteen in 1977, so my era was The Sex Pistols and The Damned and all that, but AC/DC came out in England then and they blew up really quickly but initially nobody really knew what punk was, there wasn't a guidebook, it hadn't become all Sid Vicious dolls and safety pins it was just like this new thing that happened, and AC/DC were right on top of it. So that kind of naked, I think it's the groove, to simplify it I think Australian's get the groove like rock music was pointed from the waist downwards, to me heavy metal is from the waist up, it's head banging music, it's like a different kind of power, but for rock and roll and what we try and do is about the back beat and the groove and the rock and roll which is the connection for the blues and the whole thing, it's in there, maybe people get it I don't know? I'd like to think so, it's very honest music with The Cult, we've been accused of many things but I think dishonesty is not one of them, so we do wear our heart on our sleeves a lot and I think maybe people down there get it.
Let's talk about 'Hidden City' in a closing chapter of a trilogy starting in 2007, was it something hard to put together when you have to wrap it up or was this an album already planned from the beginning?
None of our albums are ever planned, I think that's very retrospective calling it a trilogy, I think the purpose of the trilogy statement was to sort of identify the fact to people who might not know the ins and out of the The Cult on a daily basis but we've made three new albums in the last ten years, in fact nine years which is maybe a bit prolific for a band that has been around for thirty plus years. I think we wanted people to have a conversation about what's new and what's going on in as much of our most talked about past which is we do it, we've done a 'Love' tour, we've done an 'Electric' tour, hopefully at some point we'll maybe do a 'Sonic Temple' tour maybe, so we're not turning our back on the past but maybe focusing on the good stuff we've done recently which to us is like a blood transfusion, I think that bands that don't make new music it's a lot like not exercising a music it just atrophies so if you're just going out and playing the hits it gets to be like that you're your own cover band, you're not really taking any chances, you're just like the best cover band in the world.  Maybe you don't need to make new albums maybe two or three or four new songs would suffice, I don't know what's gonna happen in the future, I don't know I haven't got a crystal ball, but I think it's important for us as a band to have some new stuff and see people react and really get into the new material off 'Hidden City'. Like 'Deeply Ordered Choas' has become a big centrepiece of the live show, 'Birds of Paradise', people love 'G.O.A.T.' which me and Ian find hilarious because we just knocked that one together, it was one of the first riffs I had, I just never thought anything would come of it and it's one of those weird ones on an album where we nearly left it off the record and our manager Tom went "That's great I love that song it's one of my favourites" and we were like are you kidding? That just goes to show that sometimes the most important rock and roll songs are made with absolutely no pretentiousness or seriousness behind them and maybe that's why it's good? Turn the guitars up to twelve and it works, and that goes down live and it really communicates with people too, so there's a bit of everything on 'Hidden City' so for all you Cult fans of old this is same varieties, so there's a bit of everything on there.
I wanted to ask about working with Bob Rock again, in working with him many times over your career going back to Sonic Temple in 1989 why was he the right choice again and what was he able to bring to this album that just works for the band?
That's a good question because if you look at the albums he's made, they're actually quite diverse sounding they're not all the same you would think oh well they went with Bob Rock because he did their biggest selling album 'Sonic Temple' and blahdy blah and they want to make that album again, but that's not actually the case. The next album we did after that with Bob was the eponymous album in 94, we sounded nothing like 'Sonic Temple' completely different, and then the album after that we did with him was 'Beyond Good and Evil' which was like that heavy, dark, gothic, d-tuned kind of a dark record a lot of heavy rock fans like that one, and the song 'Rise' came off that one. Then with this one, well he finished 'Choice of Weapon' because we had it produced by Chris Goss who is a very talented producer, but I think to answer your question, Bob's an alpha male, I'm an alpha male and Ian's an alpha male, and I think that we need a producer that's got a set of balls on him and will stand up to me and Ian and yet get the best out of both of us and make us feel like we're being heard and being able to make the record we want to make. So that's why we keep going back to Bob, plus he is a big fan of The Cult, he's always loved English bands, he's obviously a Canadian guy he went to London in early seventies and his passion is like seventies English rock music, and so he kinda gets what I get which is what I grew up listening to just before punk and we have a lot of common ground, and obviously he's a very skillful producer, I mean he's done Van Morrison, he's done Michael Buble, he's done Metallica, you know Bon Jovi, Motley Crue, he's diverse, he's a real producer and I think that's because he tries to find the song, as much fun as me and him have doing the guitars together because we're guitar nuts, he tries to find the essence of the song in whatever artist he's working with. For us he's our go to guy to get the results you know. Sometimes people say 'Bob Rock, why?' really we're not trying to make 'Sonic Temple part 7' that would be tragic, it's actually the opposite and Bob doesn't want to do that either, he's got his roots in the right place and he knows his good rock DNA but he's reaching forwards also, as long as the journey is forwards and onwards that's all we really care about. You can borrow from the past but you don't live there you know?
So what's your favourite thing about being part of The Cult?
What do I like about it? I'm still basically a straight forward meat and potatoes guy, I love being in a band, I was talking to someone about it the other day, like most of my family grew up in construction so I don't come from a musical background or musical family, just a good blue collar working class, I grew up on building sites to be honest where my Dad was working. So I just see myself as a craftsman, as a tradesman, I'm not a poet artist warrior, I'm not a Buddhist priest spiritual monk guru, just a guy who learned to play guitar and it makes me feel good and I get off on it when I see people in the crowd that look on their faces when the band's on and I'm cooking, that's the most joy I get out of it these days. A bit of a shift has changed I confess that probably when I was younger, I was just pretty much about what I could take from life and without getting all arts and flowers I think I'm just a more mature gentleman, me and him don't own the songs, they're the property of the fans and I just try and do my best to play them with as much enthusiasm and integrity as I can so that they come and enjoy it, you know? So that's kind of where I'm at with it and it brings me a lot of joy.
Rather than ask you what you think has changed over the thirty years with The Cult, what would you say is the one thing that as stayed the same?
That's a good question… what's the same? *thinks* that's a hard one… I think it comes back down to the relationship with me and Ian really, that's the essence of The Cult, The Cult started with two blokes getting together in London in 1983 kind of a simplistic 'hey let's start a band and write some songs' that was about as complicated as it was really. I'd been kicked out of a band, he left Sudden Death Cult because he didn't feel the chemistry between the band members was right and didn't feel they were gonna last and he just sort of saw something in me that maybe I didn't even see in myself. So I mean that's the dynamic, that's the relationship that hasn't really changed, we've certainly had our ups and downs and our falling outs, and it's been like the Cold War at certain times but there hasn't really been any super open hostility. Ultimately I respect him as a singer and I think he respects me as a guitar player and we've got enough respect for each other as human beings, tats what's the same and once that goes then the rest of it doesn't really matter.
Lastly let's look ahead to the future, finish this sentence for me, in 2017 The Cult want to…
The Cult wants to play Europe and South America, very simplistic desire but I want to do it in comfort. If anybody's been to Europe on a tour you'll know what I'm talking about, if you've never been on tour in Europe in a band you'll be like what is that guy talking about? In the last ten years in Europe on a tour bus touring, you'll know what I'm talking about.
The Cult Australian tour dates:
EATONS HILL HOTEL, BRISBANE
WEDNESDAY NOVEMBER 23
ENMORE THEATRE, SYDNEY
FRIDAY NOVEMBER 25
FESTIVAL HALL, MELBOURNE
SATURDAY NOVEMBER 26
HQ, ADELAIDE
SUNDAY NOVEMBER 27
Ticket details here – www.livenation.com.au
Presented by Live Nation Australia
You can WIN tickets to see The Cult by clicking HERE 
Essential Information
From: England, United Kingdom
Band Members:  Ian Astbury – vocals, Billy Duffy – guitar, John Tempesta – drums
Website: http://www.thecult.us
Latest Release: Hidden City (Out Now – Cooking Vinyl)