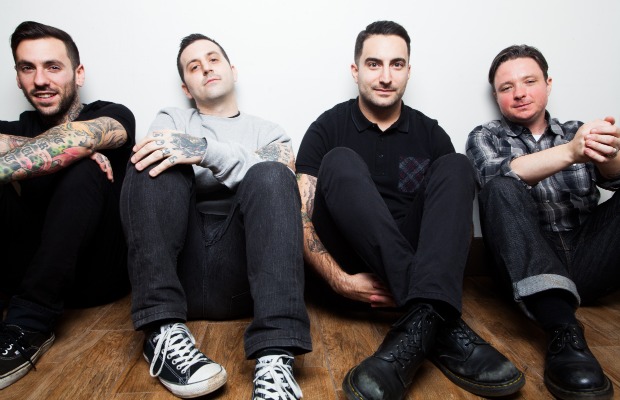 "…you just hope that people are going to like it, it's not even about numbers or sales or success, it's just about the people and at this stage in our career you just hope that the people who like all your other records like this one too, you never want to disappoint your fans."
From release: Where Bayside's last album, Cult, dealt with singer/guitar player Anthony Raneri's move to Nashville, his recent marriage and impending fatherhood, Vacancy tells the story of the dissolution of his marriage and finding himself alone in the city that was meant to be his new home. "The hotel on the album cover reflects the feelings I had while working on Vacancy," explains Raneri. "Writing this album, I felt as if everything was uncertain, I could move back to New York, buy a house in Nashville… I just didn't know what was going to come next. I felt very isolated and as if everything in my life was temporary at that moment."
Anthony from Bayside gave us a call from Boise Idaho to talk about the band's return to Australia, their new album 'Vacancy', memories of Australia and just how Slash eats his ice cream…
We last spoke when you were heading to Australia for Soundwave back at the start of last year so let's catch up, how have the last eighteen months been for the band?
It's been great, we mainly have been working on the record, we were writing the record for six months, then spent a few months in the studio working the record and then just hanging out on tour enjoying the calm before the storm waiting for the release and all the touring to come upon release.
So since Cult what helped shape what became Vacancy?
I mean I went through a lot of changes in my life sort of dealing with a breakup and trying to figure out what was going to come next in my life is really what the record is about.
Did you set out to do anything differently creating this record than with previous releases?
I don't think so, I mean our big this is that we don't like to reinvent the sound with each record, we like the way Bayside sounds and we think that there are certain characteristics that make us who we are, so we always experiment with every record but for the most part we just want to make cool music, we want to make cool, aggressive, heartfelt music.
When you went in to make it was there anything you did differently actually recording the album in the studio?
I guess mainly we're all living all over the country now, the band, so it's the first record that we really made where we were sort of all writing at home on our own and coming up with all our own individual parts and then we got together. I mean 'Cult' the record we recorded in about thirteen days just because we worked so much before going into the studio that everything was written and real flushed out and it was just a matter of going in to the studio and putting it all down, but with this record with us living all over the place, we spent about six plus weeks in the studio kind of hashing out the songs and really making a lot more changes to the songs in the studio and last minute as we usually do.
It's been out for a while now, have the 'new record release' nerves gone away yet?
Yes for sure, that is always the biggest thing, you just hope that people are going to like it, it's not even about numbers or sales or success, it's just about the people and at this stage in our career you just hope that the people who like all your other records like this one too, you never want to disappoint your fans. It's not about sales or numbers or getting bigger, or getting new fans, at this stage in our career is we want the people who like our band to like us.
How did Tim O'Heir help to shape 'Vacancy'?
He really pushed us a lot more than we're used to being pushed. You know we've done a lot of records with Shep Goodman and it was getting to a point , and Shep is a brilliant producer but it was getting to a point where we already knew what he was going to say before he said it, he was really like a fifth member of the band. I mean Shep taught me how to write songs, so I write the way that Shep writes, so there wasn't a whole lot of pushing, so I'm already reading his mind and he's reading mine. So with Tim it was really the most I've been pushed as a writer in a long time, it was the most I've been challenged, having somebody say "well this part's not good enough, you have to write a better part than that" and it's been a long time since we've been challenged in that way and it's been real stressful and kind of lead to more fights than we're used to in the studio, but it was all for the best. There were a few fights I can remember in particular over ideas for the record where I didn't get my way, and like huge blowouts and I didn't get my way and now I listen to the record when it's done and I say "Ok, I'm glad it didn't go my way, this is a better idea."
Seven albums in now, how do you feel you've grown as a band to be where you are today?
I'm a believer in the ten thousand hours, I believe that practise makes perfect, you can sort of become a master at your craft the more that you work on it the more that you concentrate on it, we played over three thousand shows at this point, we've written a hundred songs and I'm just proud to feel like every one is better than the last, every show is better than the last, every tour is better, every record is better and it's good to know that we can still learn, we haven't become so that kind of pigheaded in thinking that we know everything.
Sixteen years in what do you still enjoy about being in Bayside?
Really at this point I just love the playing, I've always loved the playing aspect of writing and getting on stage but I think when I was younger there was a lot of excitement and adventure in travelling and meeting new people and seeing new places and all that sort of stuff, but really the older I get it becomes more and more like I got on tour now and it's more like the whole day revolves around the show, I really could care less about anything else at this point, I'm here to play music you know.
You're heading back to Australia, what can fans expect on this run?
It's going to be our first headline run there, so anyone that's seen us over there is definitely going to be different to anything they've ever seen from us before, we did one club tour there about eight years ago when we were opening, so we had a shorter set then, and then we've only done festivals in the last eight years so it's going to be the first time fans get to see us play a solid hour and a half. I think the biggest thing about bayside is the consistency and most fans like every record, so with these half hour festival sets I don't think they've got nearly all the songs they want to hear from us yet and they'll finally get a set where we touch on all seven records.
So when you come for a first headline tour how do you put a set together knowing that you have to put the best of the best in?
I mean throughout the rest of the world we've mostly only headlined, the festival show is not really our show, the support show is not really our show and throughout Europe and The US we've pretty much only headlined, so I mean Australia is finally getting a taste of where we think we really shine, we don't consider ourselves a festival band.
Being here before, do you have a favourite memory from a previous tour?
Oh I mean all those Soundwaves are a trip, like doing festivals like Soundwave is not real life because you're surrounded by all these real rockstars all the time, I mean really it would be hard to pinpoint one thing. Like sitting next to Trent Reznor on a flight, stuff like that or standing next to Slash while you're waiting in line for ice cream… there's a lot of real trippy stories.
*laughs* There's an image I love Slash lining up for ice cream…
Yeah you know what's funny? I'm usually a cone guy, I usually get my ice cream in a cone and Slash was behind me in line and Iron Maiden was sitting at a table behind me and Zach De La Rocha was in the room and all these coolest people in the world are sitting in this room, and all I could think was I can't walk out of this room licking an ice cream cone, I'm gonna look like a fool in front of these people licking an ice cream cone, so I got a cup instead of a cone because I was nervous about how foolish I'd look licking a cone. Then Slash got a cone… *laughs* Also I remember being on a flight once to Perth and there was really bad turbulence, it was a really shitty flight and I remember I was sitting next to JR from Less Than Jake and Trent Reznor was on the plane and Alice In Chains were on the plane and Slayer was on the plane, it was just this crazy cast of characters on the plane and there was this whole lot of turbulence and JR turned to me and said "how does it feel if this plane goes down that me and you are not even gonna be in the article" and that kind of sums up Soundwave *laughs*
Lastly let's look ahead a little bit, finish this sentence for me, by the end of 2016 the one this Bayside wants to do is?
Since the day we started the band, since we made our first record we said we want to last as long as possible, that's always been the goal, it's never been about fame or success, it's always been to be successful enough to last a long time and we just hope that there's a lot more years ahead.
Bayside 2016 Australian Tour
With special guests Young Lions & Far Away Stables.
Thursday, 3rd November (18+)
Prince Of Wales, Bunbury
Tickets: Destroy All Lines
Friday, 4th November (18+)
Amplifier Bar, Perth
Tickets: Destroy All Lines
Saturday, 5th November (Lic/AA)
Fowlers Live, Adelaide
Tickets: Destroy All Lines
Sunday, 6th November (18+)
Corner Hotel, Melbourne
Tickets:  Destroy All Lines
Wednesday, 9th November (18+)
The Basement, Canberra
Tickets: Destroy All Lines
Thursday, 10th November (18+)
Cambridge Hotel, Newcastle
Tickets: Destroy All Lines
Friday, 11th November (18+)
Manning Bar, Sydney
Tickets: Destroy All Lines
Saturday, 12th November (18+)
The Bridgside, Brisbane
Tickets: Destroy All Lines
Sunday, 13th November (18+)
Shark Bar, Gold Coast
Tickets: Destroy All Lines
Essential Information
From: New York City, NY, USA
Band members: Anthony Raneri – vocals / guitar, Nick Ghanbarian – bass, Jack O'Shea – lead guitar, Chris Guglielmo – drums
Website: http://www.baysidebayside.com
Latest Release: 'Vacancy' (Out Now)