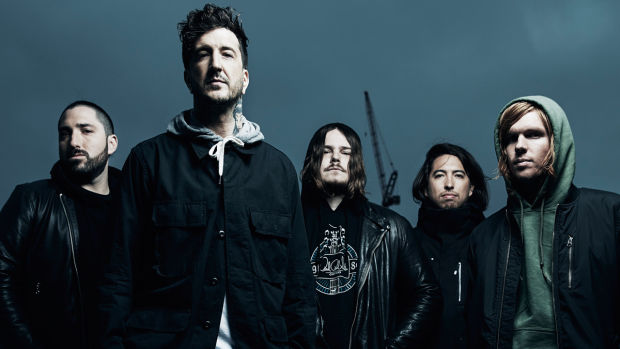 "You can't do this alone, we all have our problems, we see it in our daily life & we need to seek the comfort of others to weather it. So many things are out of our control but a lot of it starts from the INSIDE. That feeling of isolation begins within & projects outward into the universe."
From Release: OF MICE & MEN will be touring Australia in support of their forthcoming album Cold World, which is due out on September 9 via Rise Records. Its lead single "Pain" has reinforced the fact that the Los Angeles-based quintet is fast becoming one of the leaders in the worldwide heavy music space. Over the course of the past few years they have shared stages with artists such as Metallica, Slipknot, Marilyn Manson and Linkin Park, blanketed rock radio airwaves, garnered critical acclaim, amassed more than 153 million Spotify streams, 20 million YouTube views and close to five million social media followers on the strength of a blistering sound and live show. Their Australian return will be their first national club tour since 2013.
After a rough start on the phone with Tino, we ended up shooting some questions over for him to answer about the band's new album 'Cold world', their upcoming Australian tour, growth, and more…
We last spoke about 2 and a half years ago as 'Restoring Force' was released. So let's catch up… How has the last 2 and a half years been for the band?
A LOT!! We shot & released a CD/DVD called "Live At Brixton" which documented our epic performance at one of England's most iconic concert venues, we toured Restoring Force & ourselves into the ground, then we took about a year off & wrote/recorded a brand new album called "Cold World" & we are currently in the wake of releasing it to the public!
What's helped shape this record into what it's become?
We really took the time to create music that spoke to us & spoke FOR us. Most of our writing timeframes are very small, we had almost an entire year to craft these songs & to us, it made all the difference. We witnessed all of the things happening in our world, whether personally or more globally & it really helped us find the topics we wanted to discuss. We would spend hours just sitting & talking about the things that were happening in our lives & on the news & just tried making sense of all of it.
So what does 'Cold World' represent to you as a title?
It's a cold, isolating & harsh "world" sometimes. It doesn't necessarily have to mean globally although it can in many ways…it's more about the perception of your reality. You can't do this alone, we all have our problems, we see it in our daily life & we need to seek the comfort of others to weather it. So many things are out of our control but a lot of it starts from the INSIDE. That feeling of isolation begins within & projects outward into the universe.
Being your fourth album did you find it somewhat easier or more comfortable going in making it compared to your previous albums?
This album definitely felt more comfortable in most aspects because we spent so much time preparing & writing in advance that it was definitely far more comfortable to actually record & I think you can really tell that with the album sonically. We were very familiar with the process so we were able to really show the listener what OM&M is about.
You worked with David Bendeth as producer once again who you worked with on your last album. What does he help bring to Of Mice & Men that you know works?
We have a great relationship with him because he challenges us in ways we can't. He knows what we as musicians are capable of & pushes us to become better, to become more aware & more precise. He's a great mentor & through thick & thin he will always be part of the fabric of OM&M.
Also, on a side note, thanks for the nightmares after watching the 'Pain' video…
HAHA! That was exactly the point. We wanted your attention & then we wanted to you to think about what you saw & what it means to you. Not to mention it's a very important song to us lyrically so we wanted a shocking video to go along with it.
You're of course also headed back to Australia this December with A Day To Remember. With a catalogue now building up, what can fans expect at these upcoming shows?
Lots of new stuff, some old stuff, a KILLER bill & an all around unforgettable night!
You've been to Australia a number of times, do you have a favourite memory of a previous trip here?
Playing this TINY hotel lobby the first time we came out here…take me back!! That was suuuch a bonkers show, I love tiny gigs like that!
Last time I saw you guys was with Bring Me The Horizon and Crossfaith and the entire place was just crazy here in Sydney and loved you guys. What do you think it is about Of Mice & Men that Australia connects with?
Man, they just LOVE music! It's so refreshing to see our Australian fans so excited to hear the music. We definitely wish we could make it out there more often, but we know that when we do, it's a very special event for our fans as well as ourselves.
You've been in this band for seven years, in that time how do you feel you've grown personally compared to your beginnings?
HA! So many ways!! I guess a good way to put it is that I'm more aware. I've experienced so much during this journey that I realized attention & awareness are so important. You have to pay attention to what's going on around you so you can actively participate in these situations & move forward knowing you did everything you could whether musically or personally or whatever!
Lastly let's look ahead to the remainder of the year so finish this sentence got me. By the end of 2016 the one thing Of Mice & Men wants to do is…
ROCK OUT FOR EVERYONE IN AUSTRALIA!!! DON'T MISS THIS EVENT! TONIGHT ALIVE WAS JUST ANNOUNCED SO IT'S GONNA BE INSANE YOU ALREADY KNOW SO CALL ALL YOUR FRIENDS, GET YOUR TICKETS TODAY & KNOW THAT WE'RE COMIN TO ROCK YOU!!!
Catch Of Mice & Men on tour in Australia with A Day To Remember and Tonight Alive at the following dates
RED HILL AUDITORIUM, PERTH
SATURDAY DECEMBER 10
AEC THEATRE, ADELAIDE
TUESDAY DECEMBER 13
FESTIVAL HALL, MELBOURNE
WEDNESDAY DECEMBER 14
HORDERN PAVILION, SYDNEY
FRIDAY DECEMBER 16
RIVERSTAGE, BRISBANE
SUNDAY DECEMBER 18
all shows are licensed all ages
Presented by Live Nation, UNIFY and Triple J
TICKETS ON SALE NOW
Essential Information
From: Orange County, CA, USA
Band Members: Austin Carlisle – Vocals, Aaron Pauley – Bass / Vocals, Valentino Artega – Drums, Philip Manansala – Guitar, Alan Ashby – Guitar
Website: www.ofmiceandmenofficial.com
Latest Release: Cold World (Out now – Warner Music Australia)