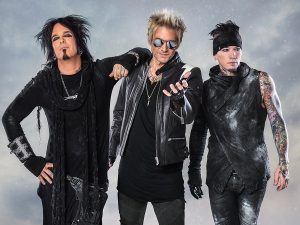 PRE-ORDER AT JBHIFI.COM.AU AND GET A CD BOOKLET SIGNED BY THE BAND AND FOR YOUR CHANCE TO WIN A SKYPE VIDEO CALL WITH THE MEMBERS OF SIXX:A.M. EXCLUSIVE TO AUSTRALIA ONLY!
SIXX:A.M. are set to release Vol. 2 Prayers for the Blessed on November 18 via Eleven Seven. Written and recorded at the same time as Vol. 1, Prayers For The Damned which debut in the top 10 on the ARIA Album chart in April 2016, Vol. 2 Prayers For The Blessed acts as a companion piece to the first volume while simultaneously elevating the band's sound in every area.
"This band has always found the light within the darkness and I think that's especially evident on this album," Ashba explains.
Triple M gave the modernised cover of the Grammy award winning Harry Nilsson hit Without You an exclusive worldwide premiere. Fans can sample songs from the album NOW via the album teaserHERE. From the lead single, We Will Not Go Quietly, to the operatic show stopper, Maybe It's Time, and groove-driven, radio-ready rocker, That's Gonna Leave A Scar, Vol. 2 Prayers For The Blesseddisplays the many sides of SIXX:A.M.'S  sound, something that the band was able to develop by ramping up the amount of time they spent out on the road. "We really found ourselves onstage and it's influencing the way we write," says Nikki Sixx. "We started focusing on our music not only as songwriters and lyricists but also stayed conscious of what would transfer over live to the audience."
Fans, who pre-order at
jbhifi.com.au
will receive a cd booklet signed by the band and the chance to win a Skype video call with the members of
SIXX:A.M.
exclusive to Australia Online! Pre-order at
iTunes
and receive
We Will Not Go Quietly
and
Without You
as an instant download.
The official video for the outsider anthem We Will Not Go Quietly  was directed by iconic director Wayne Isham (Bon Jovi, Michael Jackson, Muse, Britney Spears).  Filmed during their show in Edmonton, Alberta last month, the video offers viewers a "show-day-in-the-life-of" the band, in addition to their powerful on-stage energy. Watch the official video below:
"We Will Not Go Quietly takes the call-to-action spirit of "Rise" [from Vol. 1 Prayers For The Damned] to a whole new level," says lead vocalist James Michael. "It reflects the raw passion with which mankind fights as some of our most basic human rights are being threatened. We are excited to share the song and video with everyone and hope that it inspires people to continue to strive to make the world a better place."