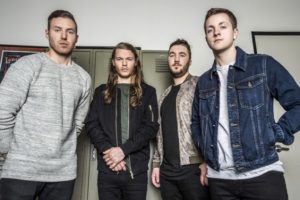 I Prevail's new single 'Come and Get it' dropped on to all online outlets over the weekend – with album pre-orders now giving punters all three single cuts from their forthcoming 'Lifelines' record.
The massive, hard-out rock track premiered on radio in Australia on Wednesday 28th September with Josh Merriel on triple j's SHORT.FAST. LOUD and the accompanying video stream via the official Fearless Records Youtube Channel popping up online at 2pm Friday afternoon 30th September.
The track follows from singles 'Scars' and 'Stuck in Your Head', both of which have both been sitting consistently in the iTunes Metal singles charts in the top 5 for the past 3 months in Australia/New Zealand. Expect a massive chart debut on October 21.
I Prevail are no strangers to this experience. After the release of the quartet's 2014 debut EP, Heart vs. Mind, nothing would ever be the same. The EP moved over 60,000 copies as the Detroit band toured with the likes of Hollywood Undead and Crown The Empire. Meanwhile, the group's cover of Taylor Swift's "Blank Space" sold 300,000-plus singles, went Top 20 on Active Rock Radio, and generated over 22 million views on YouTube and 17 million-plus Spotify streams (consistently remaining in the Top 10 of the platform's Viral Chart). The band would be nominated for "Breakthrough Band" at the 2016 Alternative Press Music Awards and garner features from Billboard, Detroit Free Press, AXS, Loudwire, and many more.
Everything has aligned and set the stage perfectly their debut full-length, Lifelines. In early 2016, the boys retreated to Wall of Sound Studios in the small and secluded town of Riley, Michigan to work with trusted producers B.J. Perry and John Pregler. With nearly two years on the road under their collective belt, the group had fully realized their style, merging entrancing hooks and a powerful and pummeling sonic backdrop.
Ultimately, Lifelines sees I Prevail take another big collective life step.
Album Limited Edition album Pre-Order bundles are available exclusively via 24hundred.net now. For all album pre-order options, go to LINKFIRE .
For more information, go to iprevailband.com.