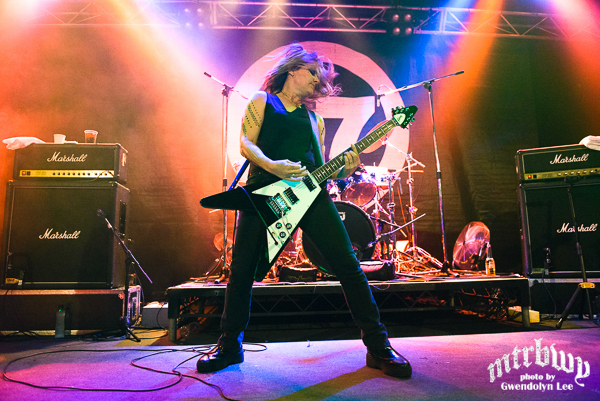 It's been a long time since we've seen L7 in Australia, over twenty years in fact, so when they were announced as part of Soundwave 2016 people were excited, unfortunately that didn't eventuate, nor did their first scheduled tour, but third time lucky as they say and here I am with a whole lot of people at The Metro tonight to see the return of L7…
The Mis-Made opened the night to an eager crowd already in to get their place for L7, and what I instantly loved about this band was the alternating vocals and the balance that their songs held. This is a band that knows where they're going and they're doing it really well. This was by far the best support slot I've seen picked for a tour this year, these girls just fit the vibe, fit the sound and nailed the brief. Well played, The Mis-Made. Let's see what the future holds for you. You played like there were 10,000 people here tonight and let's hope one day you'll be doing just that.
L7 took the stage to a packed crowd to open with 'Deathwish' and as short as that was the busted straight into 'Andres' which kinda sent everyone off and rightfully so for a single here in Australia to throw it in so early was ballsy but perfect. I can tell that this is gonna be one hell of a night. With some banter from Donita Sparks they kick into 'Everglade' and the vocals change up which I love giving bass player Jennifer Finch the chance to sing and that what I already love about this band life, they've worked at it, figured out  their years away and come back and it feels like they've said "you know what? Let's kick some ass" and this early in. They sure are.
'Monster' takes its place and let me just say, and like I just said for a band that's been away for so long, I don't know what they've done but they've absolutely nailed it. This is a band that sounds like they've never stopped playing, and it's outstanding, they are tight, they're on fire and delivering one hell of a performance tonight.
After some introductions the place going wild when they kick into 'One More Thing' and what I'm loving watching the crowd and their reaction to this set and it's something to behold. They're lapping it up, they've waited and here it is. This really is a set of just straight up rock and roll and they haven't dropped a beat, I'm loving what I'm hearing tonight. Not being 100% on L7's catalogue I love watching the crowd as they continue to love what's being thrown at them, song after song is heavy, is raw and is loud and is straight up L7, songs like 'Crackpot Baby' and 'Freak Magnet' were highlights.
'Shit List' is one song that sent the place into a bit of a frenzy, and if there's one thing I feel like I'd never want to be on it's L7's shit list…  this song was great to watch arms thrust back at the stage and the song chanted back at the band, I feel like people have been waiting to do this for quite some time.
The band goes off the stage to rousing applause and chants to will their return, holy shit the atmosphere in here is just so cool. They bust into 'American Society' Before hitting the song that everyone was here to hear. And the song that I felt like the audience had sat through the set to hear tonight in 'Pretend We're Dead' and it was exactly what I wanted to hear tonight and I'm happy as is everyone else who was singing along to the top of their lungs.
Closing the set with 'Fast and Frightening' there isn't a person here tonight that isn't happy as this was well worth the twenty plus year wait with a set that covered all their releases and pleased everyone, let's make sure it's not another two decades before L7 come back and see us. This is one of those shows that I'll happily say for a long time that I was at because that just kicked ass.
Essential Information
Venue: The Metro Theatre – Sydney
Date: October 15, 2016
Presented by:  Metropolis Touring
Website: http://www.l7official.com
Support: The Mis-Made
Photo By: Gwendolyn Lee – Gwendolyn Lee Photography

Set List:
Deathwish
Andres
Everglade
Monster
Scrap
Fuel My Fire
One More Thing
I Need
Slide
Crackpot Baby
Must Have More
Drama
Freak Magnet
Shove
Shirley
Shit List
American Society
Pretend We're Dead
Fast and Frightening