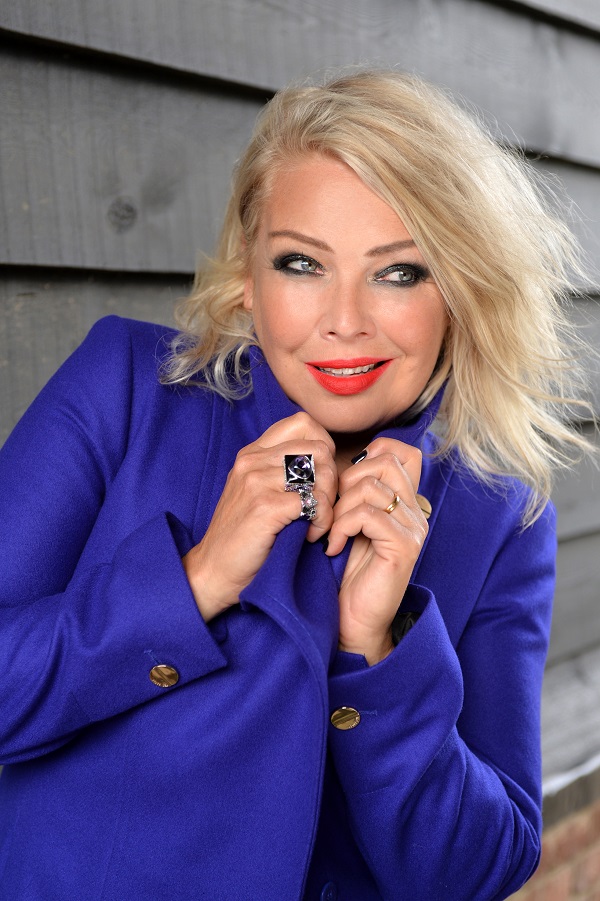 "Well I think a lot of people who were around in the 80's see it with rose tinted spectacles and it was a time before they got a mortgage most people or a divorce, or children *laughs* and I think people associate it with a sort of more carefree time in their lives…
From release: Mention KIM WILDE and people's eyes light up. The blonde singer with the siren voice and girl-next-door appeal is one of pop music's most dazzling stars. The French consider her the "Brigitte Bardot of Rock"; German fans still revere her as the sexiest glamour girl to come out of the 80s and in Australia she has always been very close to our hearts having charted three number one mega-hits – 'Kids In America', 'You Keep Me Hangin' On' and 'If I Can't Have You' as well as another 6 Top 40 hits including 'Cambodia', 'You Came', 'View From A Bridge', and 'Chequered Love'. To put her amazing career in perspective she has sold 10 million albums and 20 million singles and is the most successful British female artist of the 80's!
At home in England we gave Kim Wilde a call to discuss her upcoming tour of Australia, touring with Howard Jones, existing with Rock bands in the 80's, memories of Australia, new music and more…
You're been here as part of packages with other artists but this time back with Howard Jones, have you toured with him before?
Yeah I've done a few gigs with him, I haven't toured with him but I've done a lot of 80's retro gigs with him here in The UK, he spends a lot of time in America actually, so I haven't seen him for a while, the last time that I saw him was at the Steve Strange memorial concert which he turned up for, so yeah looking forward to hearing his songs and we're coming with our greatest hits and we'll have a few surprises up our sleeves and some collaborations I'm hoping.
So if you had to pick a song to duet with Howard, what would be the most suited?
I mean that's a good question, I've got to sit down with Howard and see what we come up with. Ricky my brother is the MD of my band and I we were thinking about maybe a Bowie song might be really good, if we could choose the right Bowie song it might be the best one for us to do but we'll have to knock our heads together to see what we come up with.
You've been back to Australia a number of times, how would you best describe a Kim Wilde show?
It's pretty loud and fast and fun, it's not a gig to come and sit down in although I'm sure a lot of the venues have got seats but most of the people pretty much get up straight out of them and then they don't sit down again. It's a really good fun show, it's really personable, it's not one of those things like an event where there's that type of distance between the artist and the audience, it's a very participatory kind of thing.
What do you think it is about the 80's and that sort of music, there's almost a resurgence even though it never went away but at the moment people just can't get enough of it. What do you think it is about that time that people just love?
Well I think a lot of people who were around in the 80's see it with rose tinted spectacles and it was a time before they got a mortgage most people or a divorce, or children *laughs* and I think people associate it with a sort of more carefree time in their lives. Then of course there were some great tunes, growing up in the 80's with the soundtrack that we had of those great 80's songs it's hard not to still be in love with it a bit. It's not going away, I did my first 80's retro tour in The UK that was about fifteen years ago and I thought we might have a few years of it, and as you say in Australia, it's the same here in The UK the concerts have more and more people turn up every year, thousands and thousands and thousands of people turn up at these concerts and even more are springing up and it's just amazing it really is.
In touring Australia over a number of years do you have a favourite memory from a previous tour here?
I suppose it was wandering around the botanical gardens, we saw a wedding going on there in the garden and we got involved in it as total strangers *laughs* me and Nik Kershaw and the band, we were just watching on the outside and they made us feel very welcome and just wandering around down by Sydney Harbour and looking over to the bridge and hanging by the Opera House, because I was in Sydney in 1973 when I was thirteen when The Sydney Opera House had just been finished so I've got kind of an emotional attachment to that place because I saw it when it was just born.
Is there one artist or band from your era that you'd love to tour with?
well I did get to tour with all the ones I love the most, ABC, Heaven 17 who I absolutely adore, they're a great live act too, Rick Astley of course has just had a big number one album here in The UK, Spandau Ballet, Tony Hadley who I've been recording with recently, so I've seen them all fairly frequently throughout the years. They're great people and they're still great artists.
I'm always interested in this, but what was it like co-existing in the era of the big 80's rock bands?
Yeah I mean there was a lot of different styles in the 80's which also made it really great, there was a lot of variety, there was you know, your Bon Jovi's and Aerosmith and ZZ Top *laughs* so it was great that there was rock music then, I think all the different styles enhanced each other, people love all different types of music when they love music, they don't just love one style. Of course there was disco music and dance music; it was a decade of a lot of variety. I love rock, I love rock music too just because we made a lot of synth and new wavey kind of songs we always had a thread of rock going through our stuff and we were brought up with rock and roll music because of our dad Marty who was in this country anyway one of the first rock and roll stars.
So, when you released 'Kids in America' in 1981, the kids sure were different, how do you a think a song like 'Kids in America' would be written today?
*laughs* Well I mean it's an interesting one 'Kids In America' because of all the songs I've recorded that song gets the strongest reaction still in many ways, I mean we get great reactions with other songs like 'You Came' and 'Never Trust A Stranger', 'Chequered Love' or our version of 'You Keep Me Hanging On' but there's just something about that song, and just recently I performed it at Download, the heavy rock festival here in The UK with a Thrash Metal band who did a version of it fifteen years ago and asked me to go on stage with them and it was such fun, really, really good fun and it's amazing. There's a band called The Larks who've done a really kind of folky acoustic version of it too which is really very beautiful and completely different again, so it's just one of these songs that can kind of wear a lot of different clothes and still sound great.
Even thirty plus years on it's just one of those magic things that comes along…
It is, yeah it's the holy grail of pop music and of course nobody knows quite what that equation is, and you can get close but the magic just happens every now and then and I was just very fortunate that my brother and my Dad wrote that song because it obviously changed my life in so many fantastic ways and still does.
I think I wore of my 7" of 'You Keep Me Hanging On' back in the day too, there's another one…
Yeah that was an idea, we had a recording studio back in the day and Rick was working hard trying to come up with some more songs that sounded as great as 'Kids In America' and he was writing one day and came up with a chord sequence and recognised it and realised it was actually the same chords for 'You Keep Me Hanging On', and at that point thought why don't we do a cover version of that and I'd been a huge fan of Diana Ross but I hadn't heard her version of it for a long, long time so when we went into the studio I think that's what kept it so fresh, I think I changed some lyrics as well and put stuff in that wasn't in the original. We did a cover of that song with a whole new energy.
You're still out there making music, but it's been six years since an album of originals, any chance we can expect a new album from you soon?
Not any time soon I would think, it will probably be the later part of next year, we've got all kinds of different plans going on at the moment, certainly we've been writing the songs and they are sounding fantastic and it's just a matter of getting the right timing for making the right time commitment, promoting an album takes a lot of energy and I've got to find the right time to do that and I will because we've got some great songs to show the world.
So what's left on your bucket list of things you still want to do that you haven't yet had the opportunity to do?
That's a good question, really, when you get to my age the only thing that really counts as anything in time, you treasure it more and so I think making more time in my life for not being Kim Wilde, doing all the other things that I do, being a wife, being a mother, being a friend, being a daughter, that's sort of on my list is to create more time for those kinds of things. Hold anything to do with being Kim Wilde and everything to do with being Kim.
Lastly, let's look ahead to the future, finish this sentence for me… By the end of 2016 the one thing Kim Wilde wants to do is…
Hmm… that's a good question, by the end of this year, I'd like to do that walk over the Sydney Harbour Bridge.
Australian Tour Dates – November 2016
Wednesday 2nd November – CANBERRA, Canberra Theatre
Friday 4th November – SYDNEY, Enmore Theatre
Saturday 5th November – SYDNEY, Rooty Hill RSL
Sunday 6th November – GOLD COAST, Jupiters
Tuesday 8th November – ADELAIDE, The Gov
Thursday 10th November – HOBART, Wrest Point
Friday 11th November – MELBOURNE, Palais Theatre
Saturday 12th November – ADELAIDE, The Gov
Sunday 13th November – PERTH, Astor Theatre
Tickets on sale via: http://www.metropolistouring.com/kim-wilde-howard-jones
Presented by Metropolis Touring & David Roy Williams
Essential Information
From: London, England
Band members: Kim Wilde
Website:  http://www.kimwilde.com/