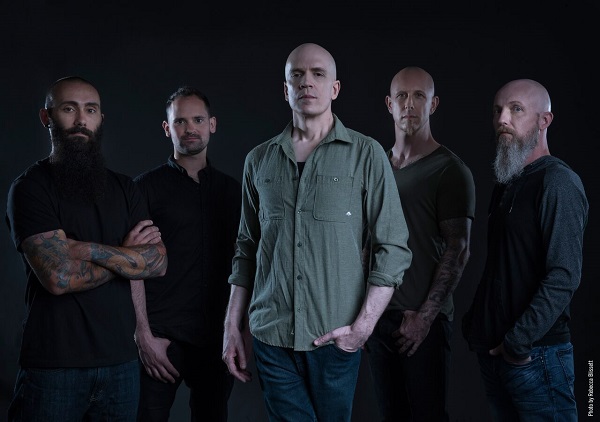 "Like most times you get solo artists or what have you, after twenty five years of doing it well no one tells you shit, like this is how I do it and to try and sort of step back from everything and say "maybe I don't know everything here guys, what do you think?" was really challenging I've got to say *laughs*"
From release: Transcendence, the follow-up to 2014's Z2 double-album (half of which was made up of the DTP full-length Sky Blue), sees the award-winning Townsend exploring a relatively new way of working, collaborating with the entire DTP band during the writing stages of the record. The last 2 years since the release of Z2 have seen Devin busier and more ambitious than ever, culminating last November in the release of Ziltoid Live At The Royal Albert Hall, a brilliant document of their sold-out show at the famous London venue, that saw them bring the Ziltoid story to life on stage in his most impressive production yet.
In the middle of America, and after visiting a Walmart Devin Townsend gave us a call to talk about his brilliant new album 'Transcendence', creating it, and music, touring Australia and what he wants for next year…
The album is absolutely amazing, do you have a vision of what you want to create or does it evolve as you go along?
Thank you, man! You know every year that goes by your life resonates in a different way, every day for that matter, but every year that goes by there's a certain thing that is hard to define but in hindsight you can see it for what it is you know what I mean? Like ten years ago I remember the smell and the overall sort of vibe of that period of my life. So while I'm writing a record in that year that goal is sort of sub consciously to capture and identify what that vibe is. Like 'Ki' for example, I did that, the look of it, the idea of the moon and the native art and the dark green, the quiet very clean guitar and the shadows and all that, I mean I knew that was what I wanted to capture just by the nature of this is the year that I'm writing, but you don't necessarily know that you're finished what it is. So it's both things, you have a distinct idea of what it is you're trying to do but you can't really articulate it until it's done. All of them man, 'Alien' or 'Addicted' or 'Deconstruction' or 'Zlitoid' or 'The Hummer', all those records any of them are just trying to capture that elusive spirit of the moment, and Transcendence that was last year I guess.
Did you do anything differently in the creation and recording process of the album compared to previous releases?
Yeah very much, I mean for me to be fair it was written like every other record, I wrote a tonne of music and then chose the twelve that I thought would be the most appropriate and then recorded them. One song was written a little differently which we wrote out and jammed in the jam spot that was 'Failure' but the main difference was that I kept bringing these songs to the band and kept trying them on for size, seeing which ones worked for this group of dudes. Then by seeing which ones they reacted to we chose that and began to essentially deconstruct them and take them apart and I would be able to explain to them why I wrote the song, why I want the songs to move in the directions they do, and these dudes having known me for so long they really were able to help me make it waterproof in a lot of ways, just taking the bolts and making some parts that were a little lacklustre shinier and it was really collaborative in terms of assembling them into really solid song. Then in terms of the production and engineering I had met Nolly on tour with Periphery and him and I got along and I recognised very quickly his brilliance as an engineer and mixer, and so I wanted to get him involved. The whole process was easier but very challenging for me to let go, as you can imagine, being in control of everything for so long and all of a sudden to say to somebody "OK, you know better than me, go for it, help me" or to say to drums, bass and guitars "Here's the parts I think are cool but if you've got a different idea for that there, just think of something" it's just really uncomfortable, but the rewards for it are really good, because the morale was better, the record is arguably the best sounding one that I've done and it's humbling for me in a lot of ways where I'm not self-editing, it's a different point of view and for somebody that's been doing this as long as me, that's crazy, man. Like most times you get solo artists or what have you, after twenty five years of doing it well no one tells you shit, like this is how I do it and to try and sort of step back from everything and say "maybe I don't know everything here guys, what do you think?" was really challenging I've got to say *laughs*
One song always really jumps out at me on an album and this time around it was 'Secret Sciences'. Is there a story behind this gem?
Thank you, that was a really good moment for me, I had to convince the band on that one, and convince the label on that one too. I wrote it and that morning I had woken up I had just scribbled a bunch of things down in a diary and I basically just sang what was scribbled down, like that was the whole thing, it was just the words I had written down that morning. It was a very emotional writing process with that one *laughs* it's one of those things where I remember singing the demo and sending it to the band and the label and everybody was neither here nor there on it. I'm like "Guys, this is fuckin' awesome, this song it fuckin' awesome" they're like yeah it's cool man… so I had to kinda really keep that and then I edited down the mid-section and then everyone started to warm to it and then when we played it together and the guys actually sort of felt what it was supposed to do, then everybody all of a sudden got on board with it, but that was an important one to me.
You're a music making machine, are you constantly coming up with ideas and have a stockpile of riffs and lyrics that you can go back to?
Oh yeah for sure… I mean musically I really try to keep a lid of it and it's not because it's not there, it's a process that I have the fortune / misfortune of being involved with is one of such obsession, such OCD creative compulsion, it can be such a mind fuck, it is, and at the moment I'm trying to not think about music. So I play bass, I exercise, I do other things that kind of take up the senses and space in my mind because I know when it starts up again it's going to be full on, but long story short, yeah I have so many ideas, tonnes of riffs, tonnes of songs, always.
As a guitarist myself who can do about 1.2% of what you can do, are you still constantly learning and teaching yourself new things musically?
Well, I evolve as a guitar player rapidly and the things that I retain are the things that are of significance to the writing process. The facility I have as a player is made solely for the fact that I do what I need to do with it to get more dexterity. The musical ideas that I have a rarely because of my technical ability so I retain that, I don't have as much interest in technique on guitar as much as I used to anymore.
You're no stranger to our fine shores and we're here late last year, but when do you think we'll see you back to play Transcendence for us?
Oh yeah oh my god yeah, absolutely, when we first started coming to Australia it was like an anomaly, like it was cray when I first came to Australia, it was almost like an event, like holy shit they're not from Australia, they're touring here *laughs* and now it's like the amount of bands that tour Australia and I don't know it it's slowed down now because of Soundwave or Big Day Out but dude there was a time there in the last couple of years when it was swamped down there with bands it was crazy. For sure I'll be there again, absolutely I'll be there again, but if it wasn't for that flight I would probably be there right now *laughs*.
So with a new album like 'Transcendence' that works from start to finish have you ever thought about coming and actually playing it in its entirety?
It was discussed, yeah, the 'Transcendence' album was discussed, but I'm got so many albums, man, and there's so much more that I do in my estimation the people that are more like die hard audience want to see you know? So we put together a set list that is kinda cool because it does a lot of things but I don't think that now is the time for me to play a new record from start to finish, I think that I'm still trying to get people on board that are maybe new to it, and that includes some of the older stuff in my opinion.
Lastly as we head to towards the end of the year, let's jump ahead, so finish this sentence for me, in 2017 Devin Townsend wants to…
Chill the fuck out *laughs* I could finish that a whole bunch of different ways… Devin Townsend wants to eat a bunch of good food, Devin Townsend wants to get laid more, Devin Townsend wants to play bass in his underpants in the backyard… you know what I mean *laughs* Devin Townsend wants to pay his band more and make a bunch of money so he doesn't have to rush records out *laughs*
Essential Information
From: Vancouver, Canada
Band Members: Devin Townsend – Vocals, Guitar, Synths and Ambience,  Dave Young – Guitar, Keys, Mandolin,  Ryan Van Poederooyen – Drums,  Brian 'Beav' Waddell – Bass,  Mike St-Jean – Keys, Synths, Programming
Website: http://www.devintownsend.com
Latest Release: Transcendence (Out Now – Sony Music Australia)