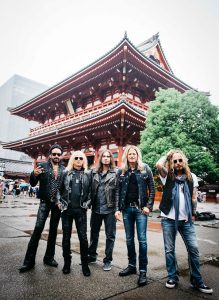 Band to perform three USO shows for troops and military families stationed at Camp Casey, K-16 Air Base and Osan Air Base
WHAT: The Dead Daisies USO Tour
WHEN: October 27 – November 2, 2016
WHERE: South Korea
WHY: Just back from Japan, after touring the world for three months supporting their 3rd album 'Make Some Noise', which smashed charts globally, The Dead Daisies are stepping up to support a USO launched initiative and announce a seven-day USO tour to South Korea. Force Behind the Forces is a brand awareness campaign encouraging Americans to stand in support of service members and military families. The trip, which spans October 27 – November 2, will include USO shows at Camp Casey (October 30), K-16 Air Base (October 31) and Osan Air Base (November 1).
Far from strangers to military life, bassist Marco Mendoza grew up the son of an airman and bandmate, John Corabi's, father served in the U.S. Army. The trip will mark the band's first-ever USO tour and the first time a group of musicians have encouraged their fans to visit USO.org/FORCE to learn how to join the USO and become a Force Behind The Forces.
An old-school band that has taken the rock music world by storm, The Dead Daisies is comprised of Doug Aldrich (Whitesnake, Dio), John Corabi (Mötley Crüe, The Scream), Marco Mendoza (Thin Lizzy, Whitesnake), Brian Tichy (Ozzy Osbourne, Foreigner) and David Lowy (Red Phoenix, Mink). The band's third album, "Make Some Noise," was released in August and is steadily climbing the music charts. After wrapping up a massive summer tour through Europe with KISS, the quintet will soon perform on the KISS Kruise followed by co-headlining a tour with The Answer.
February 4th marked the USO's 75th anniversary and the kick off of a year long celebration around the world. The Dead Daisies upcoming USO tour to South Korea is part of that celebration.
QUOTES:
Attributed to bassist Marco Mendoza:
"After connecting with so many great service men and women on the 'Freedom To Rock' tour with KISS in the U.S., we are thrilled about this opportunity to play for some of the people that defend our freedom all over the world. If you're a service member, catch us at a base in South Korea in October. If you're a fan, join us in supporting our military by visiting http://www.uso.org/campaign/force
to learn how to become a Force Behind the Forces.
"It's a great time to pay respect and give a little back."
Attributed to singer John Corabi:
"We will bring a little of America to you guys! We can't wait to get over there and play, it's going to be a blast!"
USO Tour Video:
 About the USO
The USO strengthens America's military service members by keeping them connected to family, home and country, throughout their service to the nation. At hundreds of locations worldwide, we are united in our commitment to connect our service members and their families through countless acts of caring, comfort, and support. The USO is a private, non-profit organisation, not a government agency. Our programs, services and entertainment tours are made possible by the American people, support of our corporate partners and the dedication of our volunteers and staff.