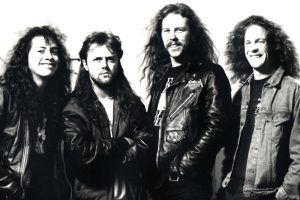 Joseph O'Farrell (JOF)—the brains behind the upcoming Darebin Music Feast event, Enter Sandman—is a multi-art performer, producer, curator, musician and lecturer making work between Melbourne and London. JOF creates large-scale installation/theatre works with, and for, community that celebrates our diversity and brings people together in hilarious and unlikely situations. As he gears up for this epic world-first event, which will see 100 guitarists play the Metallica classic, Enter Sandman, live and unison, he reflects on the top ten riffs of his youth.
10. Poison, Alice Cooper
I remember being six and doing a badge workshop as part of a school crafts session—we could illustrate any image we wanted and turn it into a badge to display on our school uniform. I proudly drew a skull and wrote I've got Poison running through my veins—a nod to this rock anthem of my early childhood.
9.Voodoo Child, Jimi Hendrix
Mitch Mitchell (Jimi Hendrix Experience) is one of my favourite drummers of all-time—I love how he drums to this huge riff.
8. Cherry Bomb, The Runaways
I remember hearing this song and being inspired by the punk-music influences and teen spirit. I also remember igniting my first cherry bomb on the school oval one lunchtime.
7. Back in Black, AC/DC
I think every time I hear this riff I have to pull out my air guitar or air drumsticks!
6. I Love Rock N Roll, Joan Jett
When I started learning the drums and playing in bands, my dad used to drive me to practice. He made me a mixtape so I could practice in the car, and I remember these four classic tracks blasting out of the Kingswood station wagon.
Joan Jett is a legend!
5. Roots Bloody Roots, Sepultura
My first band covered this Sepultura track in a battle of the bands competition. I stuck matches to my drumsticks with sticky tape and tried to light them mid song. It was my first attempt at metal showmanship, but all it did was trigger the fire alarm and the competition was evacuated.
4. Raining Blood, Slayer
3. Smells Like Teen Spirit, Nirvana
2. Walk, Pantera
In my early teens I signed up for a CD mail out club. The company behind the club was clearly dodgy—they'd suck you into signing up by offering three free CDs and then try and lock you into a life subscription. Pretty much every teenager in my suburb signed up…let's just say there were a lot of 14 year olds signing non-legit contracts! It was through this deal that I heard Walk, Smells Like Teen Spirit and Raining Blood. The riffs from these tracks are what got me and my mates inspired to start a band in my parents' garage.
1. Enter Sandman, Metallica
Obviously Enter Sandman takes the top spot on this list. It's such an iconic riff and the film clip is clearly the pinnacle of early 90s film clip design. I can't wait to see a whole heap of guitarists play this song en masse in front of Northcote Town Hall for the Darebin Music Feast!

Darebin's Music Feast celebrates 20 years with an incredible lineup. October 27 – November 6.
Taking place from Thursday October 27 to Sunday November 6, the Darebin Music Feast will span over 40 venues, featuring more than 600 artists over 11 days. The event's program, proudly revealed in full today, is an explosion of activity that ranges from industry panels, family workshops, live discussions, dance parties, interactive installations and more.
Few municipalities in Melbourne can boast the boundless creativity of Darebin. Taking in Thornbury, Northcote, Reservoir, Preston, Macleod, Fairfield, Bundoora, Alphington and Kingsbury, Darebin boasts a veritable bounty of talent and is brimming with art, music and dedication to culture.
Every year Darebin celebrates its harvest as the Darebin Music Feast lights up the major arterials of High Street and Plenty Road with the bizarre and beautiful music of the north.
2016 is no exception, well, except for the marking of the Feast's 20th Anniversary, which will see the Festival expand exponentially to become the biggest music celebration in the region's history.
"Darebin City Council is proud to present Darebin Music Feast. The Feast has a long and strong tradition in profiling what northsiders have known for years, that Darebin is a magnet for musicians, songwriters and audiences alike. Darebin's distinct and thriving live music scene is amplified during the feast and has evolved to become one of Melbourne's loved music festivals of the calendar year."  Vicky Guglielmo – Manager, Darebin Creative Culture
Program highlights are listed below, but they are merely main courses in the mammoth meal that is the DAREBIN MUSIC FEAST.
OPENING PARTY: A curated day of free, genre smashing activities and festivities in an abandoned bingo hall! Live, interactive art and music including the number one BBQ concept act The Burnt Sausages. October 29.
RESERVOIR STOMP: Rocket Science, The Rechords, The Putbacks and more combine for the biggest suburban shindig of the year, perfect for anyone who's ever been too afraid to venture beyond Bell Street for a gig. October 30. $20
TOWN HALL ON HIGH: A series of special events at Northcote's beautiful town hall including 'Salmon For Breakfast' an exploration of Kim Salmon's significant contribution to Australian music in story, song and sketch. October 31 – November 4.
SHOP TALK: Workshops and seminars designed to inform and inspire. Most of which are free and cater to local artists seeking confidence, skills and inspiration to apply to their art. October 27 – November 3.
BOWIE AND PRINCE DANCE PARTY:  Celebrate the life and works of two of the world's  finest musicians. All going down at Preston's new Fresh Hood Market. LET'S DANCE! November 5.
20/20 VENUE HOP: 20 artists. 4 hours. All of Darebin. Venue hop through a selection of bars and cafes enjoying music from one end of the region to another. November 5.
FEAST FOR FAMILIES: A musical chairs orchestra. Afro-beat drumming workshops. Lessons on how to be a rock star. All delivered in a family friendly format for young, impressionable minds. October 29 – November 6.
ENTER SANDMAN: Wanna know what it sounds like when dozens of people play Metallica all at once? Brace yourself as Northcote Town Hall hosts this crazy cacophony! October 31.
BUSKER'S STAGE: It's open mic night for Darebin and we are inviting the entire municipality to show their stuff October 27 – November 4.
Finally, the Darebin Music Feast boasts a Closing Party with some of the city's biggest talents combining for one massive day on Sunday November 6. From 11am to 6pm there will be family friendly AND fanboy friendly performances. Full details to be revealed shortly.
Head north this spring to partake in one of the most diverse and aurally
exciting cultural festivals Melbourne has ever seen. With a program that caters to every age group and inclination, the 2016 Darebin Music Feast will be too delicious to miss.