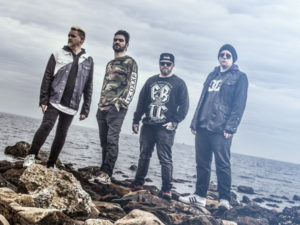 It's like they never went away. Superheist have not wasted any time in bursting back on to the scene and are today announcing their support acts for their November 2016 "Don't Call it a Comeback" tour. They have also officially finished the recording sessions for their forthcoming Ghosts of the Social Dead LP and all is on track for their October 28 release date.
The 'Heist are taking out some friends on the tour, with old school heroes also returning to the fray, Segression, joining the tour for Sydney, Brisbane and Melbourne and Earth Caller joining the whole tour except for Perth. Other locals supporting include King Mungi (Brisbane), Horrorwood Mannequins (Sydney & Hobart), Down to Size (Melbourne), Sparrow, Hailmary and This Other Eden (Perth), Ice on Mercury and ThirteenBlack (Adelaide) and Minds in Motion (Hobart). Canberra sees them headline Metal Fiesta 11 alongside Segression, Envenomed and more.
Just back from the US, Superheist have completed the recording of their new album GHOSTS OF THE SOCIAL DEAD with legend producer Jay Baumgardner (Bush, Papa Roach, Coal Chamber) at the home of Nu Metal – NRG studios in North Hollywood (Linkin Park, Limp Bizkit, Korn, No Doubt). Guitarist and Songwriter for Superheist dw Norton says "We can't help but feel like this is the best album that the band has ever produced."
GHOSTS OF THE SOCIAL DEAD will be released on Friday October 28th, online and in stores. Tickets are now on sale for the "Don't Call it a Comeback" tour at wildthingpresents.com .
In the late 90's and early 2000's Superheist were a powerhouse live band who hit the charts with successful albums The Prize Recruit and Identical Remote Controlled Reactions. A regular on the festival circuit with a large loyal fan base, the band shocked fans in 2003 announcing they were splitting up – problems with certain members, infighting and the loss of their management company took it's toll on the 5 piece.
The band returned to the fray in July, announcing incredible frontman Ezekiel Ox as the new vocalist and releasing single HANDS UP HIGH, which saw it's premiere on Triple J lunch time and enjoyed lashings of The Racket plays and it's video feature on both MTV and Rage.
The band insists this is not a reunion – the band are preferring to call it a new beginning and the tour is entitled the "Don't Call this a Comeback" Australian Tour.
"Ghosts of the Social Dead" will be available in stores and online on Friday October 28th. Tickets for the "Don't Call it a Comeback" Australian Tour are on sale atwildthingpresents .com now.
For more information about tickets and the album, go to superheist.com.au andwildthingpresents.com.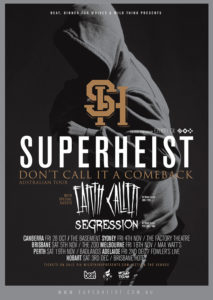 TOUR DATES
Friday 28th October
The Basement – CANBERRA
Metal Fiesta 11
featuring Segression, Envenomed & more
Friday 4th November
Factory Theatre – SYDNEY
with special guests
Earth Caller, Segression, Horrorwood Mannequins
Saturday 5th November
The Zoo – BRISBANE 
with special guests
Earth Caller, Segression, King Mungi
Friday 18th November
Max Watts – MELBOURNE 
with special guests
Earth Caller, Segression, Down to Size
Saturday 19th November
Badlands – PERTH
with special guests
Sparrow, Hailmary, This Other Eden

Friday 2nd December
Fowlers Live – ADELAIDE
with special guests
Earth Caller, Ice On Mercury, ThirteenBlack
Saturday 3rd December
Brisbane Hotel – HOBART 
with special guests
Earth Caller, Horrorwood Mannequins, Minds in Motion
TICKETS AT WILDTHINGPRESENTS.COM AND TICKET OUTLETS
ON SALE NOW