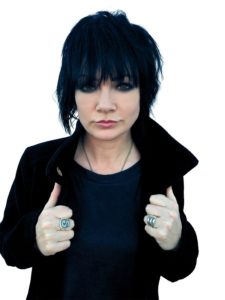 As they gear up to bring their high octane rock show to Australia, RSO: Richie Sambora + Orianthi are thrilled to announce much-loved local singer songwriter Sarah McLeod as their Special Guest.  Sarah's high energy acoustic set has earned widespread acclaim and is the perfect opener to a smokin' hot night of rock 'n' roll!
Sarah made a name for herself as front woman of one of Australia's most enduring rock bands, The Superjesus.  Since then she's collaborated with many local and international artists, including a recent EP with the Canadian lead singer of The Tea Party, Jeff Martin (from which the duo embarked on a national tour together).
The ARIA Award winner has recorded at the Playboy mansion, and released several solo albums, the first of which delivered the smash hit duet with The Living End's Chris Cheney, "Private School Girl".  Most recently, Sarah completed a national sold out club tour, Alone and Unplugged.
Sarah is ready to help blow the roof off the venues as Special Guest with RSO: Richie Sambora + Orianthi, and like Orianthi, being Adelaide born, is excited to kick off the tour in her former hometown!
Sarah with Chris Cheney:
Sarah and Jeff Martin perform acoustically:
RSO is RICHIE SAMBORA and ORIANTHI, two extraordinary musicians and songwriters who've combined their passion for guitars and their magnetic stage presence to form one hot, rock duo. These two Multi-Platinum selling artists have toured the world, written #1 singles, collaborated with mega-stars and released breakthrough solo projects.
As part of this tour, fans can expect to hear songs from both Richie and Orianthi's catalogues, Bon Jovi classics, plus songs from other artists they have performed with including, Michael Jackson's Black or White and Alice Cooper's School's Out. The tour will feature world-class guitar mastery, with the charismatic duo creating an extraordinary show.
Richie Sambora was a founding member and lead guitarist for Bon Jovi for almost 30 years, co-writing some of the band's most successful songs such as Livin' On A Prayer, Wanted Dead or Alive, Lay Your Hands On Me, Keep The Faith, I'll Be There For You and These Days. He has collaborated with artists like Cher, Les Paul, Desmond Child, Pink and even our own Shannon Noll! Having sold over 100 million records with Bon Jovi, Sambora has released three solo albums, his most recent, The Aftermath of the Lowdown in 2012 after which he toured Australia with Orianthi as special guest, as part of the 2014 Soundwave Festival.
Australia's own rock goddess, Adelaide born Orianthi, is a renowned guitar talent and exceptional, sensitive songwriter. She is one of only three female guitarists ever to grace the cover of US Guitar magazine, the first female guitarist to play in Alice Cooper's band and was enlisted by the late Michael Jackson for his 'This Is It' concert tour (and featured heavily in the film of the same name).
Orianthi is one of the most sought after musicians and vocalists in the world.  She has been recruited by a host of music legends to add her fiery and melodic lead to their albums and live shows, playing at Eric Clapton's Crossroad Festival, and with greats such as Alice Cooper, Michael Jackson, Santana, Steve Vai, Dave Stewart, Steven Tyler, Adam Lambert and Michael Bolton.  After first appearing as lead guitarist for Carrie Underwood on the 2009 Grammy Awards, Orianthi scored her breakthrough top ten worldwide hit with According To You later that year. Orianthi's songs have featured in Guitar Hero games and most recently she recorded an all-star version of Led Zeppelin's Whole Lotta Love featuring AC/DC's Brian Johnson, Joe Walsh, Johnny Depp and Zac Starkey, on the Hollywood Vampires debut album.
Richie Sambora inducted Orianthi into the South Australian Music Hall of Fame in 2015.
RSO: RICHIE SAMBORA + ORIANTHI are finalising work on a soon to be released but yet to be titled album.
RSO: RICHIE SAMBORA & ORIANTHI AUSTRALIAN TOUR 2016
Monday 26 September                    Adelaide Entertainment Centre Theatre, Adelaide
Tuesday 27 September                   Margaret Court Arena, Melbourne
Thursday 29 September                  Enmore Theatre, Sydney
Friday 30 September                       Eaton Hills, Brisbane
TICKETING INFORMATION:    
Tickets available through  www.ticketek.com.au