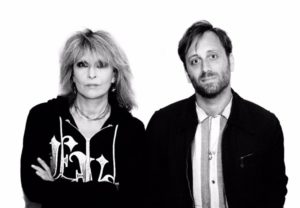 Legendary band Pretenders are back and have released their first new music in eight years, 'Holy Commotion'. 'Holy Commotion' is the first track taken from the forthcoming album Alone, which will be released 21 October through Liberator Music/BMG. 36 years after their remarkable self-titled debut album, Alone could be the older, wiser, and badder sister to that exhilarating debut.
Listen to 'Holy Commotion' here and pre-order Alone here
Originally intended as a follow-up to Chrissie Hynde's 2014 solo album Stockholm, it soon dawned that those driving guitars, ragged but righteous arrangements, tough yet tender lyrics delivered by the most beautifully distinctive voice of a generation, sounded fantastically familiar. Pretenders were back.
Alone was recorded in Nashville with Dan Auerbach of The Black Keys, who stood as captain, producer, and multi-instrumentalist on the record, and was mixed by Tchad Blake (Arctic Monkeys, Peter Gabriel, Elvis Costello). The full band joining Chrissie and Dan on Alone features Johnny Cash's formed bass played Dave Roe, country rocker Kenny Vaughan on guitar, plus sundry members of Dan's side project The Arcs. Duane Eddy also features on the punchy 'Never Be Together'.
Alone sees Chrissie at her most searingly honest, incisive best, saying "This record is what I love the most – real people playing real music".
Alone
Roadie Man
Gotta Wait
Never Be Together
Let's Get Lost
Chord Lord
Blue Eyed Sky
The Man You Are
One More Day
I Hate Myself
Death Is Not Enough
Holy Commotion
Alone – Pretenders
Out 21 October 2016 through
Liberator Music / BMG
Pre-order available here