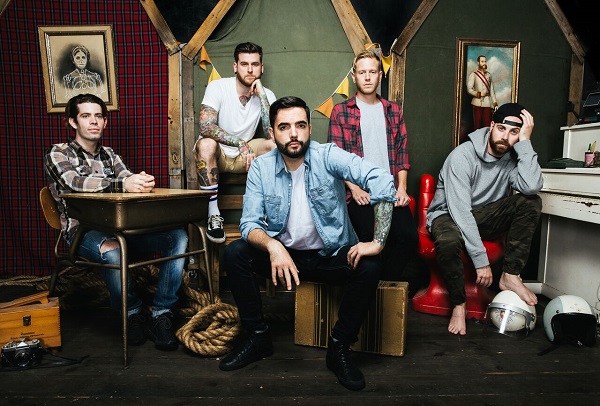 "It's not really that hard for us because honestly we got to where we are now by writing about what came naturally or what we were influenced by at the time and stuff like that. So this one is still A Day To Remember but it sounds a little different because it's a different time in our lives…"
From release: Over the course of the past several years, each of A Day To Remember's releases have hit No. 1 on Billboard's Rock, Indie and/or Alternative Charts, they've sold in excess of a million units, racked up more than 400 million Spotify streams and 500 million YouTube views, garnered two gold-selling albums and singles and sold out entire continental tours, amassing a global fanbase whose members number in the millions. All of which explains why Rolling Stone called them "An Artist You Need To Know." Now A Day To Remember have recorded Bad Vibrations which is released on the band's own ADTR Records and distributed by Epitaph, the album is the follow-up to 2013's Common Courtesy.
In Scranton, Pennsylvania which is a pretty happenin' place Neil tells us… he gave us a call to talk about the band's new album 'Bad Vibrations', its creation, the upcoming Australian tour and much more…
So we have the new album 'Bad Vibrations' out now, what are you feelings around album release time?
Oh fuck I hope they like it… that's kind of the first feeling I go with… the second feeling is if they don't well it's already done so I'm just gonna keep living my life.
Do you still get the same excitement when you release an album, is there still that same buzz?
Yeah I mean it's pretty awesome, we haven't really had a leak yet but I'm just excited to show the people and for them to hear it, it's like we've been keeping a secret for the last year of our lives and haven't really let anyone listen to it yet and now we're gonna let all the people that want to hear it to hold it and to have it, and it'll be cool we don't have to keep it a secret anymore. So I think there is that kind of relief to kind of be all 'here it is…'
What does the title 'Bad Vibrations' represent to you personally?
I just thought it sounded awesome, and I thought it represented a time when we were writing and recording these songs pretty accurately. We were going pretty hard in the time we were writing and recording the album, we were doing two songs a day and we were in the studio for a month and a half straight, in this little 10 x 10 room, and that was kind of the vibe towards the end when we thought about naming the album, so…
How if in any way did the creative process in making this album differ compared to previous releases?
Well, this was kind of the first album we went back and we wrote everything in a room as a band rather than on a bus with a computer, you know? Like we all got together in Colorado in February of last year and we didn't have any ideas or any kind of songs to work off of, and just started writing. Then we're were in there a month and  half I'd say, then we went to Europe and when we came back we were in there for another two months and ended up just recording the whole album. When we started we had about forty songs to work with, yeah that's what made it different from other albums, we kind of went in with nothing and wrote it all in a room together.
Do you find that it becomes easier to make albums as you add to the catalogue or is it in fact more challenging as you need to create something new and try and in a way better the last?
It's not really that hard for us because honestly we got to where we are now by writing about what came naturally or what we were influenced by at the time and stuff like that. So this one is still A Day To Remember but it sounds a little different because it's a different time in our lives, and we're influenced by different stuff or even the same stuff just different songs, it's not really hard or easy, I think the hardest part is 'hey I really like this, let's do this' or 'hey this is not cool and I don't want to have this on our album', that's the hardest part, knowing actually what you want to put out there.
I wanted to single out one song and that's 'Justified' as there's always one song that jumps out at me on an album. Is there a story you can tell us a bit about that one?
Yeah, that was one of the ideas I brought to recording, I just got together, me and my roommate and Cody, he plays guitar for Wage War, I was at my house one day and said 'hey you should come over and we'll write some music' not really for anything, just for fun and we kinda hashed that song out music wise in one day, put a bunch of riffs together and demoed most of it out. So I wrote most of that and I brought it and we were there maybe like two or three weeks into the writing process and I said 'hey I have this idea it's almost finished if you want to jam it?' So we started jamming it and we ended up playing it through and then Jeremy came in and just ended up laying down all of the vocals pretty much as soon as he heard the song. That's pretty much the most backwards way we've written a song, usually they're all based on a chorus, or melody or something like that, or a riff and then we write the song around it. This has most of the music done and then Jeremy just wrote all the vocals and the melody on the spot which is pretty crazy, so I mean that song is just an anomaly in itself.
I've always loved the melodic vibe to A Day To Remember, what's the creative process like in writing these songs that blend beautiful melodies with sometimes brutal metal hardcore, how do you maintain the balance?
Usually when we're doing… like say on this record it just kind of flows, you're writing a song, and you get to a pre-chorus part and you just need a release and it's almost like this anxious build up and it just needs to be released and then you keep pushing and pushing, that's the whole vibe of the song, you build to the release whether it's a chorus or a breakdown it's like that's the thought process of it, you know?
Six albums in now, looking back to your debut eleven years ago is there anything you learned in those first recording sessions that you still use to this day?
I don't know… I mean the first couple of recording sessions were so bare bones, I mean we do a lot of things the same and I guess I never realised it, I mean just how to record in general we kind of learned then, and kind of learned to build off that experience. Just learning the basics I guess. Gotta have a good guitar that's in tune *laughs* you've gotta be willing to take criticism and just keep playing and pushing…
You're heading back to Australia in December, in always having an amazing relationship with Australia, what can we expect on this run of shows?
We've got a pretty rad show that we're doing, we built a production and it's the first time I've ever seen anything like this, so it's gonna be pretty cool and it's going to be the first time we can bring our production we've done in The States over to Australia and not just base something new off of Australia you know? We've got like midgets and we're gonna give out free Taco Bell… yeah we're not gonna do that… *laughs*
Do you have a stand out memory of a previous trip down here?
Australia is just like an awesome country in general, it's one of the places where from the moment we got there we just kind of felt comfortable and it wasn't like we had to learn a new language or a new culture… Hey, Australia it's basically like America just different and awesome in its own way, so just that you can go there and from the moment you got there you just felt accepted and you kind of felt that you could go around and immerse yourself in all of it and understand everyone, I think that's kind of it's not one memory but I just like going to Australia so much. I've been able to be myself there from the moment we went there.
I think you just nailed our new slogan… 'Australia, it's like America just different'
Different and awesome, and no guns *laughs*
Now you've been in the band for thirteen years, is there still one thing you want to do that you haven't had a chance to do yet?
Yeah, I'd still like to go and play a lot of places we haven't got to go to yet, I'd like to go and play like places in the Middle East and South Africa, I'd like to play some places in Central America, stuff like that. Getting to do things you wouldn't normally get to do except we're in this place where we were given the opportunity to do them you know?
Lastly with the year truly on the downhill let's see if we can predict something, so finish this sentence for me, by the end of 2016 the one thing A Day To Remember wants to do is…
Play a show where we don't look retarded… *laughs*
Well feel free to do that in Sydney…
You know… I think Sydney might be the one where we finally do it *laughs*
Catch A Day To Remember with Of Mice & Men and Tonight Alive in Australia at the following dates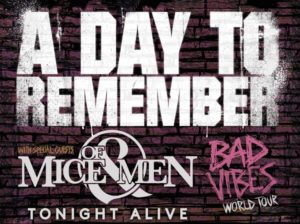 RED HILL AUDITORIUM, PERTH
SATURDAY DECEMBER 10
AEC THEATRE, ADELAIDE
TUESDAY DECEMBER 13
FESTIVAL HALL, MELBOURNE
WEDNESDAY DECEMBER 14
HORDERN PAVILION, SYDNEY
FRIDAY DECEMBER 16
RIVERSTAGE, BRISBANE
SUNDAY DECEMBER 18
all shows are licensed all ages
Ticket information HERE – livenation.com.au
Essential Information
From: Ocala, Florida, USA
Band Members: Jeremy McKinnon – Vocals, Neil Westfall – Guitar, Joshua Woodward – Bass, Kevin Skaff – Guitar, Alex Shelnutt – Drums
Website: http://www.adtr.com
Latest Release: Bad Vibrations – (Out Now – ADTR Records / Epitaph)