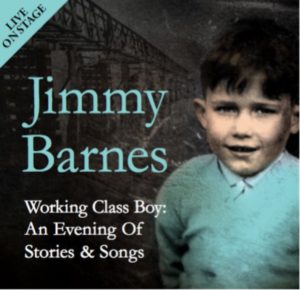 It's a week of firsts for Jimmy Barnes. Not only is the Oz-rock icon releasing his first ever book, but he's also announcing his first ever 'spoken word' tour throughout November and December.
WORKING CLASS BOY: An Evening of Stories and Songs will see Jimmy leaving behind the arenas and rock gigs where he's blazed a trail for decades. Instead he will now be telling his life story for the first time on theatre stages across Australia, including special venues like the Sydney Opera House(Concert Hall), Brisbane City Hall and the Regent Theatre in Melbourne.
This unique live event will see Jimmy sharing stories from his troubled childhood and delinquent adolescence. It will also see him delivering intimate musical performances of some key songs drawn from his earliest years. For those who have previously enjoyed his Flesh & Wood acoustic gigs, this tour will be a treat with lots more storytelling providing a real insight into the events that shaped Jimmy's life and his music.
"Just like the book, this live show will tell the story of an imperfect childhood that has led to me becoming an imperfect adult", explains Jimmy. "I spent most of my life running from my childhood and now it seems like my time to face it. So this is the story of a lifetime spent running away. Running from fear. Running from shame but at the same time running from hope. I'm not running anymore"
Tickets for WORKING CLASS BOY: An Evening of Stories and Songs will go onsale to members of the General Public at 10.00am local times onMonday, 19 September although members of Jimmy's mailing list will receive exclusive early access to a limited quantity of seats. To join Jimmy's mailing list go to www.jimmybarnes.com/.
This unique live theatrical production is a companion piece to the eagerly anticipated first volume of his memoirs – Working Class Boy. The book was written entirely by Jimmy Barnes. It tells the raw and confronting story of fleeing the poverty of Scotland only to endure violence and abuse as an immigrant in the suburbs of Adelaide. The book explains what drove Jimmy to ultimately escape everything via rock'n'roll and its associated lifestyle. Fittingly, the childhood memoir ends with an 18 year old Jimmy and the fellow members of his new band, Cold Chisel, fleeing South Australia in the back of a truck full of musical equipment.
The hardcover first edition of Working Class Boy will be released nationally by Harper Collins on Monday, 19 September. Jimmy will be doing a number of signings and Q&A style events in association with various booksellers around the country over the following 3 weeks before heading into a month of focused rehearsals for the theatre tour.
Appropriately the tour will be drawing attention to the great work of the Luke Batty Foundation (www.lukebattyfoundation.com.au). In addition to providing relevant information online and at all of his shows Jimmy will also be encouraging everyone to support Australian of the Year Rosie Batty's campaign to end family violence by signing up at www.neveralone.com.au
WORKING CLASS BOY: An Evening of Stories and Songs will premiere in Victoria in mid-November and wind its way around much of Australia thereafter. Dates and venues are below.
Jimmy Barnes
WORKING CLASS BOY: An Evening of Stories and Songs
Tuesday, 15 November 2016
The Wendouree Centre for Performing Arts, Ballarat, Vic
Tickets available from the Venue | 03 5338 0980 and
www.wcpa.com.au
Thursday, 17 November 2016
Lighthouse Theatre, Warrnambool, Vic
Tickets available from the Venue | 03 5559 4999 and www.lighthousetheatre.com.au
Friday, 18 November 2016
Ulumbarra Theatre, Bendigo, Vic
Tickets available from the Venue | 03 5434 6100 | www.gotix.com.au
Saturday, 19 November 2016
Regent Theatre, Melbourne, Vic
Tickets available from Ticketmaster | 136 100 and www.ticketmaster.com.au
Sunday, 20 November 2016
West Gippsland Arts Centre, Warragul, Vic
Tickets available from the Venue | 03 5624 2456 and www.wgac.com.au
Friday, 25 November 2016
Her Majesty's Theatre, Adelaide, SA
Tickets available from BASS | 131 246 and www.bass.net.au
Saturday, 26 November 2016
The Barossa Arts & Convention Centre, Barossa Valley, SA
Tickets available from Ticketmaster | 136 100 and www.ticketmaster.com.au
Thursday, 1 December 2016
Brisbane City Hall, Brisbane, Qld
Tickets available from Ticketmaster | 136 100 and www.ticketmaster.com.au
Friday, 2 December 2016
Jupiter's Hotel & Casino, Gold Coast, Qld
Tickets available from Ticketek | 13 28 49 and www.ticketek.com.au
Saturday, 3 December 2016
Saraton Theatre, Grafton, NSW
Tickets available from the Venue | 02 6642 1633 and www.saraton.com
Thursday, 8 December 2016
Shoalhaven Entertainment Centre, Nowra, NSW
Tickets available from the Venue | 1300 788 503 and www.shoalhavenentertainment.com.au
Friday, 9 December 2016
Anita's Theatre, Thirroul, NSW
Tickets available from Ticketmaster | 136 100 and www.ticketmaster.com.au
Saturday, 10 December 2016
Sydney Opera House, Sydney, NSW
Tickets available from the Venue | 02 9250 7777 and www.sydneyoperahouse.com
Sunday, 11 December 2016
Canberra Theatre Centre, Canberra, ACT
Tickets available from the Venue | 02 6275 2700 and www.canberratheatrecentre.com.au
Wednesday, 14 December 2016
Albany Entertainment Centre, Albany, WA
Tickets available from the Venue | 08 9844 5005
and Ticketek | 13 28 49 and www.ticketek.com.au
Thursday, 15 December 2016
Bunbury Regional Entertainment Centre, Bunbury, WA
Tickets available from the Venue | 1300 661 272 and www.bunburyentertainment.com
Friday, 16 December 2016
Perth Concert Hall, Perth, WA
Tickets available from the Venue | 08 9231 9999 and www.perthconcerthall.com.au -and- Ticketmaster | 136 100 and www.ticketmaster.com.au
Saturday, 17 December 2016
Queens Park Theatre, Geraldton, WA
Tickets available from the Venue | 08 9956 6662 and www.queensparktheatre.com.au
Please note that in keeping with the nature of this production, the show will be staged over two acts with a short interval. There will be no support band so Jimmy will be onstage from the advertised starting time at all shows