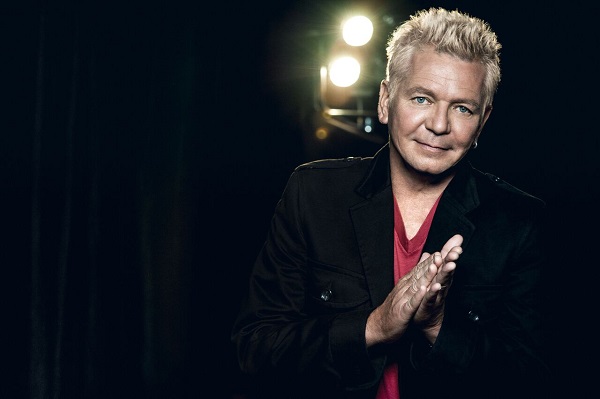 "…I was a skeptic for a very long time and it wasn't until I was handed the first royalty check from the Flowers album by the management accountant that it sort of dawned on me that we were going to make any money out of it, and even after that I didn't think we'd last very long *laughs* so it took a very long time to convince me that this was any kind of real job at all. *laughs*"
From Bio: ICEHOUSE started as a pub rock band called FLOWERS performing their first live show to a crowd of around 30 in Warriewood beginning three years of local residencies and non-stop shows around the country. In 1980, they scored a record deal with Regular Records and released their first singles, Can't Help Myself and We Can Get Together. The band's debut album, ICEHOUSE, was released in the same year to critical acclaim and reached multi-platinum status in Australia and New Zealand. ICEHOUSE soon became the highest selling debut album by any band in Australia, a record it was to hold well into the 1990s. In 1981, FLOWERS changed their name to ICEHOUSE for use in the overseas market. With their new name, the band embarked on their first overseas tour taking on the USA, Canada and the UK in their stride.
ICEHOUSE has sold over three million albums locally, more than nine million internationally, and have achieved 28 platinum album sales in Australasia. They have had eight Top 10 albums and more than 30 Top 40 singles. ICEHOUSE and Iva Davies have won many awards, including the Countdown Award for the Most Popular Male Performer and ARIA Awards for the Best Album and Highest Selling Album for Man of Colours. The band was inducted into the ARIA Hall of Fame in 2006.
Icehouse are about to turn 40! So ahead of the big celebration, we gave Iva Davies a call at home and while he was staring at the ocean we talked about Icehouse's 40th anniversary, touring, beginnings, memories, new music possibilities and much more…
Great to talk to you again, Iva, we spoke just about a year ago, so let's catch up, how has the least year been for you?
Well, lots of highlights and it's actually strange how much I forget fairly quickly believe it or not. We did a whole bunch of shows early in the year and they were great fun, we've also done a couple of big ones more recently too, the last crowd we played to believe it or not was twelve thousand people in Townsville which was a V8 car racing event and that's something that's new and we've done two this year, so very interesting.
Now of course Icehouse turns 40 coming up in 2017, so an early happy birthday and what a milestone.
Very good, thank you!
Looking back what do you remember most about the band's beginnings?
It was an interesting time because I taught myself to play an acoustic guitar when I was around thirteen over one summer school holidays my big brother had taken off for London and foolishly left behind his classical guitar and a book called Cole's Spanish guitar method, and that was how I learned to play the guitar. So I met a couple of guys and played folk music for quite a few years and as I was in a parallel life to be a professional oboist and it wasn't until I was in my very early twenties that I decided that there was no way I was going to end up playing in an orchestra and on my twenty first birthday I bought my first solid body electric guitar. So I was in the process of learning how to get a good sound out of this contraption when I met Keith Welsh who was the bass player and co-founder of Flowers and I'd never ever been into a pub at that point and I remember quite clearly for the first time going to a pub with Keith and seeing a band playing and taking the whole thing in and thinking wow this is a whole kind of social dynamic that I wasn't aware of, and of course in my early twenties I was a fairly hermit like creature so I didn't get out much *laughs*.  So the whole experience of getting out to a pub to see a band was completely foreign to me, but I guess that was probably the overarching memory that I have really, the kind of strangeness of being on a stage in a pub which was as I say a completely foreign environment.
You're heading back out on tour so when you put together a celebration like this how do you plan a set list to cover the entire career of the band?
It's tricky, what we're doing is we're rehearsing some extra songs so it's probably going to be a little more fluid than it has been in the past. There are obviously certain stand out landmark songs that we will always play, and those will remain but within that as I say we're rehearsing a number of other songs but also a couple of cover versions as well because it does hark back to the kind of beginnings of the band. We started out like most bands, playing other people's material and those are days that are probably well beyond a lot of our audience that joined us at 'Man of Colours' which is our fifth album, but some of our audience will go back to those days where Flowers were simply a covers band in the Northern Beaches.
For me being one of those ones that really found you with 'Man of Colours' as you were just talking about, can we hear 'Heartbreak Kid' maybe?
Oh wow, we have played that quite a bit in the last four and a half years but we haven't played it for a while, so that's actually a very interesting suggestion. I've got a bit of a soft spot for the song I'm not quite sure why but it's a great thing to play and we were doing an acoustic version of it earlier on which we may revisit.
It feels like Icehouse has been a lot more active of late with many live shows. Has it been fun getting out there and playing?
Well what happened was I kind of really retired after the tour in 1994 I think it might have been, and it coincided with the birth of my first child I think Brynn was six weeks old when we did the last show and I kind of decided at that point that I'd had enough to be satisfied with and to move on to the next chapter which was being a father. That kind of persisted for around sixteen years believe it or not… we didn't really play at all publically. Then something strange occurred, our tour manager who is still our tour manager and he goes back to 1986 with us so we've been working together for a very long time, and he happened to be general manager of the largest production company in Australia, largest audio production company where people like The Rolling Stones will get their PA from and their lighting from when they do a tour of Australia. He rang me up and said I've just come up with an idea, I've invented this thing called 'Sound Relief' and it was two shows, one in Sydney and one in Melbourne to be a benefit for what was a dreadful disastrous bushfire in Victoria and also flooding in Queensland at that time and by the way I've just volunteered you to headline the Sydney show… *laughs* and we hadn't played for sixteen years, so we rehearsed and we did play that show and it was extraordinary, and it was the first time that my children who were then about fourteen and twelve it was the first time they'd ever seen us play a show and they were absolutely gobsmacked. We looked at each other after that and thought hmm maybe we should do this again, and it was kind of the beginning of the renaissance as it were of the live band.
Not only are you doing your own shows but you're headlining a few festivals with some amazing Aussie talent, is there anyone on the bill you're specifically looking forward to playing with?
Look they're all great artists and very experienced ones at that, and there's a lot of history there too, our lead guitarist Paul who has been playing with me for nearly thirty years, and for a long time he played with James Reyne's band so of course there are connections throughout, and we also share in common that early pub era where we got to sort of learn our craft as it were and they were incredibly lucky times. So if you were sitting down all of those artists in one room they would probably all agree that we were very lucky to be involved with the pub music scene of that time because it was incredibly vibrant and productive.
So when you started the band did you have an idea or thought that 40 years later you'd still be doing this?
Absolutely not, in fact I was probably the world's largest skeptic and I was a skeptic for a very long time and it wasn't until I was handed the first royalty check from the Flowers album by the management accountant that it sort of dawned on me that we were going to make any money out of it, and even after that I didn't think we'd last very long *laughs* so it took a very long time to convince me that this was any kind of real job at all. *laughs*
Over the years members have come and gone, a lot of people involved, how has each incarnation or member helped you personally to continue to shape the band?
Look, I guess most of the time I just simply followed my nose and it led me to some great places. A lot of what shaped the band early on was an incredible explosion in music technology, there were what seemed to be monumental inventions happening on almost a weekly basis, so we went from a period when we recorded the very first album there was no such thing as a drum machine, to within what seemed like minutes the evolution of a number of drum machines concluding in a remarkable piece of work called the Linn drum machine in which was the basis of the second album, I bought one when we were doing our first international tour and brought it back to Australia and it kind of became the backbone of my writing process, and the first thing I wrote with that particular machine was the first song of the second album 'Primitive Man' and the song was 'Great Southern Land' and from there on I can kind of map just about everything I did with the invention of some kind of technology. So I just got to play with a whole lot of toys *laughs*.
Every decade musically has changed and a band like Icehouse remains loved, what do you think it is about the band that people latch on to and stay with?
I think there are sort of certain common denominators I think in any music of quality and hopefully we have at least some of those and there is no going past really a good sense of melody, but also the kind of framework within which most of those recordings and pieces of music were made was one in which I was very acutely aware and it sort of goes back into that conversation about technology too, because when the very first synthesizers were coming out there were loads and loads of bands who were jumping on these things but they were kind of treating them as a novelty a lot of the time, and I remember very clearly having a thought process that went along the lines of hearing a particular new song that had come out from some English new wave band with a synthesizer very prominent and thinking you know what… that sound is going to date really badly *laughs* and being aware of that even back then when the thing had only just been invented meant that I was always very careful to avoid things that I thought were going to be very of the moment. That included every sort of fashion item and every piece of artwork that we produced and so on, it was all somewhere at the back of my thought process regarding all of those things was how will this look in twenty years time, or how will this sound in twenty years time. I'm glad I sort of went through that process because we did manage to avoid, not all, but a lot of the kind of pitfalls what was very music fashion driven at the time.
You forgot to say haircuts…
Um… haircuts aside I think *laughs*
I have to ask, are there any plans for new music from Icehouse in the foreseeable future?
It's not on my immediate radar and when I say my immediate radar that's not really a satisfactory answer because my immediate radar tends to be fairly short term *laughs* so for example a number of people asked recently what's on after this 40 year tour and I say I haven't even thought about that and I'm not going to think about that because my immediate focus is on what the demand of that will be. So ask me that question again in May of next year when that tour is over… and then I might have some possibility of giving you an answer *laughs*.
Has there been a moment in the 40 years that you look back on as an absolute favourite?
There's been loads of highlights and they are some extraordinary moments, things like performing for the bicentennial royal command performance at the entertainment centre and being aware that it was going out on television to three and a half billion people… no pressure there.. so there are things like that. Even things that some people don't know about, like being one of the last, if not the last live band on Johnny Carson's show, iconic television show out of Hollywood and I remember thinking at the time 'wow, we're on the Johnny Carson show' and there's not too many Australian bands that can boast that.
With a broad catalogue is there one song from your body of work that you would want people to remember you for?
Well I think whether I like it or not, 'Great Southern Land' will probably be the song that is a very defining one and it's actually quite ironic to me in sorts f ways because what happened was, and you might not have an understanding of this because it's a fair while ago, but by the time we got to the 90's at least I was absolutely convinced that 'Electric Blue' would be the defining song because it had been our only number one song and by far a bigger hit than anything else, and it achieved top ten status in the USA and it was THE song. Then something very strange happened… we got to 1999 and I was approached by the collective creative team who were in charge of the Sydney Millennium celebrations, and they came to me and said "we have the Sydney symphony orchestra, we have a group of Japanese taiko drummers, we have the forecourt of the Opera House and we would like you to turn 'Great Southern Land' into a twenty five minute extravaganza using all those elements." I did, and it took me nearly a year to create that piece of music, and then of course in the twenty five minutes leading up to the countdown on Sydney harbour we performed the piece which was called 'The Ghost of Time' and culminated in an orchestral version of 'Great Southern Land', and that in turn was seen throughout the world by four billion people, and from that moment on 'Great Southern Land' suddenly came to life and ever since then it's kind of been the defining song. That whole performance is up on YouTube, so if you search 'The Ghost of Time' you'll find it.
Lastly let's look ahead to the future, so finish this sentence for me, by the time the band turns 41 the one thing Icehouse wants to do is…
Have survived the tour… there's no getting around the fact that I'm not getting any younger, so for that reason we are very selective about the pacing of what we do and the sorts of shows that we do, and so there's always and always has been since I was a very young man an element of physicality that's very demanding and when you tea, that up with a whole bunch of adrenaline then they're very high energy shows. So it's always nice to get to the end of it and know that you're still standing. *laughs*
Catch Icehouse on their 40 years live shows…
Saturday, 7 January 2017
Red Hot Summer Tour – Mulwala Waterski Club, Mulwala, NSW
Tickets on sale now from
Ticketmaster 136 100 | www.ticketmaster.com.au
Friday, 13 January 2017
Enmore Theatre, Enmore, NSW
Tickets available from Ticketek 132 849 | www.ticketek.com.au
Presented by WS FM101.7
Saturday, 14 January 2017 – 2nd and Final Show
Enmore Theatre, Enmore, NSW
Tickets available from Ticketek 132 849 | www.ticketek.com.au
Presented by WS FM101.7
Saturday, 21 January 2017
Summer Concert Tour – Gibbston Valley Winery, Queenstown, NZ
Tickets available from through www.ticketek.co.nz (0800 ticketek)
Saturday, 28 January 2017
Summer Concert Tour – Taupo Amphitheatre, Taupo, NZ
Tickets available from through www.ticketek.co.nz (0800 ticketek)
Sunday, 29 January 2017
Whitianga Open Air Venue, Whitianga, NZ
Tickets available from through www.ticketek.co.nz (0800 ticketek)
Wednesday, 1 February 2017
Crown Theatre, Perth, WA
Tickets available from Ticketmaster 136 100 | www.ticketmaster.com.au
Presented by 96FM
Thursday, 2 February 2017 – 2nd and Final Show
Crown Theatre, Perth, WA
Tickets available from Ticketmaster 136 100 | www.ticketmaster.com.au
Presented by 96FM
Thursday, 9 February 2017
Thebarton Theatre, Adelaide, SA
Tickets available from Ticketmaster 136 100 | www.ticketmaster.com.au
Presented by Cruise 1323
Saturday, 11 February 2017
Red Hot Summer Tour – Old Mount Gambier Gaol, Mt Gambier, SA
Tickets on sale now from
Ticketmaster 136 100 | www.ticketmaster.com.au
Saturday, 18 February 2017
Red Hot Summer Tour – Country Club, Launceston, TAS
Tickets on sale now from
Ticketmaster 136 100 | www.ticketmaster.com.au
Friday, 24 February 2017
Brisbane Convention and Exhibition Centre, Brisbane, Qld
Tickets available from Ticketek 132 849 | www.ticketek.com.au
Presented by 4KQ
Saturday, 11 March 2017
Red Hot Summer Tour – Mackay Park, Bateman's Bay, NSW
Tickets on sale from 9.00am, Monday 29 August from
Ticketmaster 136 100 | www.ticketmaster.com.au
Friday, 17 March 2017
Wrest Point Entertainment Centre, Hobart, TAS
Tickets available from http://tixtas.com.au/Home.aspx?psid=iceh2017
Presented by 7HOFM and WinTV
Saturday, 18 March 2017
Wrest Point Entertainment Centre, Hobart, TAS
Tickets available from http://tixtas.com.au/Home.aspx?psid=iceh2017
Presented by 7HOFM and WinTV
Saturday, 25 March 2017
Red Hot Summer Tour – Roche Estate, Hunter Valley, NSW
Tickets on sale now from
Ticketmaster 136 100 | www.ticketmaster.com.au
Saturday, 1 April 2017
Red Hot Summer Tour – Harrigan's Drift Inn, Jacob's Well, Qld
Tickets on sale now from
Ticketmaster 136 100 | www.ticketmaster.com.au
Saturday, 22 April 2017
Red Hot Summer Tour – Bendigo Jockey Club, Bendigo, VIC
Tickets on sale now from
Ticketmaster 136 100 | www.ticketmaster.com.au
In 2016, ICEHOUSE will also be performing at the sold out One Electric Day concert at Werribee Park, Vic, on Sunday, 27 September as well as headlining:
Great Western Hotel, Rockhampton, Qld
Saturday, 1 October 2016
Tickets available now from here
Caloundra Music Festival
Monday, 3 October 2016
Tickets available now from here
Bondi Beachfest 
Saturday, 12 November 2016
with James Reyne & Mark Seymour, Josh Pyke, Rogue Traders,
Ash Grunwald and William Crighton
Tickets available now from here and here
Essential Information
From: Sydney, Australia
Band members: Iva Davies
Website:  http://www.icehouse-ivadavies.com/
Latest release: Icehouse – In Concert – (Universal Music Australia)