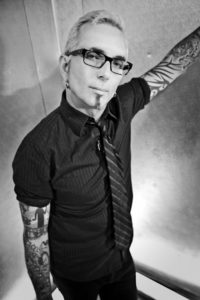 Art Alexakis will combine songs with stories in an intimate acoustic performance, covering Everclear's iconic hits when he tours Australia this October.
A combination of the same classic 70's rock that drives Foo Fighters or Queens Of The Stone Ageand the melodic punk that inspired Nirvana, Everclear emerged on the pop-culture landscape as part of the wave The Pixies and Hüsker Dü ushered in, a time when abrasive guitars aligned with naked emotional expression to beat back the scourge of vapidity. Everclear shifted the culture alongside bands like Smashing Pumpkins, The Toadies and Weezer; all diverse acts who shared a forceful authenticity.
Alexakis formed and spearheaded the Everclear name, finding huge success, particularly with their first three records: 'Sparkle and Fade' (1995), 'So Much For the Afterglow' (1997), and 'Songs from an American Movie Vol. One: Learning How to Smile' (2000).  Most recently, the band released a ninth studio album entitled 'Black is the New Black' (2015) – hard-driving, generation-spanning rock 'n' roll with a diverse and timeless sound. Described as "pretty dark, lyrically and musically", Alexakis explained that it pushed him towards a darker place.
He has been candid about his past – losing those closest to him to drugs and suicide and nearly losing himself in both, as well. Through his music he has well & truly explored these dark places, learning to balance and respect them and ultimately gaining a perspective earned through experience. This journey is evident through hits such as "Heroin Girl", from the band's commercial breakthrough Sparkle and Fade and 'I Will Buy You a New Life' and 'Father of Mine' from So Much for the Afterglow – songs as ubiquitous on the radio now, as they were then.
Two decades into a storied career with zero signs of slowing down, Alexakis reckons he will always draw upon the same mojo that first inspired him to play. "I will be 98 years old and pissing off my grandkids" he predicts, with a hearty laugh. "'Grandpa is playing that horrible, loud music again!' I'll probably be deaf as a doornail by then, too, so I'll be playing it really loud. It's a rock 'n' roll thing."
"I think you're born with it, and I think you die with it too"
Join Art for an intimate acoustic set when he tours Australia this October.
TOUR DATES:
Thursday 13th October – The Bald Faced Stag, Sydney
Friday 14th October – Ding Dong Lounge, Melbourne
Saturday 15th October – The Brightside, Brisbane
Comments
comments