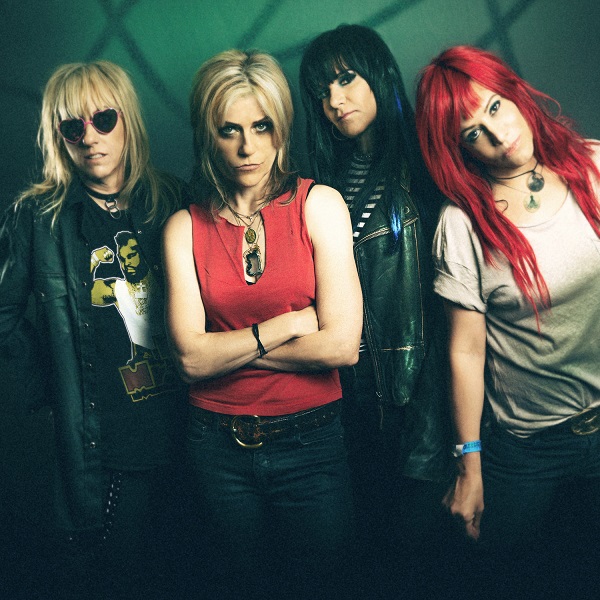 "I feel now that we've already proved ourselves, we're playing material that people have been waiting years for us to play live and it's already a given that they like us *laughs* and like the music that they're gonna hear because they've already bought the stuff twenty years ago you know what I mean?"
From release: One of the most anticipated acts that were announced for Soundwave 2016, Venues across Australia are NOW about to get the roof blown off when L7 take to the stage for an ass-kicking live experience this October presented by Metropolis and Select Touring. It's been a long hiatus, but the female punk heroes are FINALLY BACK, giving Australians a down and dirty intimate club tour. Having dominated the music scene throughout the 90's and spearheading a ferocious underground musical movement whilst defying gender expectations for the greater good of kick-ass alternative grungy punk rock, the iconic queens of rock 'n' roll L7 are exactly that, and so much more.
At home in Los Angeles we gave Donita from L7 a call to talk about the band's upcoming tour of Australia, the return of the band in general, new music possibilities and more…
It's been a long time since you've been to Australia and the reaction to the tour has been great. How does that make you feel after so long away?
It's super great to be playing shows again, and we've been having a lot of fun and connecting with a lot of people who really love us and we love them back, and there's a cool love fest going on.
Especially coming back to a territory like Australia and knowing that people still love you after so long…
Yes, I've been thinking that there must be something in the water or some sort of pollutant going on, something in the air that's causing this devotion and excitement.
So how are you planning to put the set list together? 
Well we're playing very much the songs that probably our most popular songs, there's maybe a couple lesser known songs in the set but the majority is the songs people want to hear. We're not getting weird with it, I love Prince but we're not getting Prince with it *laughs* you know?
What do you remember from your last tour here?
I remember we played some festivals, I remember getting a little drunk with the Jesus Lizard backstage at one of those festivals, Primus was on the show, I can't remember the name of it…
Thirteen years is a big break, what was the catalyst behind getting back together after so long?
It was probably more like fourteen years, the catalyst was basically seeing the amount of fans we still had on social media on our facebook page, I started a facebook page just archiving our photographs and people started getting very enthusiastic like we were hinting at a reunion which we actually were not, it was just me posting this stuff. Then our booking agent in the US called me up and said can I put your name out there for festivals? I said well we're not a band, but let me think about it… then I called everybody up and said think about it for nine months and I'll call you in nine months to see if you're in or out, and I kind of didn't care either way, I wasn't even sure if I wanted to do it, and now I'm so glad that we did it because it's really, really been enjoyable, maybe even more enjoyable than the first time around.
Isn't it great that the power of social media can give you a resurgence like that…
No, it's so great because in the hiatus we kind of missed the digital age just by like a couple of years, there was hardly anything on the web relating to L7 for years, and then slowly but surely people started posting YouTubes and photographs and tumblr accounts, and all these fan sites, so it really kind of kept us alive and brought us back.
Did it take a little bit of time to get your footing back again or did it all just come back together nicely?
You know, for me it was kind of very much like riding a bicycle and it's a cliché but I just kind of really jumped back in, I think everybody did. We rehearsed for a few months because we didn't want to be bad, we wanted to be very tight, we wanted to be good, so we did take the time to sound good, and once you sound good then you can start being a stage performer at least in my mind. Once you sound good then you can start showboating, and we've been doing a lot of showboating *laughs* so that's good.
What are you finding is different this time around?
This time around we're not promoting an album, so there's a lightness of being to it, there's no pressure, there's no fear of people not buying your record, when you create a piece of art the masochist is alive and well because you want people to like it and it's just this weird thing. I feel now that we've already proved ourselves, we're playing material that people have been waiting years for us to play live and it's already a given that they like us *laughs* and like the music that they're gonna hear because they've already bought the stuff twenty years ago you know what I mean? And we're not dealing with any labels, it's just us, we don't have a huge management company behind us, it's a good friend of ours is managing us and we have a very small crew and we're just kind of this self-contained thing that's going around and doing pretty well.
After being out there touring for a while have there been thoughts of some new music from L7 in the foreseeable future or is that something you're not even considering?
Well we're only considering it because we're being asked about it by you guys, by the press and fans are asking too but they're mostly just excited about the live shows coming up and that's where our focus has been. We're gonna take a break after Australia until next summer for us, so maybe in that time we might attempt to record a couple of songs, but I don't think I'm in to recording a full album at this point, it's just too much pressure.
I'm finding a lot of independent artists now are using crowd funding platforms and basically now doing it for the fans which is great…
Yeah, I mean that's a possibility but again a full album I don't know, it just sounds like… I don't know… we'll see talk to me next year *laughs*it may be a couple of songs, I don't know.
Now there is a documentary in the works, can you give us an update on how that's coming along?
The film is still being edited but it's very close, and a rough cut has already been accepted to a couple of festivals in The United States in November, so I would imagine that the premiere will be in November and it'll be released I don't know, December? I'm not really sure but I know the edit is taking place right now.
I remember when 'Pretend We're Dead' was released it was so new and different and my school latched on to it, what do you think it was about that song that truly took off?
I don't know but I think that's great that your whole school was into it, that's such a cool memory, yeah I love that. Its super cool, like we didn't have a lot of hits, in fact that was probably our only hit that made it onto the actual charts, we had underground hits, maybe 'Andre' made it as a minor hit, I don't know. It's really cool to have that experience, to cross over and you're not on the fringe anymore, you made it into the mainstream for just a second or two and that's a cool feeling, that's something cool to experience. I recommend it to anyone *laughs*.
So what are some of your best memories when it really took off for you?
Getting on some weird television shows, I always liked the idea of infiltrating the masses and getting on TV and getting into sort of mainstream press and blow some minds, I always really liked that idea, just like a lot of my idols did, like Bowie getting on talk shows and stuff and doing something weird *laughs* I always loved that about him. A lot of bands from the underground really are very strong in their stance of staying in the underground and not going corporate or anything like that, I was not that way I very much thought it would be hilarious to get into the mainstream *laughs* because we were a little bit threatening sort of, we were kinda funny but we were also a little bit of a threat. So achieving that was great, like you said, your school was into that song, probably saw us on MTV and maybe we inspired some kids to not be so status quo or something, you know? Some of the huge shows that we did, some of the crazy festivals we did, like Reading in England, and some festivals down in South America, all over the place, and we got to go to Australia a few times and Japan. So it was a good run.
Well when you were announced for Soundwave people were excited, then you cancelled and then you rescheduled, so we're glad you're finally coming back…
We're so glad, we really wanted to play Soundwave and that didn't work out but I think our fans are really happy that we're doing these venues that are a bit more intimate, and we'll be playing in the dark, Soundwave we probably would've been playing in the daytime which in my opinion is not as cool as getting a light show with us *laughs*. Everyone loves a smoke machine and crazy lights *laughs* so hopefully we'll be delivering that in our shows.
Lastly with 2016 on the downhill let's see if we can predict it… Finish this sentence for me by the end of 2016 the one thing L7 wants to do is…
That's such a hard question *laughs*… We want to successfully complete this touring cycle which would end pretty much with Australia. We want the documentary to be finished, that's what we fuckin' want, its taking a lot of time and energy, so that'll be great that that's finished, it'll be great, it'll be awesome.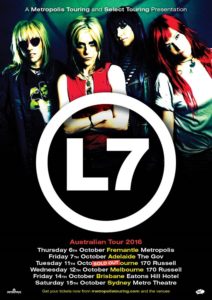 L7 Australian Tour Dates:
Thursday 6th October PERTH Metropolis Fremantle
Friday 7th October ADELAIDE The Gov
Tuesday 11th October MELBOURNE 170 Russell
Wednesday 12th October MELBOURNE 170 Russell
Friday 14th October BRISBANE Eatons Hill
Saturday 15th October SYDNEY Metro Theatre
Tickets on Now sale via:
http://www.metropolistouring.com/L7
Essential Information
From: Los Angeles, CA, USA
Band Members: Donita Sparks – vocals, guitar, Suzi Gardner – guitar, vocals, Jennifer Finch – bass, vocals, Demetra Plakas – drums, vocals
Website: http://www.l7official.com