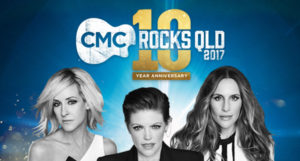 CMC ROCKS QLD
, the Southern Hemisphere's biggest International Country and Roots Festival, will return to
Willowbank Raceway
in 2017, and event organisers can confirm that the
10thAnniversary
of the festival will be the biggest to date!
It has today been announced that global superstars DIXIE CHICKS will return to Australia for the first time in OVER 10 YEARS to headline CMC Rocks QLD's 10th Anniversary celebrations. The anticipated full artist line-up will be revealed on Friday 7 October.
To accommodate the festival's international headliner, CMC Rocks QLD will shift back by two weeks. Country music lovers will take in the 10th Anniversary festivities from FRIDAY 24 – SUNDAY 26 MARCH 2017.
"Securing Dixie Chicks to headline the 2017 instalment of CMC Rocks QLD is a major coup, and we're thrilled", said promoter Rob Potts. "It's unfortunate that Dixie Chicks had a major commitment shift, meaning they are unable to attend the festival dates we had already announced.
Because 2017 is the 10th Anniversary of the festival, and we want to deliver the best possible line-up for the CMC Rocks audience, we made the tough decision to move the festival dates back by two weeks to make it happen. We are all about the country music fans, and we want to make sure that 2017 exceeds expectations and is the biggest celebration to date! It wasn't done lightly and we know some fans will need to rearrange their plans, but there is plenty of time to do that. Let's face it, who doesn't want to be there for the triumphant return of Dixie Chicks to OZ. We are stoked that it is CMC Rocks QLD that can deliver this and make sure it continues to be Australian Country Music's wildest party weekend!"
"We're confident that with Dixie Chicks headlining, and our incredible full artist line-up to come, fans will be able to refocus on the upcoming 10th Anniversary CMC Rocks. We have no doubt that it's going to be the best year yet".
The 2017
Loyalty Pre-Sale
will run from
9am AEST
on
Wednesday 5 October
through to
5pm AEST
on
Thursday 6 October
, or until the allocation is exhausted.
Tickets will go on sale to the General Public at 9am AEST on Monday 10 October.
More information is available at cmcrocks.com
DIXIE CHICKS will unleash on CMC Rocks festivalgoers in 2017, for the first time in over ten years. The trio is currently setting stages alight across European and North American headline dates, with epic reviews rolling in including the UK Telegraph who wrote, "… the triumphant trio proved the power lies in their musicianship, not notoriety, and their talents remain as rich and fierce as ever."
Dixie Chicks have no less than thirteen Grammy Awards, six Billboard Music Awards, four American Music Awards and countless Country Music Association Awards under their belt. They are a multi-platinum selling act across North America, Europe and Australia, and with over 30 million albums sold worldwide, are the biggest US female band of all time.
2016 saw CMC Rocks create history, with the festival completely selling out for the first time in nine years and breaking records to become the only country music festival to ever achieve a sell-out in Australia. From the inaugural CMC Rocks The Snowys 2008, which was held at Thredbo's Friday Flat, through the festival's various incarnations at the Hunter Valley's Hope Estate, Townsville's Reid Park and now Willowbank Raceway in Ipswich, CMC Rocks was conceived and developed to entertain and excite the growing legions of country music fans in Australia with a unique music and lifestyle offering.
Initially the brainchild of Australia's biggest country music promoter Rob Potts and legendary rock promoter Michael Chugg, the longevity of CMC Rocks has centered around the successful pairing of American and Australian country artists across some of the most exciting country music bills over the past ten years, a feat which resonates with fans, industry and artists alike. Since 2008, the festival has played host to international icons like Tim McGraw, Faith Hill, Alan Jackson, Taylor Swift, Lady Antebellum, Toby Keith, Jason Aldean and Florida Georgia Line along with local stars including Lee Kernaghan, John Williamson, Troy Cassar-Daley, Kasey Chambers, The McClymonts, Morgan Evans and more.
"In the 10 years since Rob convinced us to start CMC Rocks, it has been a major part of the growth of country music in Australia. The festival has opened the door to many international acts, convincing Nashville and America that there is a market for country outside the States. As a result, Australia has become a huge and booming market for country music, and is now a priority for all country acts", said Michael Chugg.
"The exposure of the festival in America through word-of-mouth from artists, managers and agents, as well as various television specials and other media attention has made CMC Rocks the best known country and roots festival outside America. Most importantly, it has exposed Australia's huge pool of talented artists to the US industry and to growing audiences within Australia. CMC Rocks has played no small role in the growing Australian presence in Nashville, as more and more Aussies head there to show their talent".
"Chugg Entertainment is very proud to be involved in this wonderful festival, and we look forward to an amazing 10th Anniversary party!".
Festival co-promoter Rob Potts has booked the festival since its inception, and has a unique ability to pinpoint country acts that are on the verge of breaking on the global stage, teaming them with musical greats, and delivering them to Australian music lovers. A case in point is CMC Rocks The Snowys in 2009, which saw none other than Taylor Swift, now one of the world's biggest music superstars, take the stage on her debut Australian visit.
Over 45,000 music lovers descended on Willowbank for CMC Rocks QLD across three days in 2016, resulting in a significant boost to both the local Ipswich and broader Queensland economies. International festivalgoers from as far as Canada, America, New Zealand and Germany visited QLD to attend the world-class event this year, contributing hundreds of thousands of dollars to the Australian economy.
Queensland Minister for Tourism and Major Events, Kate Jones, said CMC Rocks QLD had quickly established itself as a highlight on Queensland's diverse calendar of major events.
"Securing Dixie Chicks is a great coup and we hope next year's CMC Rocks QLD will be as successful as this year's sold out festival," Ms Jones said.
"The event attracts some of the biggest names in country music which brings fans from around Australia and the world to Queensland. Events like this contribute significantly to the local tourism economy and support jobs for Queenslanders."
Co-Director of CMC Rocks QLD, Matthew Lazarus-Hall, added, "The incredible support that we have received from Ipswich Council, Tourism and Events Queensland and the Queensland Government has enabled us to deliver the biggest and best CMC Rocks festivals over the past two years. With this continued support, we are looking forward to a huge 10th Anniversary celebration in 2017 and onwards for years to come".
For the tenth year running, Foxtel's CMC will televise CMC Rocks festival highlights, exclusive interviews and behind-the-scenes action.
Foxtel Arts & Music Channels Manager, Fraser Stark said, "Foxtel and CMC (Country Music Channel), Australia's only TV destination dedicated to country music is proud of our association with CMC Rocks, Rob Potts Entertainment Edge and Chugg Entertainment. CMC is dedicated to our passionate country music viewers to showcase the very best of local and international country music artists. We are thrilled to once again partner with the festival for the tenth year, a partnership that has gone from strength to strength with CMC Rocks set to deliver again in what promises to be another terrific line up of artists with the lead up of the CMC Music Awards".
CMC Rocks QLD will deliver yet another unforgettable year for its 10th Anniversary in 2017. Due to overwhelming demand, an additional 350 camping spots will be made available, with the festival's two main camping areas catering to a total 7,500 campers, an increase of 15% on this year's event. Campers will be able to access the grounds from midday on Thursday 23 March, and will enjoy an expanded entertainment program in 2017, which is set to kick off at the Jack Daniel's White Rabbit Saloon and Garden Bar at 3pm on Thursday and run through to 2am Friday morning.
Each year, festivalgoers line up in droves to get their hands on CMC Rocks merchandise before it sells out. Typically, it is available exclusively at the festival. Later this year, to celebrate the Festival's 10th Anniversary, a 'One-Off' line of Limited Edition 10th Anniversary merchandisewill be made available for online purchase only, ahead of the festival from Monday 17thOctober at cmcrocks.com. Festival ticket buyers from the past 9 years will be advised in advance of the items on offer, and given details of the online sale. Some items will feature the line-up of headline artists across the festival's 10-year history. This is a unique fan offering and demand is expected to far exceed supply.
Major festival sponsors including Telstra and Jack Daniel's will return with unique on-site activations in 2017, with the popular Jack Daniel's White Rabbit Saloon and Garden Bar once again playing host to a variety of entertainment ranging from the incredibly popular Songwriter's Shows to Live Band Karaoke and an extended late-night program of artists exclusively for festival campers.
The hugely popular Boatshed Steakhouse will return in 2017, along with Sweetheart's Saloon Speed Dating, which was introduced at this year's festival to help single festivalgoers find 'true country' love!
The festival will implement a new green paperless electronic ticketing system in 2017, allowing for faster and easier access to the festival than ever before.
Foxtel's CMC will televise the 7th Annual CMC Awards live for the second year running – Stay tuned for more details!
The Queensland Government is proud to support CMC Rocks QLD through Tourism and Events Queensland as part of the It's Live! in Queensland events calendar, showcasing Australia's best live events in Australia's best destinations.
Stay Tuned for the CMC Rocks QLD 2017 Full Artist Line-Up – COMING 7 OCT!
Comments
comments