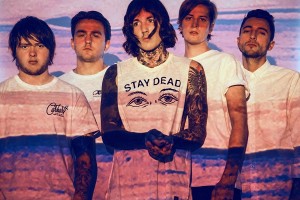 Live Nation and Unify regret to announce that the remaining dates for Bring Me The Horizon's tour of Australia will not go ahead due to illness.
Both Melbourne performances, scheduled for tonight and tomorrow night (Thursday September 22 and Friday September 23) will be postponed.
This is due to issues with Oli Sykes' viral throat infection, which has been diagnosed as acute laryngitis. Medical advice is that he needs immediate rest and cannot perform for the remainder of the tour.
Bring Me The Horizon are fully committed to return to Australia in early 2017 to complete these shows in Melbourne and Adelaide.
Details will be released shortly with regard to when and how fans will be able to see the band perform.
Ticket holders are encouraged to retain their tickets pending the announcement of new dates, or alternatively may obtain a full refund from the point of purchase.
Further refund enquiries should be directed to
ticketek.com.au
.
Bring Me The Horizon, Live Nation and Unified apologize for any disappointment.