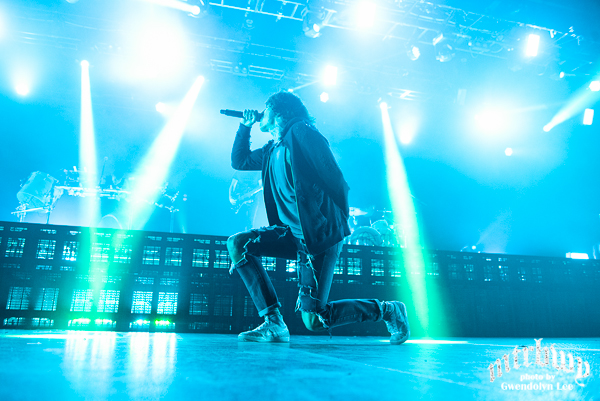 Two years ago I was heading to the Hordern Pavilion to see Bring Me The Horizon and they put on one hell of a show then, so I'm going in with anticipation as I absolutely loved 'That's The Spirit' so I can't wait to hear these new songs tonight…
Well thank you to the AFL and Sydney Swans as traffic meant I missed tonight's opener '68 which sucks and apologies to '68 I'll catch you next time.
I am in for Architects though and judging by the reaction they got as they made their way to the stage a lot of people here were keen to catch them, and rightfully so when their newest album almost took top spot on out charts back in June. Second song in the front pit started getting going and as the set continues through killer tracks and arrangements I can see how people relate to this band. These songs have aggressiveness behind them and this band is ridiculously tight that I can't even comprehend how they're an opener. Circle pits a plenty and big, big walls of sound cement Architects as one of the best openers I've seen in a long time. Paying respect to their fallen member Tom Searle with their last song and with so much respect from the crowd they close with 'Gone With The Wind' and it was perfect. Wow, I was not expecting a performance like that but I'm so glad the football had started to allow me to catch it.
Here we fucking go! The lights dim. The place goes crazy and as the drums pound and Bring Me The Horizon take the stage we are ready. Oh man! Explosions, ribbons, awesomeness "LET'S GO!" and as they open with 'Happy Song' I personally am stoked. This was the one song I wanted to hear and they opened with it, so thank you and goodnight, I'm out, hope you enjoy the rest of the show!! I kid, I'm staying… This isn't just about me though, everyone else here is feeling exactly like I am right now and in there is the knowing that this show is going to be off the hook. With the crowd instantly in the palm of their hands this band could just run through the motions tonight but BMTH are a band I've seen before and they give their all, and tonight will be no different. 'Go to Hell, for Heaven's Sake' quickly follows and the band are on fire, the mix is great and they know what they're doing.
"What do you guys know about circle pits?" is a question you want asked at a gig and with the request of two they get it and with 'The House of Wolves' they continue the intensity that I feel won't let up, especially when a breakdown of this calibre happens. Wow. 'Avalanche' sees smoke cannons and more screams but when we take it way back to 'Suicide Season' with 'Chelsea Smile' and just the sheer musical aggression of it makes it a stand out for me, and as Oli asks for the crowd to sit down which they did only to jump up in unison was a site to see. It's been done by many a band but every time I see it I just get the same buzz watching a performer command a crowd in that way.
Oh man! 'Shadow Moses' and this is one of my favourites of theirs and hang on "THIS IS SEMPITERNAL!!"… sorry had to get that out and join in. Damn this is good. What a track, and I do love the way this band writes songs made for the stage with parts written knowing they can be sung / chanted back to the stage!! We slow the set down for the first time tonight and go back to the latest album with 'Follow You' followed by (no pun intended) a great into by Oli into 'Doomed' that slows it down even more but then throwing in 'Sleepwalking' it brings it back up, and Oli is giving his all, vocally this must be a strain on him and he's delivering a top notch effort.
"I don't know what we've gone to deserve his bit you guys are fucking incredible" says Oli as they belted into 'Can You Feel My Heart' and the crowds reception shows him just what he's done to deserve it! It's actually quite interesting to hear 'Throne' that closes to the biggest reaction of the night what a track! And in just under an hour they're off?  Geez, short… Ok. They're back. Phew!
"True Friends stab you in the front" is one of the best lines from a song in years, and the song itself 'True Friends' is another stand out tonight. The place lights up with phones during 'Oh No' and closing with 'Drown' complete with confetti cannons and much love from this sold out crowd.
My only complaints if I could call them that is that I thought it could've been louder, and that the show was only 1 hr and 10 mins long, but with the set list 99% comprised of the bands last two albums, I feel like Bring Me The Horizon are finding themselves, and not entirely distancing themselves from the past but more to looking to the future into what they are now and what they will become. I can't wait to follow the ride… you can come along too if you like… "Let's Go!"
Essential Information:
Date: Saturday September 17, 2016
Venue: Hordern Pavilion, Sydney
Presented by: Live Nation Australia
Supported By: '68 and Architects
Photo by: Gwendolyn Lee – Gwendolyn Lee Photography
Check out our full gallery HERE
BMTH Set List:
Happy Song
Go to Hell, for Heaven's Sake
The House of Wolves
Avalanche
Chelsea Smile
Shadow Moses
Follow You
Doomed
Sleepwalking
Can You Feel My Heart
Throne
True Friends
Oh No
Drown
Architects Set List:
Nihilist
These Colours Don't Run
Broken Cross
Phantom Fear
Naysayer
Downfall
Gravedigger
A Match Made in Heaven
Gone With the Wind