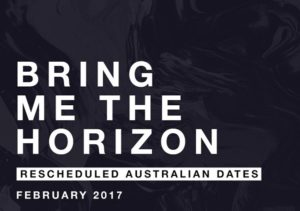 Live Nation and Unify are thrilled to announce
BRING ME THE HORIZON
have confirmed rescheduled dates, following last week's postponements due to illness.
Their sold-out Adelaide show (September 20) and two Melbourne shows (September 22 and 23) were postponed due to Oli Sykes' acute laryngitis and medical advice to rest.
Honouring their commitment to return to Australia in early 2017, Bring Me The Horizon will come back to complete these shows at the same venues in February.
The band will head to Melbourne's Margaret Court Arena for two shows – on February 5 and 6 – then onto Adelaide's AEC Theatre on February 8.
New Melbourne tickets will go on sale at 2pm tomorrow, Wednesday September 28.
New Adelaide tickets will go on sale at 10am Tuesday, October 4. Previous ticket holders will be offered the opportunity to purchase during an exclusive pre-sale starting at 2pm today. Further details below.
For complete tour and ticketing information, visit: livenation.com.au.
Details for existing ticket holders are as follows.
MELBOURNE PATRONS:
Patrons still wishing to attend will receive new tickets for the rescheduled performances, during week commencing November 14. Tickets will be emailed (for Reserved Seating) or mailed (for General Admission) to the address in your My Ticketek account during this week. Please ensure the contact details in your My Ticketek account are correct by Friday November 4.
Old tickets (with the September 2016 dates) will not scan at the venue on the night of the event.
September 22 tickets will be valid for the new date of February 5.
September 23 tickets will be valid for the new date of February 6.
If you cannot attend the new dates please return your tickets for a full refund to the following address no later than Friday November 4, 2016 (receive date at Ticketek).
Ticketek Postponed Shows
Bring Me The Horizon
GPO Box 2940
Melbourne VIC 3001
For mobile tickets, patrons must send their name, transaction details and the seating allocation of the tickets to be refunded. For all tickets booked using a credit card, the card used in the booking will be refunded. Please allow up to 14 days to receive your refund. For tickets booked using EFTPOS or cash, a cheque will be posted to the address detailed in the My Ticketek account of the original booking.
ADELAIDE PATRONS:
Patrons who purchased tickets for the original show date (September 20, 2016) will receive an email from Ticketek today offering the opportunity to purchase tickets during an exclusive pre-sale starting at 2pm today until 5pm Monday October 3.
BMTH RESCHEDULED SHOW DATES:
MARGARET COURT ARENA, MELBOURNE
SUNDAY FEBRUARY 5 (previously September 22, 2016; no change of venue)
MONDAY FEBRUARY 6 (previously September 23, 2016; no change of venue)
NEW MELBOURNE TICKETS ON SALE 2PM WEDNESDAY SEPTEMBER 28
AEC THEATRE, ADELAIDE
WEDNESDAY FEBRUARY 8 (previously September 20, 2016; no change of venue)
NEW ADELAIDE TICKETS ON SALE 10AM TUESDAY OCTOBER 4