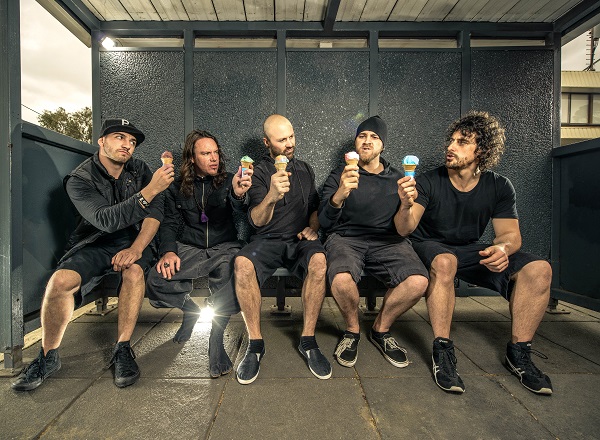 "…you torture yourself because you don't want to let anything go through to the wicket keeper, like every note is scrutinized and there's no choice to not do it like that. For a band like Twelve Foot Ninja it's sort of part and parcel with the sound, you know everything is really laboured over to try and create a feeling of effortlessness; it's quite a paradox in itself."
From release: First up, who the f–k are Twelve Foot Ninja? As far as questions go, it's a valid one. Hit up Wikipedia and it'll assert they're a "fusion metal band from Melbourne, Australia". But then, that's akin to describing Rage Against The Machine as a "rap rock quartet". Neither label does either band any justice. What you might not know is that Twelve Foot Ninja's 2012 debut record SILENT MACHINE saw them clock up over 5,000,000 YouTube views, win America's prestigious 2014 Golden Gods Award for 'Best New Talent', break the world record for crowdfunding a video clip, tour with some of the biggest bands in the world, and get billed on major US festivals. And all without the push of a major label. Now with new album OUTLIER, who knows what will happen next…
At home we gave Stevic a call to talk about the band's new album 'Outlier', creating a second album, touring, drunk children (not really) and much more…
So in the three years since 'Silent Machine' what helped shape what would become 'Outlier'?
Let me think, look I think just the experience of touring 'Silent Machine' which inevitably lead to us kind of knowing who we are a bit more as a band and what kind of songs we want to write I think. We wrote sixty songs for 'Outlier' and whittled it down to ten; we wrote thirteen songs for 'Silent Machine' and whittled it down to twelve. So it was a big process of experimentation and just chipping at the stone until David appeared as the saying goes… not to compare ourselves to Michelangelo that's definitely not what I want to do but it's an apt saying, it kind of feels like a twenty thousand piece jigsaw puzzle that you just chuck on the floor and attack bit by bit. So I think time and experience with 'Silent Machine' helped shape 'Outlier' if I was going to try and narrow it down.
Being your second album 'Outlier', what were you able to do different this time around other than write more songs?
Different I suppose with process we sort of tried to refine processes and I think we managed to do that. We recorded in a very anti-social fashion in that everyone was responsible for their own part and we did them in isolation and then delivered them basically. So it really was quite a bizarre way to record an album but it kind of worked out well, then I put it all together and produced it, prepared the session and get it off to Forrester and he mixed it.
As the producer, is it hard to change between the performer and producer hat sometimes?
Yeah, I think so but it's more related to gigging and writing and producing that's the difference of the job thing, kind of that on off switch. In terms of what we did with the album I didn't find difficult to switch between the two, if anything it made it harder on Ro as he was tracking parts and I was drilling him as a producer and a guitarist, so he's sort of getting it from two people at once.
With the experience of the debut under your belt, was it somewhat easier or more comfortable making this album?
Comfortable… I think so, it's impossible to answer because making albums from my perspective is kind of like getting your teeth pulled out in slow motion; it's kind of a tedious process. I would say I enjoy it, it's kind of something you are compelled to do. I imagine it's a little bit like getting drunk and having kids in separate occasions… you know how people who drink say I'm never gonna drink again when they get violently ill but then they find themselves drinking again the following weekend. Or when people say having kids was the most painful experience ever then you see them having another kid. I think for me, making an album is in the category of those things, you do it and go 'why the fuck do I do this?' and then it comes out and you go 'oh yeah that was great, wasn't that good!' and you sort of forget all the pain and when you get to experience it through other people's perspectives like when they listen to it and they really like the songs that's the rewarding part. The process… it's yeah… just sort of difficult to explain, it's kind of like you torture yourself because you don't want to let anything go through to the wicket keeper, like every note is scrutinized and there's no choice to not do it like that. For a band like Twelve Foot Ninja it's sort of part and parcel with the sound, you know everything is really laboured over to try and create a feeling of effortlessness; it's quite a paradox in itself. Yeah I don't know if I'm making much sense but the summary is recording albums, it's a relief to have it done, I'm glad it's turned out how it has, and I'm looking forward to the next phase which is playing these songs live and experiencing them in more of an actualised kind of way as opposed to conceptual.
OK, I'll just put down it's like having drunk children I think that's what you said…
*laughs* Perfect *laughs*
What I dig about you guys is your who knows how to describe it style, what is the creative process in the band like to come up with such great arrangements that bounce between genres at any time?
Like I said, sometimes it happens very fast and other times, well more often than not we've got eight to ten versions of every song and it's the process of exploring every avenue to decide what works best. So it's great that it's free, you can run wild with things and say how would it sound if it went like this and imagine if it went here… and often I'll talk to the guys conceptually first and here's where I'm imagining this song, I want to take it where it was, like 'Dig For Bones' for example I'm like "instead of that section there I want it to go into a Commodore 64 8-bit video game like the whole thing is transported into this section and when we come out I want it to have someone dying" and they're like yeah that's cool and then we do it. So it's many times you come up with these crazy ideas and it turns out a bit deformed and weird and it's all about that and there's a lot of songs that we went through that exploration and decided no this isn't gonna work. Like I don't know what sci-fi film it is but you know when they genetically engineer some sort of alien and there's this weird lab where they're all just floating in glass tanks, yeah that's kind of like that, we've got a lot that didn't make it kind of just floating in glass tanks that are mutations that will never see the light of day.
You mentioned playing these songs like and you're of course also heading out on tour with Disturbed in Australia, how did this pairing come about?
I believe that they requested that we played with them, that's my understanding of the story and who knows how it actually happened, but we got the call and they said 'Do you want to play with Disturbed?' and we said 'Yes, that would be great' so that's how it's happening I understand. So we're playing three or four shows in Australia and then we head over to The States and we're doing a four week tour doing a bunch of shows with Sevendust and doing some festivals with Korn, Deftones, The Cure I think is actually going to be on a couple of shows. Then we come back and do Disturbed and then it's Christmas.
What a shit rest of year for you then…
Yeah, it's gonna be quite an interesting next few months, quite a contrast from sitting behind a computer working on songs and production. That's what I mean, it's quite different, it's like you actually get to do the thing that you've been building, you get to use the machine that you've built.
For anyone who hasn't seen you before, using only three words describe a typical Twelve Foot Ninja show…
Hmm… is that a word?
No…
OK, *laughs* I'd say energetic, well-executed and entertaining.
In the eight years you guys have been together what for you has been the most notable evolution within the band?
Jesus that's a good question, I think when we wrote the track 'Clarion' on the 'Smokebomb' EP, that was a drastic shift in our approach with the heavier stuff, that song sort of marks a change in how we looked at things because prior to that it was a bit more like Helmet or something, we didn't really go super heavy. That track and probably 'Portrait' on 'New Dawn' those songs are pretty close together in melding those different bits and pieces. I think it's kind of weird, it's like cooking, you might muck around with the different variations of things you can put on toast and that may inform to something that leads to bruschetta in the future, it's all just training for things you don't expect. I don't know if there's a massive evolution one way or another but I remember when I put the band together I made the band rehearse for like a year before we played a gig because I didn't want to have my anticipation to play live and my excitement to play live overshadow the ability to pull it off and impress an audience, so we've always been quite vigilant with the detail so there's never been one massive like 'oh shit we didn't see that coming' it's just been a gradual improvement with everything, we're constantly trying to improve and that's kind of part of the bands m o I guess…
What's the dream? Is there one thing you want to do as a band that you haven't yet had the chance to?
There's many things… it would be great to play on a Tonight Show in The States, I would love to play on any of the Tonight Shows, that would be an awesome experience. I'd love to write some music for a game or a film, that would be awesome. Obviously getting recognised with some sort of award would be excellent, like what we did with Golden Gods but something a little closer to home. All of those things, I think the same things that everyone would love to happen, but yeah in the short term I think all we can do is be the best that we can and see what happens. I sound like AFL footy player… run your own race mate, get out there, give it a good go…
Lastly with 2016 on the downhill let's see if we can predict it… Finish this sentence for me by the end of 2016 the one thing Twelve Foot Ninja wants to do is…
Survive… I think that's the main thing, we're heading into an uncertain time of going to America and everything that's going on, it would be nice to come back in one piece, and survive in every sense of the word like with our objectives in tact would be good, but I hate predicting hypotheticals because I'm much more of a doer than a talker in terms of what's going to happen, but if we can stay together and keep things as good as they are now then to me that's the best achievement. Not very exciting to write, maybe I could say levitation or telekinetic powers to increase to the level where I can actually pull a beer out of the fridge with my mind but it's probably not going to happen…
You never know though…
You never know, that's true…
Catch Twelve Foot Ninja on tour with Disturbed at the following dates:
Wed 09 Nov
HBF Stadium (All Ages)
Perth, WA
ticketmaster.com.au
136 100
Sat 12 Nov
Margaret Court Arena (All Ages)
Melbourne, VIC
ticketek.com.au
132 849
Sun 13 Nov
Hordern Pavilion (All Ages)
Sydney, NSW
ticketek.com.au
132 849
Tue 15 Nov
Entertainment Centre (All Ages)
Brisbane, QLD
ticketek.com.au
132 849
Fri 18 Nov
Vector Arena (All Ages)
Auckland, NZ
ticketmaster.co.nz
0800 111 999
Essential Information
From: Melbourne, Australia
Band Members: Damon – Bass, Kin – Vocals, Russ – Drums, Stevic – Guitar, Rohan – Guitar/Vox
Website: http://www.twelvefootninja.com
Latest Release: 'Outlier' (Out Now)