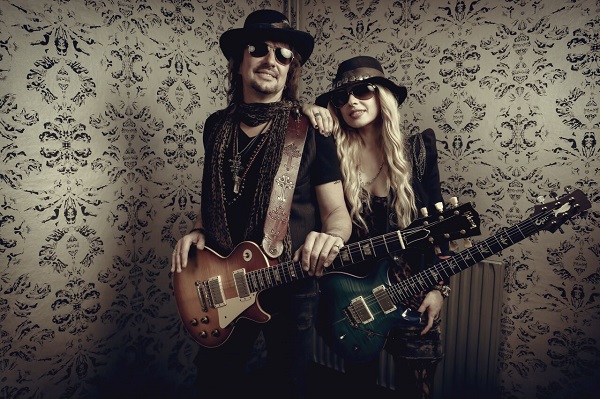 "It's like we're saving the world with songs at some point you know what I mean? It's like you wanna make people happy, you have a good time, come out to see Ori and Richie, you're gonna be entertained, there's gonna be a lot of good songs and there's gonna be a lot of good jamming going on ya know."
From release: RSO is RICHIE SAMBORA and ORIANTHI, two extraordinary musicians and songwriters who've combined their passion for guitars and their magnetic stage presence to form one hot, rock duo. These two Multi-Platinum selling artists have toured the world, written #1 singles, collaborated with mega-stars and released breakthrough solo projects – now they are joining forces as classic rock powerhouse RSO: RICHIE SAMBORA + ORIANTHI.
While at home in Calabasas, California and getting ready to jam at a gig that night with Robby Kreiger and Orianthi where they'll be playing a charity show for St Jude's children hospital, Richie Sambora gave us a call to discuss the upcoming RSO Australian tour, his musical partnership with Orianthi, new music, guitar styles, anniversaries, and much more… before he had to run a bit early…
You were last here touring in 2014 when you and Orianthi were relatively new as a musical entity, how has the last two and a half years been in moulding things and creating RSO?
Well… pretty damn good, man. I think people are gonna be real happy, we've got some music to spring on people and yeah *laughs* we're having a good time you know. I mean obviously Ori is one of the greatest guitar players in the world so every night you're gonna see us go after each other on a challenge but also we have some great new songs and we're ready to go, it's getting good man, you know we've been working with Bob Rock and he's an amazing, amazing producer and here we go…
And now of course you're heading back to see us in Australia, have you got an idea of how you're going to put the set together for these upcoming shows?
I don't know, well of course I've gotta play a couple of those hit songs I wrote with Bon Jovi and I think that people want to hear the stuff that Ori wrote and the stuff that I did on my solo records and stuff like that, and we're just looking forward to having a good time and getting over there. Basically it's almost like coming home, it truly is, I'm bringing Ori home and I'm coming home too because you guys are like home to me.
Covers wise, last time you were here you gave us 'Beds are Burning', 'Voodoo Child' and an amazing rendition of 'Purple Rain', how do you decide or come up with what covers to play in the set?
You know what? I kind of freak my band out most of the time because I kinda come up with them on the spot.  Sometimes I say just get on that stage and if you want to join in have a good time *laughs* and for the most part it's all good because we're having a good time and I think people want to see people create, like human beings actually create on stage you know what I mean? And that's what we do, and it's a brave and courageous thing to do really but if you have a bunch of good musicians and you're having a good time you just pull some stuff out of your butt *laughs* and you know what? We might make a couple of mistakes during it or whatever because I'm just throwing stuff out there but I think people really enjoy watching the creative process actually occur.
I know… I love watching a show when it's not 100% perfect, to me it's all about the mood and the atmosphere and the vibe…
You know what? That's the way that I grew up, listening to Jimi Hendrix and listening to Zeppelin and all that stuff, all these guys they were creating on the spot, you know I've been out there playing with Buddy Guy and Buddy just turned 80 years old, Ori and I just went to see him the other night and we played and he's insane, he's 80 years old and he's still insane, he's making shit up and that's what's going on, it's fantastic.
You've been to Australia more than a number of times with Bon Jovi but let's talk about solo tours, do you have a favourite memory from one of your solo trips down here?
Probably every memory, honestly Australia has been some place that as soon as I got there I felt like I was home and that's the truth, no matter what, it was just great and everything I've ever done down there as long as you've come from a place where you're playing from the soul you guys get that.
Well one for me was on your 1998 tour when you played 'Down Under' by Men At Work in Sydney, man that's stuck with me…
Astounding… astounding you know… It's like you know, the cats from INXS I was just talking to (Jon) Farriss a few days ago, he's gonna come up and jam, I wanted him to play drums on the whole tour *laughs* honestly… we're friends man, we have a good time, I sent him a couple of new songs that Ori and I did and he's like "Wow this is killer" I was like yeah man, let's go, come out and play, so he can come out and we'll have a good time.
I wanted to touch on the music side obviously and with you being a blues style player and Ori being a shredder, both with completely differing guitar tones what it is about this that just works?
You know what? Ori is a shredder but she's also a blues player too, people don't know… they're gonna have a good time finding out what Ori is about, she's an amazing song writer, she's an amazing singer and the whole shredding thing when you can do that, on any given night she's the best guitar player in the world, I have to stand up there on stage *laughs* it's a pain in the ass actually, it's a lot of fun. I think that's what people are gonna want to see, but she's also a fantastic blues player, an amazing singer, great writer and I think people are gonna be very, very happy to come see us play. We're here to entertain.
As solo artists who have released albums before how does collaborating together to make music differ from how you'd worked on solo albums prior? 
Well you're doing it with a woman *laughs* right off the bat that changes the whole scale of things right? No you know what? We live together, we wake up in the morning, we get a couple of guitars and start playing and next thing you know we've got a song, next thing you know we have too many songs, so we had to narrow it down to like twenty songs to get to a place where this is what we were going to record, and so we have two albums kind of done at this point.
I guess the big question is when can we expect to hear some music from RSO?
Yeah I don't know what it's gonna be, I'm gonna surprise you guys I'm gonna figure it out I don't know what the hell I'm gonna do yet but when I get down there we'll figure it out, but we're gonna lay a couple of songs on you guys it's gonna be cool. We're very proud of everything, I think when you do twenty songs worth of material you're able to cover a lot of genres and stuff, so we don't know what we're gonna come with first, because everything is… you know what I don't wanna be bragging and I don't really brag that much but it's pretty good *laughs*. I'm proud of it and I've been around the block a time or two and so has Ori and so we're very proud of it. It's like we're saving the world with songs at some point you know what I mean? It's like you wanna make people happy, you have a good time, come out to see Ori and Richie, you're gonna be entertained, there's gonna be a lot of good songs and there's gonna be a lot of good jamming going on ya know.
The project has been in the works for some time now, has it been a case of it just wasn't feeling right along the way or just took some time to bed down what you wanted it to be?
Hmm… no… you know what? I said to everyone right off the bat that this record's gonna come out and the music is gonna come like we've been together for three years, we've been together for two albums before this happened and we kind of did it ass backwards and we went out on the road and we played live for a long, long time before we actually recorded anything, so we just kind of got together on that.
Lastly there's a couple of anniversaries I wanted to mention, firstly this Saturday is the twenty fifth anniversary of the release of 'Stranger In This Town' and the other is, 'Slippery When Wet' just recently turned thirty… How does it feel to be part of a legacy and have these songs that people love so much after so long?
You know what? Obviously I have nothing but gratitude to be a part of people's lives, hey, to be born with a little bit of a gift where you can make music and make people happy and I think that's really the bottom line of where it's always been, it's like as an entertainer you have to be a giver, you've gotta go out there and you've gotta give, give your spirit out there and that's something that I've always done and always believed in and there's a big faith that happens there, so it's fantastic the fact that I get a chance to do it again now.
RSO: RICHIE SAMBORA & ORIANTHI AUSTRALIAN TOUR 2016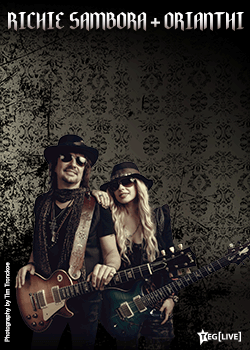 Friday 23 September – Metro City, Perth
Monday 26 September – Adelaide Entertainment Centre Theatre, Adelaide
Tuesday 27 September – Margaret Court Arena, Melbourne
Thursday 29 September – Enmore Theatre, Sydney
Friday 30 September – Eaton Hills, Brisbane
Presented by TEG Live
Essential Information
From: USA / Australia
Band members: Richie Sambora, Orianthi
Website:  https://www.facebook.com/rsomusic/