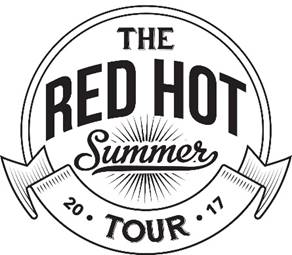 For almost a decade the RED HOT SUMMER TOUR has been smashing records across regional Australia, bringing some of the biggest Aussie Rock headliners to Victoria, New South Wales, Tasmania, Queensland and South Australia. After a swag of sell-out shows throughout the summer of 2016, the iconic festival tour is back in 2017 with another stellar bill featuring the legendary ICEHOUSE, James Reyne, Daryl Braithwaite, Shannon Noll, Dragon and Pseudo Echo.
RED HOT SUMMER TOUR promoter Duane McDonald says the 2017 touring festival will continue to promote some of the best Australian music on the scene today. "We have been proud to present some legendary artists on the line-ups for the RED HOT SUMMER TOUR over the years," he says. "This year we are proud to bring the mighty ICEHOUSE to the line-up for the very first time, as well as welcoming back some artists who have made the festival unforgettable over the years. The 2017 will rock the socks off of music fans."
ICEHOUSE was formed by Iva Davies and are one of those bands who have managed to transcend age groups with a career spanning 40 years.  Generations of music lovers have been brought up with hits such as Crazy, Electric Blue, We Can Get Together, Great Southern Land, Hey Little Girl and Man Of Colours to name a few. ICEHOUSE have sold over three million albums locally, more than nine million internationally have achieved 28 platinum album sales in Australasia. They have had eight Top 10 albums and more than 30 Top 40 singles. ICEHOUSE and Iva Davies have won many awards including the Countdown Award for the Most Popular Male Performer and ARIA Awards for the Best Album and Highest Selling Album for Man of Colours. The band was inducted in the ARIA Hall of Fame in 2006. In June 2013 Iva was made a Member of the Order of Australia (AM) for 'significant service to the music and entertainment industry' as a songwriter and performer, and to the community. One of Australia's greatest live acts, they are set to present a show not to be missed.
James Reyne has been treading the boards in the rock halls of Australian music for decades. From his time fronting the legendary Australian Crawl through to his successful solo career, James' music is part of Australian history. As a prolific songwriter and strong vocalist, it's no surprise that James has won accolade after accolade for his contribution to music. When Australian Crawl split in the mid-1980s, James embarked on a successful solo career.
When it comes to recognisable voices in the Australian music scene, there are few as impressive as that of Daryl Braithwaite. In a diverse career that has spanned decades, Daryl's consistency as a performer has never wavered, something that sees him performing regularly to packed crowds around the country. Starting his career in the 1970s as the frontman for Sherbet, Daryl was crowned King of Pop and the band produced 20 national Top 40 singles. In the 1980's Daryl set out on his own solo career, releasing smash hit singles such as One Summer, As The Days Go By and The Horses to name a few.
With ten consecutive Top 10 singles in the charts, it's fair to say that Shannon Noll has earned his place in the Aussie rock industry. The country boy first came to prominence thanks to his stand-out performances on the first series of television talent show Australian Idol. He has been nominated for several ARIA awards and has won the Best Male Artist accolade at the MTV awards three years in succession.
Iconic bands don't get much bigger than Dragon. Moving from New Zealand to Australia in the 1970s, the band made an indelible mark and their music captured the hearts of a generation. Songs like April Sun in Cuba, Are You Old Enough and Rainbecame ingrained into the Australian psyche. In recent years established solo artist Mark Williams has taken over the front man reigns and the new line-up has been touring the country ever since, garnering themselves a whole new generation of fans.
Pseudo Echo are bringing all the fabulousness of the 1980s to the RED HOT SUMMER TOUR. The band are well revered for their chart topping run which featured classic hits such as Funky Town, Don't Go, Living In A Dream, Listening and A Beat For You. The band sold in excess of one million albums worldwide and spurned a #1 single on the US Billboard Dance Charts. They celebrated seven Top 10 singles in Australia, and top charting singles in the UK, Canada, Sweden and Finland. The band's electro-pop sound still gets audiences on their feet and their music is quickly being embraced by a whole new generation of fans.
The RED HOT SUMMER TOUR always sells out well in advance, and year after year it has been proven to be one of the best value for money concert experiences in Australia. Music fans are recommended to get in early to secure their tickets so they don't miss out on one of the biggest line-ups of Australian music royalty to share the same stage.
Tickets are on sale at 9am on Monday 29th August 2016.
Saturday 7th January 2017
Mulwala Water Ski Club, MULWALA NSW
Ticketmaster 136 100 | www.ticketmaster.com.au
ICEHOUSE, James Reyne, Daryl Braithwaite, Shannon Noll, Models & Pseudo Echo
Saturday 11th February 2017
Old Mount Gambier Gaol, MOUNT GAMBIER SA
Ticketmaster 136 100 | www.ticketmaster.com.au
ICEHOUSE, James Reyne, Daryl Braithwaite, Shannon Noll, Dragon & Pseudo Echo
Saturday 18th February 2017
Country Club, LAUNCESTON TAS
TIXTAS I www.tixtas.com.au
Ticketmaster 136 100 | www.ticketmaster.com.au
ICEHOUSE, James Reyne, Daryl Braithwaite, Shannon Noll, Dragon & Pseudo Echo
Saturday 11th March 2017
Mackay Park, BATEMANS BAY NSW
Batemans Bay Visitor Centre 1800 802 528
Ticketmaster 136 100 | www.ticketmaster.com.au
ICEHOUSE, James Reyne, Daryl Braithwaite, Shannon Noll, Dragon & Pseudo Echo
Saturday 25th March 2017
Roche Estate, POKOLBIN NSW
Ticketmaster 136 100 | www.ticketmaster.com.au
ICEHOUSE, James Reyne, Daryl Braithwaite, Shannon Noll, Dragon & Pseudo Echo
Saturday 1st April 2017
Harrigans Drift Inn, JACOBS WELL QLD
Ticketmaster 136 100 | www.ticketmaster.com.au
ICEHOUSE, James Reyne, Daryl Braithwaite, Shannon Noll, Dragon & Pseudo Echo
Saturday 22nd April 2017
Bendigo Racecourse, BENDIGO VIC
Ticketmaster 136 100 | www.ticketmaster.com.au
ICEHOUSE, James Reyne, Daryl Braithwaite, Shannon Noll, Dragon & Pseudo Echo
For more information, please visit www.redhotsummertour.com.au