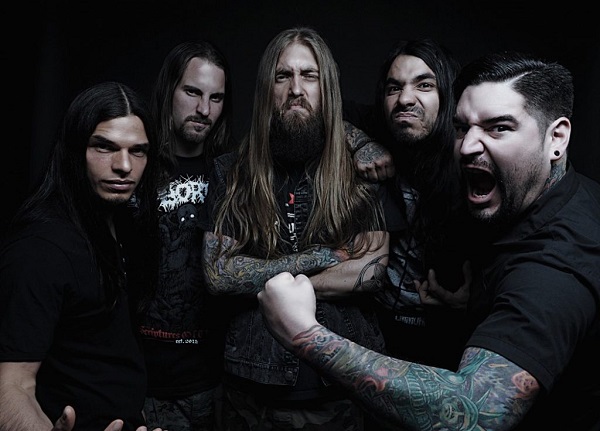 "Two years ago it was like maintenance, we were putting together I guess the new group, the new fronted group and we wanted to prove that we were going to be able to maintain the ferociousness that we always had, and now that we've even proved to ourselves that we've done that we're so confident and so sure footed in everything that we're doing…"
From release: Many of the greatest works of art throughout history were fashioned from grief, anger and overwhelming despair descending on its creators in the aftermath of tragedy and SUICIDE SILENCE's appropriately last album titled 'You Can't Stop Me' was no exception. Plenty of bands trumpet the idea of strength through adversity, but few have lived it like this one. 'You Can't Stop Me' served as a simultaneous introduction to vocalist Hernan "Eddie" Hermida, as well as a celebration of the brotherhood the band shared with Hermida's fallen predecessor the late Mitch Lucker, while their formidable revamped sound made it clear that SUICIDE SILENCE's resurrection was complete.
While in Venice, California we gave Mark from Suicide Silence a call to talk about the band's upcoming Australian tour, settling in with a new singer, new music and much more…
We're here because you're of course heading back to Australia, It's your first headline run here with Eddie, so how would you describe a typical Suicide Silence show for someone who hasn't yet seen you?
A typical Suicide Silence show is full tilt boogie energy fuckin insanity, lose your fuckin mind, have fun, forget your name, call your Mom afterwards and tell her that you love her.
That should be on the tour poster…
*laughs* It is on the poster, I'm just reading the script.
As you were here with Soundwave last time, what are you hoping to do this time that you weren't able to on the last tour?
Get a little bit more personal with the direct fans, not the festival going fans that just got to Soundwave and just put on their festival shoes and have fun, I don't know just more intimate with the fuckin' Suicide Silence die-hards that are gonna come and rage at our show. Our shows are always a little bit more, I don't even fuckin know… a little more insane asylum kind of shit, people show up and get really weird so we need to get weird with them, so just more strangery and more bad-assery…
You made your live debut with Eddie here in 2014, what were the nerves like when you have to go on stage with a new singer for the first time not knowing how fans will react?
It was insane. It was the most intense shows I've played in a long time, we already made our mind up that it was going to be badass and there was potential there so we just hit the stage with confidence and not hit it with a question mark of what it was going to be. We said it's Australia, it's going to be sick, we know that we've still got it and we're gonna impress some people and the people that we aren't gonna impress they made their mind up before they saw us, so fuckin' show them what's up and that's pretty much where we were at. We were surrounded by all our friends and people we've known for a long time, so there was a lot of support as well. All in all it was a nerve-wracking experience but cathartic and one that I'm gonna remember forever, so it was good.
Obviously it was the worst thing in the world in relation to Mitch and I'm sorry for your loss man, was there ever a time that you thought about throwing it in or was that not an option at all?
It wasn't really an option but it was milled over in the list of ideas of what to do, but it didn't take us long to realise that we wanted to keep it going and keep the train rollin' because not only because it's all we know but because it's all we fuckin' know and all we've ever done and something that we started as kids and it would just be a shame to let that be the bookend and there's really nothing that can stop this group and we're gonna do this shit forever, no matter what, it's what we love to do and it's our outlet so we're gonna keep it rollin' forver.
In the last two years you've obviously found your footing with him, so how do you feel the band has adapted to new blood and where would you say you are now compared to two years ago?
Two years ago it was like maintenance, we were putting together I guess the new group, the new fronted group and we wanted to prove that we were going to be able to maintain the ferociousness that we always had, and now that we've even proved to ourselves that we've done that we're so confident and so sure footed in everything that we're doing and it's become like I said prior, this has become our outlet and what we use to express ourselves and now two years into it we're all each other's fire on top of fire on top of fire and everybody's just encouraging of each other and we're pumped to get back on the road and get this whole cycle flowing. We're releasing new music soon and everything's just we're on top of the world, two years ago was just getting our footing and now we're ready to jump off of any cliff and survive. *laughs*
So we had the aptly titled 'You Can't Stop Me' out in 2014 and you're working on a new album, anything you can update us on or give us the scoop on?
The new music is far along man, we've been working on new tunes from when we got home last November, so there's a bunch of new shit, and yeah sooner than later there'll be some new Suicide Silence to bless those ear holes.
With the last album being noted in a way as therapeutic for you guys, how has writing for this new record differed in any way?
The last record, yeah… it's almost always therapeutic you know, this is just the next step in the therapy of what it is to be us. It's great that you just referred to it as therapy because absolutely how it falls in line with a group like us, when it's time to write a record, it's time to write a fuckin' record because we need to write a record *laughs* we need to let shit out, be the unit, be the band, be the unit and just let everybody unload their problems into these weird sounds and whatever it is we fuckin' do, and yeah, this one is just gonna be the next step, as always it's going to be strides ahead of anything we've done before and it's already just turning out to be something new and badass and fresh, so we're stoked.
Do you think we can expect to hear anything new on your tour down here or will you wait until the album is out?
It's a possibility, but it's not for sure yet, we haven't put together the set list.
You've been with the band for over ten years now, how do you feel you've grown as an artist or more specifically as a guitar player personally in that time?
Mainly I guess just where the influence comes from, I guess when you're young you write music with the intention of certain people hearing it or what people are going to think or what kind of people are going to like this, and I guess as I've gotten older and grown with this group and grown with everybody I can probably speak for everybody in the band, we've all come back to square one, which is like we all play music because we love to play music, it's something that we know and our fuckin' hearts want us to do and with lyrics we come as close to being able to hone in on why we play music and what it is that makes us stoked to play a riff or write a part or come up with a verse or a chorus or whatever it is, we've just become more ourselves than we ever have and that's just pumped us up getting older, we're not kids, we don't have the same teenage thing we had when we wanted to be weird and piss people off.
What's the one thing you want to do with the band that you haven't yet had the opportunity to do?
Metallica… isn't that what we all want to do? Play with Metallica… I guess maybe Ozzy, but we're playing with Sabbath kinda this year which is pretty cool. Pretty much the same as the beginning, tour with all our favourite bands and just do shit that no one's ever done before, just tread new ground and play with all our favourite bands.
Quickfire questions!
What's your favourite guitar riff of all time?
The 'Warpigs' that super anthemy one *sings the riff*
Who is your favourite band to see live?
Current I guess Metallica
Are you pissed that Disturbed covered 'The Sound of Silence' before you guys could?
*laughs* Not one bit dude, Disturbed can do whatever they want.
Lastly let's look ahead to the end of the year and predict the future… so finish this sentence for me, the one thing Suicide Silence want to do by the end of 2016 is…
Survive all of the touring we're about to do around the world. I mean literally that's the goal, that's on my mind, we're going everywhere. There's things happening in the world and we're about to dive into it, so hopefully we live through it.
SUICIDE SILENCE AUSTRALIAN TOUR DATES SEPTEMBER 2016
Saturday 3rd – BRISBANE – Woolly Mammoth 18+
Sunday 4th – SYDNEY, Manning Bar 18+
Tuesday 6th – NEWCASTLE, The Cambridge 18+
Wednesday 7th – MELBOURNE, 170 Russell 18+
Thursday 8th – ADELAIDE, Fowlers Live Lic/AA
Friday 9th – PERTH, Amplifier 18+
Tickets On Sale now via: http://tickets.destroyalllines.com/
Essential Information
From: Riverside, CA, USA
Band members: Eddie Hermida: Vocals, Chris Garza: Guitar, Mark Heylmun: Guitar, Alex Lopez: Drums, Dan Kenny: Bass
Website:  http://www.suicidesilence.net
Latest release: You Can't Stop Me – (out now)