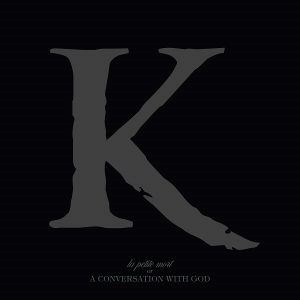 LEAD SINGLE I AIN'T GOIN BACK AGAIN STREAMING NOW WITH OFFICIAL MUSIC VIDEO
KING 810 have announced details of their new album, La Petite Mort Or A Conversation With God.  The Flint, Michigan based band's follow up to their provocative and acclaimed debut LP Memoirs Of A Murderer will arrive on September 16th and is available to pre-order now.
All digital pre-orders will receive an instant download of the album's gripping first single, I Ain't Goin Back Again. The official music video was directed by frontman David Gunn and is streaming now at the band's official YouTube channel, along with Gunn's thoughts on this new body of work from KING 810 in a recent video piece.
Produced by Josh Schroeder, Justyn Pilbrow and KING 810 and recorded at Bay City, Michigan's Random Awesome! Recording Studio, La Petite Mort Or A Conversation With Godfinds KING 810 taking listeners deep into the dark heart of Flint.  Far from a retread of their acclaimed debut, La Petite Mort – translating to "The Little Death" – is an inspired, holistic body of work that marks a profound evolutionary leap for the restless and driven souls of KING 810. The title itself is a reference to the dual themes of the records:  the real life violence and despair of Flint that builds the basis of Gunn's narrative, and the steady desensitization and terminal closing down of the human spirit experienced when confronted with those real life conditions. Around that conceptual core is an omnipresent haze of dark sexuality and desperation that provides La Petite Mort with some of its most unnerving moments.
La Petite Mort kicks down the door and delivers grim realities with powerful album stand outs like the ferocious Alpha & Omega and powerful title track La Petite Mort. As the album takes listeners on a journey to enlightenment via Gunn's self-reflection, it continually builds upon a diverse musical palette showcasing dark ambient electronica (Wolves Run Together), street-level poetry (War Time Feat. Trick Trick) and grand string arrangements (Black Swan). For KING 810, the little deaths of La Petite Mort bring a transcendental empowerment which takes hold throughout the album's stark narrative.
Earlier this year KING 810 took action as a pillar of the Flint, MI community with the release of new music taking aim at the water crisis devastating their hometown.   The band released two new tracks: We Gotta Help Ourselves, a poignant track supported by a partnership with local Flint outlet Savage Village who created a unique T-shirt design; and Crow's Feet, which was featured on Not Safe To Drink: Music For Flint Water Crisis Relief, a charity compilation which is available here.  All proceeds from both the T-shirt design and compilation will be donated to The Community Foundation of Greater Flint's 'Flint Child Health & Development Fund.'
KING 810's 2014 debut LP, MEMOIRS OF A MURDERER, garnered critical acclaim upon its release. Kerrang! raved, "This is an album as haunting as it is vicious and disturbing," and  Metal Hammer declared KING 810 "…the most exciting and controversial metal band to emerge from America in a decade." King810 toured Australia in support of the album as part of the 2014 Soundwave lineup.
LE PETIT MORT OR A CONVERSATION WITH GOD TRACKLISTING
Heavy Lies the Crown (Explicit)
Alpha & Omega (Explicit)
Give My People Back
Vendettas (Explicit)
Black Swan
The Trauma Model (Explicit)
La Petite Mort (Explicit)
I Ain't Goin Back Again (Explicit)
War Time (Feat. Trick Trick) (Explicit)
Life's Not Enough
Me & Maxine
Wolves Run Together
A Conversation with God
FOLLOW KING 810
OFFICIAL WEBSITE | FACEBOOK | TWITTER | INSTAGRAM | SOUNDCLOUD | YOUTUBE