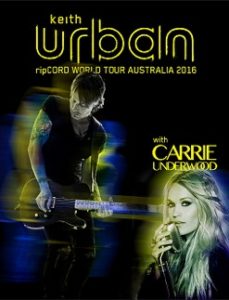 Keith Urban's "ripCORD World Tour Australia 2016" has proved a resounding success with Australian fans as initial shows in Sydney and Melbourne sell out, and second shows are added in both cities to satisfy public demand.
RIPCORD, Urban's eighth studio album, is one of the standouts on this year's ARIA Albums Chart. Debuting at Number One, the gold certified album has remained in the top 10 for the entire 15 weeks since release, setting a new record for Urban for the number of weeks an album has remained in the Top 10 on release.  Top 5 iTunes song "The Fighter" has broken all previous airplay records by Urban and has been added into Top 40 radio playlists right around Australia.
RIPCORD also debuted at #1 in the United States and #1 in Canada, holding on each chart for two weeks. This is the second consecutive time Urban has achieved this feat, which follows the release of his previous #1 album "Fuse".
Urban has been given the honour of being the first official performer at the ICC Sydney Theatre within the iconic International Convention Centre, Sydney's new home of entertainment, for his second Sydney show on December 14.
In Melbourne, Rod Laver Arena will play host to Urban's second show on December 9.
Urban picked up the 2014 ARIA Award for Best Live Act, and is renowned as one of the industry's best live performers. The "ripCORD World Tour Australia 2016" is Urban's first worldwide tour in nearly three years and features an all-new, state-of-the-art stage production, stinging guitar solos and "in-audience performances" that all add to the party-like atmosphere of the unpredictable two-plus hour Keith Urban concerts. The tour sees Urban showcasing songs from RIPCORD, including his U.S. #1s "Break On Me" and "John Cougar, John Deere, John 3:16", his latest U.S. Top 5 "Wasted Time", as well as many of his previous hits including "Long Hot Summer" and "Somebody Like You".
Joining Urban on his "ripCORD World Tour Australia 2016" is 7-time Grammy-award winning, multi-platinum superstar Carrie Underwood, with Australia's own Buchanan opening the show each night.
Carrie Underwood is Pollstar's three-time top female country touring artist. This past spring she embarked on the biggest tour of her career, The Storyteller Tour – Stories in the Round. The arena tour rolled in to 47 cities and seven different countries, playing to nearly 600,000 people since the tour launched in January. It will pick back up this month in Anchorage, Alaska and continue through November, including shows in NYC (Madison Square Garden), Los Angeles (STAPLES Center), and Nashville (Bridgestone Arena). This December's tour with Keith will be Carrie's third trip to Australia, having been here before for extensive album promotion in 2011 and again in 2012 when she also took her "Blown Away" Tour to Melbourne, Tamworth, Brisbane, and Sydney – wrapping with 2 sold-out nights at the iconic Sydney Opera House.
Australian four-piece alt-indie band Buchanan has been hand-picked by Urban to open up the "ripCORD World Tour Australia 2016". Buchanan, led by enigmatic front man Josh Simons, recently released their new album "Pressure in an Empty Space". The band last visited Australian shores in February, headlining shows up and down Australia's East Coast in a sold out tour. Buchanan has had over 1 million streams on Spotify, half a million plays on YouTube, and over 200,000 listens on SoundCloud.
US Reviews of the "ripCORD World Tour 2016" have been glowing:
"Like the album itself, the live show represents a technological leap for the singer, whose recent albums have found him merging guitar-driven country with synthesizers and other electronics …"  ROLLING STONE
"Keith Urban's success has mostly come in the category of country, but his mastery of guitar and other genres would make that hard to prove. A crowd of more than 15,000 on a perfect late spring night heard country, sure, along with pop, rock, rap, reggae and blues during Urban's two-hour show to promote his new Ripcordalbum." ST LOUIS POST
"…there were plenty of songs where the pure rocker Urban has always flirted with becoming shone through…" TAMA BAY TIMES
KEITH URBAN'S "ripCORD WORLD TOUR AUSTRALIA 2016":
Tuesday December 6th Adelaide – Entertainment Centre
Thursday December 8th Melbourne – Rod Laver Arena SOLD OUT
Friday December 9th Melbourne – Rod Laver Arena NEW SHOW DATE
Saturday December 10th Canberra – GIO Stadium
Monday December 12th Sydney – Qudos Bank Arena SOLD OUT
Wednesday December 14th Sydney – ICC Sydney Theatre, ICC Sydney NEW SHOW DATE
Friday December 16th Brisbane – Entertainment Centre
Saturday December 17th Brisbane – Entertainment Centre
TICKETING INFORMATION:
New Shows (Sydney & Melbourne):
The Telstra Thanks pre-sale, just for Telstra customers, starts 11am Thursday 25th August and ends 5pm Sunday 28th August. Head to www.telstra.com/music for more details on how to purchase.
My Ticketek members will receive pre-sale access between 10am Monday 29th August – 5pm Tuesday 30th August.
Tickets will be available to the general public at www.ticketek.com.au from 10am Wednesday 31st August.
All Other Shows:
Tickets are selling fast for all other shows, don't miss out. Purchase tickets now at www.ticketek.com.au.
For all official Keith Urban news and ticket information, go to www.keithurban.net.