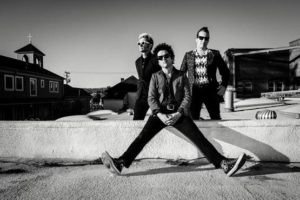 ALBUM IS AVAILABLE FOR PRE-ORDER TODAY
Rock and Roll Hall of Fame inductees and Grammy Award-winning rock band Green Day will release their 12th studio album, entitled Revolution Radio, on October 7th via Reprise Records. The album is available for pre-order now. Those who pre-order will receive an instant download of the first single Bang Bang, which is now available. Watch a lyric video for the song exclusively via Facebook.
Produced by Green Day and recorded in Oakland, Revolution Radio is a potent 12-track blitz of angst-ridden anthems that unites Green Day's fully formed stylistic approach with lyrical themes that address the complexities and uncertainties of modern day existence. Musically, the album is raw, visceral, and fearless — solidifying the band's reign as one of the leading voices in rock music. First single Bang Bang was inspired by recent events and marks a welcome return from a band with more to say than ever.
"Of course the world has lost its collective mind… and me, Mike and Tré are lost souls too," said Green Day frontman Billie Joe Armstrong. "Revolution Radio is a movement for lost souls to come together… dance together… sing together… and most of all, find each other. That's what the spirit of Green Day has been about since day one."
More information on Revolution Radio will be revealed in the coming weeks.
REVOLUTION RADIO  FULL TRACKLISTING
Somewhere Now
Bang Bang
Revolution Radio
Say Goodbye
Outlaws
Bouncing Off The Wall
Still Breathing
Youngblood
Too Dumb To Die
Troubled Times
Forever Now
Ordinary World
ABOUT GREEN DAY
Green Day is an American punk rock band composed of vocalist/guitarist Billie Joe Armstrong, bassist Mike Dirnt and drummer Tré Cool. Formed in 1986, Green Day was originally part of the punk scene at the DIY 924 Gilman Street club in Berkeley, California. The band's early releases were with the independent record label Lookout! Records. In 1994, its major label debut Dookie (released through Reprise Records) became a breakout success and eventually sold over 10 million copies in the United States. Green Day was widely credited with popularizing and reviving mainstream interest in punk rock in the United States.  Green Day's follow up albums Insomniac (1995) and Nimrod (1997) each sold over two million albumsand were certified Double Platinum, and Warning (2000) was certified Platinum.  2004 brought the band's rock opera American Idiot which reignited the band's popularity with a younger generation and sold over six million copies in the United States.  Green Day is one of the world's best-selling bands of all time, having sold more than 75 million records worldwide. The group has won five Grammy Awards: Best Alternative Album for Dookie, Best Rock Album for American Idiot, Record of the Year for Boulevard of Broken Dreams, Best Rock Album for the second time for 21st Century Breakdown and Best Musical Show Album for American Idiot: The Original Broadway Cast Recording. In 2010, a stage adaptation of American Idiot debuted on Broadway. On April 18, 2015, the band was inducted into the Rock and Roll Hall of Fame as a part of the 2015 class in what was their first year of eligibility for induction. On October 16, 2015, Green Day released the documentary Heart Like A Hand Grenade, an unprecedented behind the scenes look at the writing and recording of their legendary album American Idiot.
FOLLOW GREEN DAY
OFFICIAL WEBSITE | FACEBOOK | TWITTER | INSTAGRAM | YOUTUBE