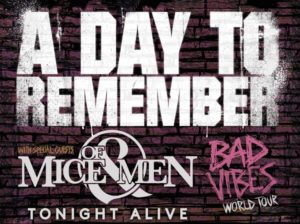 Sydney band TONIGHT ALIVE have been added to all dates on the forthcoming A DAY TO REMEMBER tour. These will be their first Australian shows since the release of their third album, Limitless, which was released in March and debuted at #6 on the ARIA Charts.
Limitless has been a worldwide success, with the band making waves across Europe and North America this year including appearances at Warped Tour in the USA, and appearing on the cover of UK magazinesRock Sound and Kerrang. Earlier this year, they performed as one of the UNIFY 16 headliners and sold out their national single tour in January. In July, Tonight Alive vocalist Jenna McDougall collaborated with Parkway Drive on a new track called "Into The Dark".
TONIGHT ALIVE will join an incredible line-up that also includes Californian metalcore act OF MICE & MEN, who are currently touring America with Slipknot and have their new album Cold World due out in September.
Meanwhile, A DAY TO REMEMBER continue to build massive anticipation for their forthcoming album Bad Vibrations (September 2) with the release of "Naivety," the latest single to be released from their new record.
TOUR DATES
RED HILL AUDITORIUM, PERTH
SATURDAY DECEMBER 10
AEC THEATRE, ADELAIDE
TUESDAY DECEMBER 13
FESTIVAL HALL, MELBOURNE
WEDNESDAY DECEMBER 14
HORDERN PAVILION, SYDNEY
FRIDAY DECEMBER 16
RIVERSTAGE, BRISBANE
SUNDAY DECEMBER 18
all shows are licensed all ages
TICKETS ON SALE NOW
For complete tour and ticket information, visit:
www.livenation.com.au
www.adtr.com
www.ofmiceandmenofficial.com
www.tonightaliveofficial.com