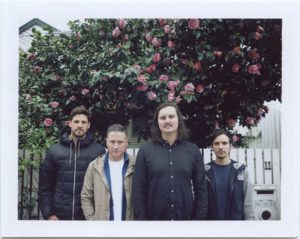 Ceres, the charming Melbournians will hit the road in October and November for a string of shows to celebrate their sophomore album, Drag It Down On You out on September 2 via Cooking Vinyl Australia. Tickets go on sale Thursday 25 August at 9am.
Ceres are thrilled to announce they'll be releasing Drag It Down On You with US independent label,No Sleep Records. No Sleep Records is the home of an incredible diverse roster and the home to artists such as La Dispute, Touche Amore, The Wonder Years and Moose Blood."We are beyond excited to bring the Ceres guys into the No Sleep family. Ever since hearing "I Don't Want To Be Anywhere But Here" I have been a huge fan of the guys and to have them be a part of No Sleep now is amazing. We can't wait to help these guys take over." – says Chris Hansen (Owner, President & A&R) of No Sleep Records.
Since forming in 2012, Ceres' infectious anthemic songs combined with endless enthusiasm and unmistakably Australian likability has resulted in the Melbourne quartet becoming much loved by critics and punters alike.
Written carefully over two years amidst tours, travel, and personal changes, second LP Drag It Down On You was recorded across what the band call "one long, funny, emotional, frustrating, incredible, life-affirming" fortnight in March 2016.
Ceres were not alone in the studio, as longtime fans of Los Campesinos! they invited Tom Bromley of the much-loved Cardiff indie act to head to Melbourne and join Tom, Rhys, Frank and Grant in the famed Sing Sing Studios to produce the new album.
Drag It Down On You engineering and mixing duties were handled by Aaron Dobbs (The Avalanches, Stonefield), and the popular Alan Douches (Brand New, Cloud Nothings, Mono) of NYC's West West Side mastered the album.
Ceres may be slightly restless, and a little bit anxious.
But it is abundantly clear that despite the trials, on Drag It Down On You, they are ready for anything.
TICKETS ON SALE THURSDAY 25 AUGUST AT 9AM 
CERES 
DRAG IT DOWN ON YOU TOUR 2016
FRIDAY 28 OCTOBER – NORTHCOTE SOCIAL CLUB, MELBOURNE 
PRE-ORDER DRAG IT DOWN ON YOU: ITUNES | ARTIST FIRST 
and receive
Laundry Echo
and 
Happy In Your Head
as an instant download.
Ceres will also be performing at Bigsound 2016.