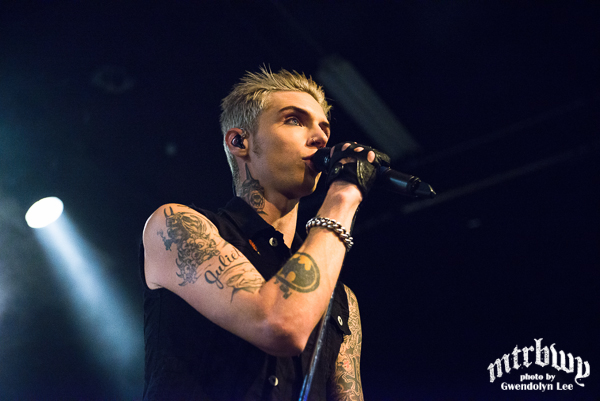 I love these sorts of gigs. The ones where before a band has even started the floor is already full and comprised of mostly under 18 concert goers while up the back the oldies have so much room for activities! It's great. Of course everyone is here tonight to see Andy Black on his first solo trip to Australia and this is actually his first show in Australia! So with no idea of what to expect set wise other than of course songs from his debut solo album 'The Shadow Side' this will be a night of surprises. I mean will we hear Black Veil Brides stuff? I guess we'll find out.
Wow. Ok. I just got deafened by the crowd as one dude and his guitar walked out on stage. The first of two supports tonight Marcelo I have to say holy shit! This guy has a great voice and I'm most definitely interested in finding out more of what he can do. Ha ha I just noticed I'm actually on 'parent's island' ha ha there are so many folks up here obviously because their child is here and that is the best!!  Sorry back to Marcelo, these are some great tunes, tonight acoustically and I wonder what they'll be like recorded. Guess I'll find out as I'll be following this one up!
Up next is another acoustic set and this time by Tyne-James Organ and in the same style as Marcelo his guitar playing is actually pretty damn impressive with some great tunes and unfortunately a shorter set as they were running behind, he's another I'll be looking in to. I really dig it when the supports are worth following up.
The most un rock and roll chat of 'Andy Andy Andy' has started and once they realized how it sounded it quickly stopped. It was quite funny actually. Maybe go with an 'Andy Black Andy Black,..'
The house lights go Andy I mean Black, really you think that would be easy to get right… but as the lights dim the crowd actually lose their mind and I am 100% regretting not bringing ear plugs tonight as I get the feeling this is going to be a screamy type show.
The two piece band of guitar / keys, and drums… Wow… Start playing as Andy walks out to those screams I mentioned earlier. 'Stay Alive' is what kicks off Andy's set and it's a good way to start actually with this crowd he could've started with 'Twinkle Twinkle Little Star' and he would've gotten the same reaction. 'Ribcage' showcases more of the electronic side of Andy's solo effort and kind of has that early 90's Depeche Mode feel to it. This guy can work a crowd I have to say as he welcomes us to the first ever Andy Black show in Australia he introduces the band and has a bit of a chat and no shit talks about Pokemon before throwing in a great cover of Billy Idol's 'Dancing With Myself' and you know what? He sounds pretty damn good doing this and actually does a great Billy Idol and I'd like to hear more, so if we can just keep going on the Billy Idol catalogue that would be great, actually with the blonde hair… Andy Idol? Yep…
Oh wow… a Vegemite tasting interlude just happened… Wow. I have never seen that on stage before…
Oh cool, back to music… 'Louder Than Your Love' is a track that he collaborated with Gerard Way on and the sheer mention of his name let the shriek of the crowd happen again… I do have to say all joking aside I love what Andy has done with his solo album as it is different to what we know him for and that's ballsy to do something different. This track is a stand out for me. 'Beautiful Pain' sticks with the album  as is what I'll call the big ballad on the album and here it beefs up and sounds great. Another chat before another ballad off the album in 'Paint It Black' and there are no red doors to be seen… This is another favourite on the album for me as by now you should know if you've ever read my reviews that I'm a sucker for a ballad.
Time to rock things back up with 'Drown Me Out' and they love this one that's for sure as arms wave toward the stage in unison and with some crowd participation to help things along the song builds to its finale. It's time for a Black Veil Brides story and tune, as you'd expect the place is singing along to 'Savior' and none more so than guy in front of me in parents island who is thrusting his fists in the air and reaching back for the big notes. Was cool to have a BVB song in the set I wonder if we'll get more? After another chat but an important one as he acknowledged the fans and how much he appreciates the love they give him because of what he's given the world with his music. It's cool to hear it discussed. Then with 'Put The Gun down' his words made sense and it's kinda powerful when it's put into context.
Chat Black strikes again… oh that's his new name by the way, loves a chat does Andy!
'Don't Need to Understand' closes out the set and you know what, this sounds like a Bon Jovi song on steroids and I love it. Thanks for finally playing the best song of the night as a chorus of 'whoa ohs' ring through The Metro it's just a cool vibe.
Of course there's an encore after the 'one more song' chant (that one always sounds good) and it's the first single taken from the album and the one I was most intrigued to hear live actually. 'We Don't Have to Dance' is the name of the song and live it really stands out and was a whole lot of fun. The obligatory screams as he thanked the crowd and left the stage happened and the parents left the island to go and meet their children that just had an absolute ball.
Andy has such a great voice live, he held his own out the front as a solo artist and without the usual wall of amps and rock we're used to him doing he was able to step out as more than a front man, he is a solo artist that will only continue to be able to create the way he is, and hey if music doesn't work out he could be one hell of a hit on the spoken word scene. So put aside your pre-conceived notions of what you think Andy Black would be like as a solo artist as this is an artist maturing and I can't wait to see what happens next.
Essential Information:
Date: Thursday August 25, 2016
Venue: The Metro, Sydney
Presented by: Select Touring & Blue Murder
Supported By: Marcelo & Tyne-James Organ
Photo by: Gwendolyn Lee – Gwendolyn Lee Photography
Set List:
Stay Alive
Ribcage
Dancing With Myself
Louder Than Your Love
Beautiful Pain
Paint It Black
Drown Me Out
Savior
Put The Gun Down
Don't Need To Understand
We Don't Have To Dance