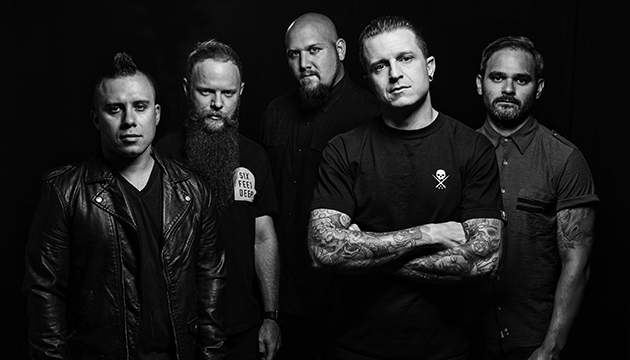 "You know Atreyu exists right now basically to kick ass and take names, so we're gonna kick ass and take names when we come down there, like every show we play I feel like we've got something to prove or I've got something to prove to re-establish ourselves to be a force to be reckoned with."
From Release: No strangers to our shores, ATREYU will be bringing their trademark crushing riffs to the party. The Orange County pioneers returned to the fray last year, releasing their first LP in six years, the triumphant 'Long Live', which Heavy Magazine branded 'the essential Atreyu record'. The adored act have recently hit the road to mark a decade since the release of their huge 'A Death-Grip on Yesterday' album. They'll be mining their extensive back catalogue to the great excitement of local fans.
After he finished stacking his fridge we chatted with Alex of Atreyu about the band's upcoming return to Australia in November, new music, bucket lists and more…
You've toured with Bullet For My Valentine here before back in 2008 but are heading back this November with them, in those eight years a lot has happened with Atreyu, what can we expect from this band on this run?
You know Atreyu exists right now basically to kick ass and take names, so we're gonna kick ass and take names when we come down there, like every show we play I feel like we've got something to prove or I've got something to prove to re-establish ourselves to be a force to be reckoned with. I also feel better than I've ever felt being in this band, I play harder than I've ever played, I think we all realise with those years came the reality of how blessed and how lucky we are to do what we do. So every time I step up to the plate I try to knock it out of the park.
Do you still throw a bit on Bon Jovi in the set?
I vote against it but I lose every time, so I'm sure you will *laughs*
What do you remember from that last tour with the guys?
Not very much, I smoked a lot of Australian weed… no… I'm kidding *laughs* I remember the shows were awesome, huge shows with Bullet and Avenged (Sevenfold) I believe, man I've been to Australia numerous times and it's one of my favourite places to tour, my wife Holly and I went there on our honeymoon several years ago so it's hard for me to keep track of all the times I've been Down Under.
Australian audiences have always loved you guys, and I saw that first hand at Soundwave last year, what do you think it is about Atreyu that Australian audiences attach to?
I don't know man, if I knew I'd try to tap into it even more *laughs* but I feel like people connect with us because we're just dudes trying to give 100%, there's really no rock star airs about us anymore, we just shoot from the hip these days and I think people respect that. When e go out there we want to have fun, we're not worried, we're not pretentious, we don't give a fuck we just wanna rock and I think people miss that aspect of rock music, it's very like, I don't know, I don't wanna say people playing dress up and interpret that whichever way you want, but for a lot of people playing dress up I don't need that shit I can go out there and make people go crazy with just a microphone. I think we're very what you see is what you get, like if I'm having a bad day and you encounter me I might be an asshole, I'm just a normal fuckin dude. If I'm having a good day and I'm positive then I'm stoked and usually I have great days and I'm so lucky to get to do what I do but I'm just putting it out there, we're just trying to be dudes because we are dudes, we're not Metallica, we're not Bullet For My Valentine even, we're just dudes who play music and this is what we've done, this is what we'll always do.
After the hiatus and now being back in full swing is it fair to say that you guys have completely found your footing and are ready to keep it rolling?
Oh yeah, completely, I think after the first couple of shows we realised that this was a blast and we're gonna keep it rolling until it's not a blast anymore, but hopefully we would figure out what was bumming us out before we got to that point.
Of course we had 'Long Live' out last year, has that lit a bit of a fire under the band and can we expect newer music sooner rather than later?
I think we're gonna take around nine years to write the next one but it'll be really good I promise… *laughs* I'm just kidding. I think we're looking at starting stuff, we're always kind of writing but I think we'll start a little bit more seriously towards the beginning of next year. We'll start working on a new record.
Well 'Long Live' was a kick ass record so keep it up!
Hey thank you so much, man, we all talked beforehand about wanting to make probably one of our most uncompromising records to date, and on purpose kind of. We didn't want to come back and just have a bunch of like poppier songs or catchy, we were just feeling aggressive and heavy at that point, so it was fun to do.
Has being back together opened up opportunities of touring places you haven't yet seen?
A little bit here and there but basically we've been playing music and Atreyu has been a band for fifteen plus years, not counting the hiatus maybe, or round there so I've pretty much been to most places. Nothing really new has come across my path, a couple of new European countries this past year like Slovenia, we've never been to Slovenia but other than that I've been there. I'm still looking for new spots though…
What would be on your bucket list of things you want to do in Atreyu?
Man… you know, it's hard to say I don't set that kind of accomplishments, I want our next record to come out and be something really crazy and a little bit different than 'Long Live' I've got some ideas about different things that I think the band is gonna try. I think we all have some cool ideas and some cool directions we're gonna take. I don't know just more uncompromising stuff. As far as playing places man I don't know, I love Australia and I'm not even trying to kiss ass, my bucket list would see me doing a three month Australian tour we'll play literally everywhere.
Do it, come down for a residency…
*laughs* We'll do a month in every city, they'd have to be really small shows though. No more than five people, max.
Lastly, let's look ahead to the future, finish this sentence for me, by the end of 2016 the one thing Atreyu wants to do is…
Rock.
Thanks for your time, Alex and we'll see down here very soon.
Thank you so much, I appreciate the opportunity to talk to you.
Catch Atreyu in Australia with Bullet For My Valentine and Cane Hill at the following dates:
THURSDAY 20th OCTOBER – Metro City, Perth (18+)
FRIDAY 21st OCTOBER – HQ, Adelaide (Lic. A/A)
MONDAY 24th OCTOBER – 170 Russell, Melbourne (18+)
TUESDAY 25th OCTOBER – 170 Russell, Melbourne (18+) – SOLD OUT!
THURSDAY 27th OCTOBER – Big Top, Sydney (Lic A/A)
FRIDAY 28th OCTOBER – Eatons Hill, Brisbane (Lic A/A)
Tickets on sale now via tickets.destroyalllines.com
Presented by: triple j's The Racket and Destroy All Lines & Chugg Entertainment
Essential Information
From: Orange County, CA, USA
Band members: Dan Jacobs – Guitar, Porter McKnight – Bass, Travis Miguel – Guitar, Brandon Saller – Drums/Vocals, Alex Varkatzas – Vocals
Website:  http://www.atreyuofficial.com/
Latest release: Long Live – (Out Now – Spinefarm Records)