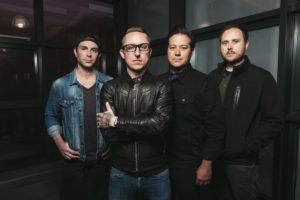 Australia's love affair with Floridian rockers Yellowcard is stronger than ever with pre-sale tickets being snapped up as soon as they went on sale. Due to overwhelming pre-sale demand, a second and final show at Melbourne's Max Watt's has been added on Friday 24 February 2017.
Tickets to all Australian shows on Yellowcard's The Final World Tour are on sale from 10am local time tomorrow (Thursday 7 July).
Yellowcard release their final album, simply titled Yellowcard, on 30 September 2016 via Hopeless Records/Unified and are taking their farewells on the road with The Final World Tour. Click here to read the band's full statement.
Since uniting in Jacksonville, Florida in 1997, Yellowcard have delivered some of this generation's biggest anthems including'Only One', 'Ocean Avenue', 'Hang You Up' and 'Way Away'.
Come join the celebrations, bidding Yellowcard a fond farewell as they tour across Australia for the very last time next February. If pre-sale demand is anything to go by, tickets will be snapped up like hot cakes. Don't say you weren't warned!
"We will be forever grateful to Yellowcard fans all over the world for the opportunities you have given us. We have played shows for nearly two decades on six continents, and had the chance to keep recording the music we love year after year. While it is with sadness that we say goodbye, it is with gratitude and amazement that we look back on a career we can be proud of, and were so very lucky to have had."
Yellowcard
The Final World Tour
With special guests
Like Torches
General public on sale from Thu 7 Jul
10am local time
For full tour information,click here
Wed 15 Feb
Capitol (18+)
Perth, WA 
oztix.com.au
1300 762 545
Fri 17 Feb
Enmore Theatre (All Ages)
Sydney, NSW
ticketek.com.au
132 849
Sat 18 Feb
The Triffid (18+)
Brisbane, QLD
oztix.com.au
1300 762 545
Tue 21 Feb
The Gov (18+)
Adelaide, SA 
oztix.com.au
1300 762 545
Thu 23 Feb
Max Watt's (18+)
Melbourne, VIC
oztix.com.au
1300 762 545
Fri 24 Feb
NEW SHOW!
Max Watt's (18+)
Melbourne, VIC 
oztix.com.au
1300 762 545
Presented by
Frontier Touring