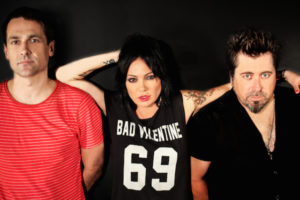 Aussie rock outfit, The Superjesus, are back with their brand new single, Love and Violence, the title track from their forthcoming EP, set for digital release on Friday, 12 August.  In support of the single and EP, the band are hitting the road this October on a six date journey, taking in Sydney, Newcastle, Melbourne, Adelaide, Byron Bay, and Brisbane.
A collaborative effort, with everyone in the band chipping in with the writing and production of each song onLove and Violence, the result is a fresh and new collection.
"We had all grown so much musically in the 10 years since we broke up, and each member brought to the table everything they had learned in the outside world. We're all very proud of each other's achievements." –Sarah McLeod
With the EP available for digital pre-order now, fans will also receive three instant-grat tracks immediately – the two previous singles released, The Setting Sun and St Peters Lane plus the brand new one, Love and Violence.  A limited number of exclusive fan bundles will also be available from the SFR Store – pre-order now!
At radio today, Love and Violence is the third single taken from the EP.  It's the first song The Superjesus wrote when they reformed in 2013, and looks at the oddity of emotional extremities and celebrating the immeasurable depth of human connection – fire and passion, love and war, heaven and hell…love and violence.  With deeply emotional relationships, often comes with the risk of deep emotional pain.
"We had performed one show at The Gov in Adelaide to see if we still had the vibe. After that we came home and started exchanging ideas immediately. Love And Violence was the first cab off the rank. It's about the uncontrollable extremities of emotional connections." – Sarah McLeod
Due to hit the road in October, the ARIA award winning band will play six shows, performing songs from the EP, plus their biggest hits including Gravity, Down Again, and Secret Agent Man.  Fans will also have the opportunity to purchase a physical copy of the EP at shows.
To get everyone in the mood, The Superjesus have compiled a Spotify playlist of their singles, for fans to listen to – check it out here:
LOVE AND VIOLENCE TRACK LISTING
01 Come Back To Me
02 The Setting Sun
03 St Peters Lane
04 Love and Violence
05 Sea Song
06 Come Back To Me (Live)