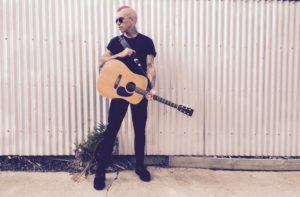 We've been a fan of Luke's since King Cannons, and if you haven't heard of them well you missed out big time, There's a couple of videos below you can check out, so when Luke stepped away from the band and music for a while hope was lost… but with a resurgence in love of it again and his new band 131's making some killer tunes and supporting The Living End around Australia recently, Luke has decided to take a huge step in making a solo record. Not only a solo record but one taking him to The USA... actually we'll let him tell you more about it…
"I have this rad idea that I want you to be part of.  I want to write and self-record a solo album over a month in the USA. I'm going to write and record on the fly, working in hotel rooms, on friends sofa's, in garages, squats, friends studios, out in the street, in the car, on the bus, you name it! With your funding, I can collaborate with the people I meet on my journey and make a very special record for you! A few mates of mine are to keen to work with me; Chris Cheney (The Living End) Jason Bonner (Jandisc Records, Ex Aggrolites) Dan Smith (Sharp/Shock, Ex Dear and Departed) Suzi Carmichael (Turbulent Hearts, Ex Civet) Nat Dunn, and Chris Murray to name a few!
This album aims to take you on a journey through 10 songs I write over a month in the USA.
This album will be recorded and produced by yours truly.
This album will be mixed and mastered professionally, and given to you straight to you.
No middle men, no labels, no producers, no managers, just the freedom to make something rad that we can say we were part of.
A journey album, created by me, funded by you."
You can check out the Pozible campaign here, as well as the full story and rewards you can snag as being a part of this project. There's not long to go and you could be part of something pretty special.
Here's a taste of what Luke has done before! Get behind this legend!!