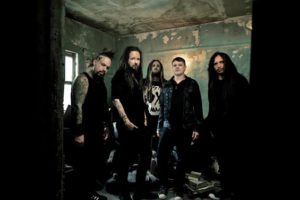 Following great anticipation, Korn, one of the most influential rock bands of modern times, have today announced the release of their 12th studio album, The Serenity Of Suffering. Produced by Nick Raskulinecz (Foo Fighters, Deftones, Mastodon), the album will be released on October 21 and features a special guest appearance from Corey Taylor of Slipknot. It marks the band's welcomed return to Roadrunner Records, who previously released 2010's KORN III – Remember Who You Are and 2011's The Path of Totality. Korn are also set to embark on a US co-headlining tour in September.
Korn, who are Jonathan Davis (vocals),  James "Munky" Shaffer (guitar), Brian "Head" Welch (guitar), Reginald "Fieldy" Arvizu (bass) and Ray Luzier (drums), performed the first single Rotting In Vain in front of 25,000 people during a thunderous set at Chicago's Open Air festival on July 16.  Today, fans everywhere can tune in as the song is officially released alongside its official video with the launch of the album's pre-order. Starring Sons of Anarchy actor Tommy Flanagan along with Korn, the video taps into the dark underbelly of a bizarre world. The video was lensed by famed rock video director Dean Karr.
"Rotting in Vain was written about being in that black place, being in situations that I don't like in life–be it relationships, or feeling when you're stuck and you're just being abused or you don't like where you're at, and you just sit there and rot," says Jonathan Davis.  "It takes you years and years to figure out how to claw your way out. That's where 'Rotting in Vain' came from. I'm just sitting there, fucking dying and letting it happen for years and years and not helping myself to get out of that place. That's the vibe that inspired the song."
Korn built an immortal bond in 1993 the first time Jonathan Davis, James "Munky" Shaffer, Reginald "Fieldy" Arvizu, and Brian "Head" Welch decided to make music as a unit. They shed blood, sweat, and tears in the studio and on stage, fashioning an undeniable and unique sound that would permanently alter the course of rock music. After six seminal releases, two Grammy Awards, countless sold out shows, and selling 35 million albums worldwide, Head left the group in 2004 to face the demons of addiction. Korn soldiered on, adding drummer Ray Luzier in 2007 and releasing four more full-length releases. In 2012, a triumphant and tear-filled reunion happened on stage as the group headlined the Carolina Rebellion Festival with Head reprising his legendary part on Blind. The initial bond came back into focus, and it was time for their next studio album, The Paradigm Shift, which seamlessly melds the group's ever-present spirit of innovation with their signature metallic catharsis, paving the way for the future yet again. In 2014, Korn started their 20th anniversary celebrations, playing their critically acclaimed self-titled debut album in its entirety. The shows were so well received that the group continued the festivities into 2015, performing the record on tour to fans around the world.
FOLLOW KORN
OFFICIAL WEBSITE | FACEBOOK | TWITTER | INSTAGRAM | SOUNDCLOUD | YOUTUBE