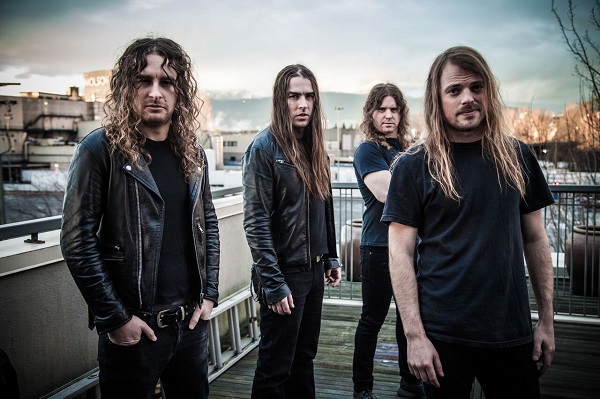 "At the end of the day we're not reinventing the wheel, people know what they're gonna get with Airbourne because it's rock and roll and we don't go too far out of the boundaries of that, we're not gonna go bring a keyboard in or something like that, we know the boundaries…"
From Summernats release: Fun-loving, rip-roaring, hard-partying rock'n'roll band, Airbourne is the perfect fit for Summernats on Saturday night. The Nats have been trying to get Airbourne on the festival for seven years, and the organisers are thrilled that calendars have finally aligned. Airbourne are currently in the studio working on a new album due for release later this year. Their show at the Summernats is an all too rare opportunity for fans of this crazy bunch of blokes to see them in Australia.
In Melbourne and rehearsing for some upcoming shows overseas, we caught up once again with Roadsy to fill us in on all things Airbourne, their new album, their upcoming appearance at Summernats, Aussie rock, touring and much more…
So, it's been about three years since we chatted, so let's catch up. How have the last three years been for you?
Yeah not bad, we finished the 'Black Dog Barking' touring cycle last June, since then we've just been based back home in Melbourne working on album number four which we've now currently finished which was recorded in Melbourne this time round and now we're just rehearsing the old stuff at the moment before the album comes out, and getting ready to go back over to Europe next week actually we fly out…
It's also been about three years since you guys last played a show here, why was now the right time to come back?
Just cause we're so busy overseas with the work load of touring over there but we're trying to come back and get Australia in as well and then The Summernats obviously they've been trying to book us for the show in January since 2010 they've been trying to make the show work with our management since then and then finally they've got us for the thirtieth anniversary.
So how did you get involved in Summernats? Was it a case of they just wanted you and it finally happened?
Yeah they've had a lot of Aussie acts over the years play their event and yeah, like I said before they've just been trying to get us for so long and finally we had that opening there in January because we're going out for five months and we're back in December, so we sort of had January free so it worked out fine. I think we're playing on Saturday the 7th of January.
Could that open a window and can we expect some more shows after you get warmed up again?
Yeah most likely, nothing's confirmed at the moment but definitely, we can't just play the Summernats and nowhere else, that'll piss a few people off *laughs* so we'll definitely do some other shows off the back of it.
You've never played it before, what do you know about the festival?
Just that it's all about the street machines, street cars and drag races and bands and music and just a good time I guess, and that's very big for Australia.
Pretty much what Airbourne is all about really?
Yeah that's right, I think it suits us right down to the T to play that festival, definitely our market to play that sort of demographic, I think it's going to go down really well.
For a band like you guys where the show is so full on and energetic you never seem to slow down, when do you get a chance to sort of stop and take it all in? Do you ever get a chance to do that?
Oh, in between albums I guess *laughs* while we've been home… we've never really taken a long break, since we sort of signed with Capitol way back in 2006 and did 'Running Wild' it's just been constant, and you can't really slow up too much though, we're not at a level where we can go off the road for consecutive years and then come back for a tour. It's been growing more and more overseas and we've just had to keep servicing it, get another album out and tour it, get another album out and tour. If we disappeared for a few years we'd probably lose that momentum, especially on the last couple of albums because it was growing so much in that time that we just had to keep going and that's why we're getting this album out and doing it all again. So just in between album cycles, when we're at home writing albums is when we get a bit of time.
Now Australia loves you guys of course, but the overseas market seems to love you guys about a billion times more, what do you think it is that they relate to and are attracted to with Airbourne?
I mean there's still a huge rock following here in Australia, but it's just a bigger scale over there, millions more people, it's a lot more concentrated, the cities are a lot closer together and you're in a different country almost every day, and then obviously the festivals as well, they have such huge metal and rock festivals that draw in up to 100,000 people and by the time you tour those sorts of festivals it takes up so much of the year. You could really be on the road flat out for four months just on festival season over there, where here in Australia if you were just to tour the cities you'd be done in a couple of weeks unless you're Jimmy Barnes or John Farnham where you can do a real detailed tour of Australia and go to all these outback towns and rural areas, but we sort of don't have that sort of pull to do that in Australia, we'd probably just do a city tour here and that would be it.
So you're in the studio working on a new album, what can you tell us about it so far?
Well we have the single about to drop, 'Breaking Outta Hell' and people are probably seeing the artwork come out for that, and that is the single artwork, people seem to think it's the album artwork but it's the single artwork, we're still working on the album artwork. So we just finished it it's all been mixed and is about to go into mastering and that's probably going to release later on this year maybe in the spring time in Australia. We've got the single to come out to build that up, but the album is sounding really great, we worked with Bob Marlette who we worked with on the first album, we had Mike Fraser come out and sound engineer and mix the album, two big guns in the music industry. Mike Fraser is renowned for working with AC/DC on the last five albums, so that goes back to the 'Razor's Edge' in the early 90's, and Bob's worked with a lot of big artists like Alice Cooper and Rob Halford just to name a couple, it's a long list. Having those guys come out to Australia it was a really good process and it's just sounding amazing.
So as we've said it's called 'Breakin' Outta Hell' why was this the perfect name for the album?
We had a few ideas up in the air and that's kind of the way it goes, but Airbourne we've always got a big archive of riff ideas and song ideas and song titles and lyrics etc and it's just a matter of getting the right title to a song that feels right and it's a title we've had floating around for a while and finally just felt right to go on this album and we thought it was just a cool title so it found its place.
As time moves on, how do you feel you've grown as a band to be where you are today?
Well you know, we've still got our Aussie pub rock roots, that's what we are, we're a pub rock band, It's definitely that type of music that can grow from the pub to a big stage and that's definitely what we've done over the years. I think we've had a healthy growth over the years as a band, all the amount of touring we've done overseas, living out of vans and doing all these hard, endless tours has made us tighter as a band like musicianship wise and our performance and we've had a steady growth going in to bigger stages, it definitely hasn't been an overnight success and we've gone from the small stage to the big stage, it's been the right sort of growth and we've just learnt as much as we can on the way, and working with different producers on every album and with song writing and just song structures as well. At the end of the day we're not reinventing the wheel, people know what they're gonna get with Airbourne because it's rock and roll and we don't go too far out of the boundaries of that, we're not gonna go bring a keyboard in or something like that, we know the boundaries we can stick within in song writing and all that and we just try to do it better and better as we grow.
Can you do me a favour, can you get Joel to wheel a keyboard out on stage one day and pretend to start playing and then just fuck it off and see if everyone freaks out?
*laughs* Come out with a Keyboard guitar and then say 'just kidding' and snap it over his knee or something. *laughs*
What are your thoughts on where Aussie rock is these days?
I think it's always there, there's still a big following, even in Melbourne alone, just the rock scene here, you go hang out at Cherry Bar and there's just a lot of bands that are fans of rock music in general. It's probably not as big or as common as it was obviously back in the 70's and all that, and it's hard when venues are closing down, it's like an endless battle there especially iconic places like The Espy and The Palace in the city and they nearly got rid of The Tote there a few years back and they're just such iconic venues and it's hard to see them get knocked down. I think hopefully all that's starting to stop now with the government stepping in and hopefully putting an end to that, like when people move next door to a venue and the sound complaints gets places closed down, I think something is being eradicated about that.
Yeah it's a bit like that here in Sydney too, at least we have Frankie's Pizza…
Oh yeah, that's right, went there for the first time last year. That was a great little place actually!
Lastly, with the year now heading down, finish this sentence for me. By the end of 2016, Airbourne want to…
Well, come home to Australia, play the Summernats, play a few more Aussie shows and we're gonna gear up for another proper world tour next year in 2017.
Catch Airbourne at SUMMERNATS 30 
January 5 – 8, 2017
Exhibition Park, Canberra
Tickets at www.summernats.com.au

Essential Information
From: Melbourne, Australia
Band members: Joel O'Keeffe – vocals/lead guitar, David Roads – guitar, Justin Street – bass, Ryan O'Keeffe – drums
Website: http://www.airbournerock.com
Forthcoming album: Breakin' Outta Hell (album coming soon / single out now)