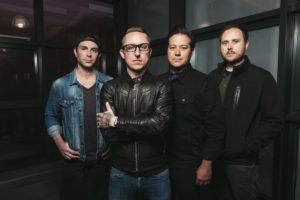 "When saying farewell, it is hard to know where to start, especially when there are so many reasons not to say it, but the time has come to share this news. After countless discussions and months of thought, we have decided that it is time for Yellowcard to come to an end. This will be our last album and our final world tour."
– Yellowcard
Floridian rockers Yellowcard will release their final album, simply titled Yellowcard, on 30 September 2016 via Hopeless Records/Unified. The band will take their farewells on the road with The Final World Tour that kicks off in Texas in October, landing in Australia in February 2017. Click here to read the band's full statement.
Since uniting in Jacksonville, Florida in 1997, Yellowcard have delivered some of this generation's biggest anthems including 'Only One', 'Ocean Avenue', 'Hang You Up' and 'Way Away'.
The forthcoming self-titled album was a personal journey for the band; self-produced by Ryan Key and guitarist Ryan Mendez with long-time ally and close friend Neal Avron on board as Executive Producer. The album is available for pre-order here, which includes an instant download of opening track 'Rest In Peace'.
Yellowcard will be a lasting finale for the band's incredible journey that includes ten acclaimed albums and touring for almost two decades across six continents. Their most recent Australian tour was an incredible pop-punk match up with Mayday Parade that tore through the country in July 2015:
'Yellowcard prove pop punk is far from dead… each track was delivered to perfection.' – Tone Deaf
'There's always something magical that Yellowcard bring to the table in their live set. There's no denying that what they do in their shows is engrained in your memory forever and you will cherish it for the rest of your life.' – Spotlight Report
Joining Yellowcard for all Australian shows will be Sweden's Like Torches, made up of lead-singing brothers Jonathan and Daniel Kärn and their childhood friends Zakarias, Jimmy and Erik.
Like Torches have been handpicked by Yellowcard to support them on the entire The Final World Tour. Audiences will be treated to tracks from the band's self-funded debut and sophomore albums, including debut single 'Missing It All' (featuring vocals from Yellowcard's Ryan Key) and 'Swing By Swing'.
Come join the celebrations, bidding Yellowcard a fond farewell as they tour across Australia for the very last time next February. Tickets are expected to be hot property, don't miss out!
"We will be forever grateful to Yellowcard fans all over the world for the opportunities you have given us. We have played shows for nearly two decades on six continents, and had the chance to keep recording the music we love year after year. While it is with sadness that we say goodbye, it is with gratitude and amazement that we look back on a career we can be proud of, and were so very lucky to have had."
Yellowcard is Ryan Key (vocals, guitars), Sean Mackin (violins), Ryan Mendez (guitar), and Josh Portman (bass).
Yellowcard
The Final World Tour
Frontier Members pre-sale runs from Tue 5 Jul
Click here for details
General public on sale from Thu 7 Jul
10am local time
For full tour information, click here
Wed 15 Feb
Capitol (18+)
Perth, WA
oztix.com.au
1300 762 545
Fri 17 Feb
Enmore Theatre (All Ages)
Sydney, NSW
ticketek.com.au
132 849
Sat 18 Feb
The Triffid (18+)
Brisbane, QLD
oztix.com.au
1300 762 545
Tue 21 Feb
The Gov (18+)
Adelaide, SA
oztix.com.au
1300 762 545
Thu 23 Feb
Max Watt's (18+)
Melbourne, VIC
maxwatts.com.au
1300 724 867
oztix.com.au
1300 762 545
Presented by
Frontier Touring
FRONTIER MEMBERS PRE-SALE DETAILS
Frontier Members pre-sale runs via frontiertouring.com/yellowcard
Tuesday 5 July (2pm AEST)
to Wednesday 6 July (2pm AEST)
(or ends earlier if pre-sale allocation exhausted)
General public on sale: Thurday 7 July 10am local time