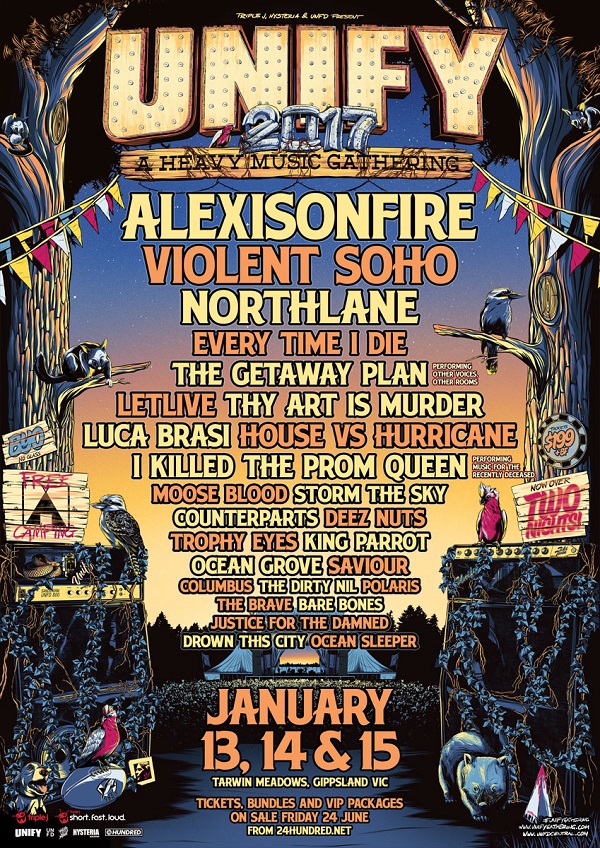 triple j, Hysteria and UNFD Present
UNIFY 2016 A HEAVY MUSIC GATHERING
FEATURING:
ALEXISONFIRE
VIOLENT SOHO
NORTHLANE
EVERY TIME I DIE
THE GETAWAY PLAN [playing Other Voices Other Rooms]
LETLIVE.
THY ART IS MURDER
LUCA BRASI
HOUSE VS HURRICANE
I KILLED THE PROM QUEEN [playing Music For The Recently Deceased]
MOOSE BLOOD
STORM THE SKY
COUNTERPARTS
DEEZ NUTS
TROPHY EYES
KING PARROT
OCEAN GROVE
SAVIOUR
COLUMBUS
THE DIRTY NIL
POLARIS
THE BRAVE
BARE BONES
JUSTICE FOR THE DAMNED
DROWN THIS CITY
OCEAN SLEEPER
After two massively successful years, UNIFY will return in January 2017 with its biggest lineup yet that will include headline performances by Alexisonfire, Violent Soho, and Northlane as part of a 26 band lineup over two huge nights.
Early Bird tickets were released earlier this month to previous attendees of the festival only, incredibly all 2000 tickets flew out the door in under 24 hours, without the backing of a lineup announcement. Any fans who missed out on the Early Bird sale will have another chance to secure tickets when the general public sale goes on Friday June 24 at 12pm AEST via 24Hundred.net.
UNIFY has been a smashing success since its inception with UNIFY 2015 famously selling out of its 3000 ticket allocation in just three hours, while its second year also sold out of all 5000 tickets well before the event kicked off. The festival is a uniquely Australian event that takes pride in showcasing our beautiful natural surroundings as well as our incredible musical output and fandom for which our country has become renown.
As such, the lineup includes 20 Australian artists including performances by recent breakthrough successes like Violent Soho, Northlane, Thy Art Is Murder and Luca Brasi, as well as legacy sets fromHouse Vs Hurricane, The Getaway Plan and I Killed The Prom Queen. Joining the absolute best heavy bands Australia has to offer will be international heavyweights Alexisonfire (CA), Every Time I Die (US), letlive. (US), Moose Blood (UK), Counterparts (CA) and The Dirty Nil (CA).
Alexisonfire is coming together for a special Australian performance in January 2017 to headline Unify Festival. This is the first Australian appearance since their anticipated sold-out 10th Anniversary Australian dates in 2012. One of the biggest bands to come out of Canada's underground music scene, Alexisonfire released four hugely successful albums, amassing a legion of fans the world over. Multi award-winners in their native Canada, Alexisonfire has topped sales charts in North America and achieved a Top 20 ARIA Chart debut in Australia with 2009's Old Crows/Young Cardinals. They performed on the main stage of legendary festivals like UK's Reading and Leeds, Riot Fest and took over native Toronto, ON for a six night stay boasting over 9000 tickets sold, and sold out tours in Canada, US, UK, Europe, Australia, New Zealand, Brazil and Japan.
Violent Soho will be making their UNIFY debut off the back of an absolutely massive year. After the breakthrough success of their Gold accredited third record, Hungry Ghost, 2016 has been the biggest year of Violent Soho's career. In March, their latest album, WACO, debuted at #1 on the ARIA Chart and was triple j Feature Album. They toured with best mates DZ Deathrays and Dune Rats selling out every single ticket in huge theatres across Australia. They'll also be appearing at this year's sold out Splendour in The Grass and heading overseas for a North American headline tour before landing in Tarwin Lower for Unify 2017.
Northlane will make their triumphant return to Tarwin Lower. Since we last saw the band on the inaugural UNIFY Gathering in early 2015, Northlane released their ARIA #1 album, Node, scored triple j Feature Album, won the ARIA Award for Best Hard Rock/Heavy Metal Album, dropped a surprise collaboration EP called Equinox with their best mates In Hearts Wake and slayed massive stages around around Australia, UK and Europe. They will be heading back to Europe for a run of shows with The Amity Affliction before trekking down to UNIFY.
Every Time I Die will feel right at home on the festival stage when they return to Australia in 2017. These New Yorkers have played the main stage of the Big Day Out in 2013 as well as completed countless headlining laps of our continent. Currently travelling around the US on their seventh Vans Warped Tour, this morning Every Time I Die announced their brand new album, Low Teens, out September 23 on Epitaph Records.
The Getaway Plan will be venturing back to 2008 to play their wildly successful album, Other Voices, Other Rooms, in its entirety. Upon its release, their critically acclaimed debut was a chart success, landing at #14 on the ARIA Chart and #1 on the AIR Chart. This will be the first time they've ever performed the album in full.
letlive. will be making their first trek Down Under since scaling the scaffolding and completely destroying stages on Soundwave 2014. With a sound that Afropunk described as "the first truly unique post-hardcore band in years", LA's most radical soul punks have just scored their first ARIA Chart #18 with their fourth album, If I'm The Devil… which is out now via Epitaph. When letlive. let the passion unfurl onstage, their UNIFY debut will be one of the most explosive Tarwin Lower has seen yet.
Thy Art Is Murder's be back in the fields of Tarwin Lower after demolishing the stage in 2015. Their most recent album, Holy War, debuted at #7 on the ARIA Chart – the highest ever position for an extreme metal act, and is a feat they've scored twice. Always stoking controversy and criticism, the band refuse to tone down their art for the sake of palatability which has seen Holy War generate a wave of controversy for the strong anti-religious stance of the title track's video, as well as the album cover which features references to a suicide bomber. Will you get in the pit or get out of the way come January?
Luca Brasi will be hitting the UNIFY stage after their biggest year yet. Their latest album, If This Is All We're Going To Be, crashed the ARIA Top 20 on debut and topped the AIR indie charts. Since then Tassie's favourite sons have sold out headline dates around the country as well as shared stages here and abroad with mates The Smith Street Band, Moose Blood and Pup, plus punched the nation right in the feels with an incendiary cover of Paul Kelly's "How To Make Gravy" on triple j's Like A Version that melted the internet.
House Vs Hurricane will be reforming for their first shows since they played for the last time in 2013. Their last album, Crooked Teeth, was released in 2012 and remains to this date one of the highest selling UNFD releases of all time. The former triple j darlings will return to the stage for a very special one off show with their Crooked Teeth lineup.
Rounding out the lineup is an all Australian who's who featuring Thy Art Is Murder, I Killed The Prom Queen (playing Music For The Recently Deceased), Luca Brasi, Storm The Sky, Trophy Eyes, King Parrot, Ocean Grove, Saviour, Columbus, Polaris, The Brave, Bare Bones, Justice For The Damned, Drown This City and Ocean Sleeper. For full information and a blurb on each band, please head to www.unifygathering.com/artists
Once again, UNIFY will be held in the small rural town of Tarwin Lower, situated on their recreation reserve and football field just like the 2015 and 2016 events. Thanks to the support of the local community, the 2017 event is now a two night affair, which means more artists, more amenities and more amazing memories for our artists and punters. We have worked hard to make this event even more fun and comfortable for everyone involved, and can't thank our previous ticket holders enough for their feedback and continued support.
With the support of the local Tarwin Lower community behind us and the incredible enthusiasm shown by all of amazing artists involved, everything is set for UNIFY to be the perfect start to 2017.
FOR MORE INFORMATION PLEASE HEAD TO UNIFYGATHERING.COM