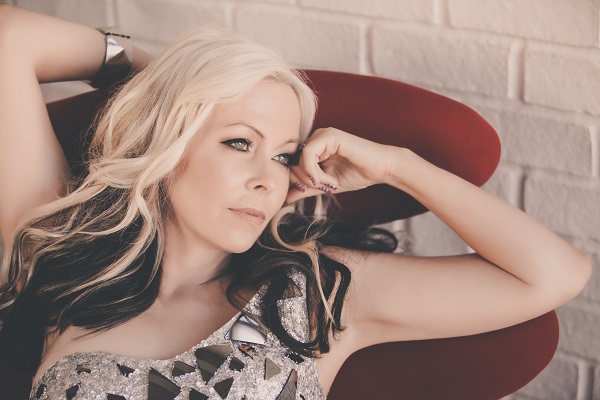 "…as a matter of fact it looks like there's going to be a reunion of the original three, John Crawford, David Diamond and I are writing together right now. David Diamond came and guested on some shows last year, and then John came in really kind of out of nowhere and I wasn't expecting this but it's happening and it's now."
From Release: Let by Terri Nunn, synth-pop/new wavers BERLIN (USA) will take you back in time to that steamy scene from Top Gun when they perform their Australian #1 Take My Breath Away (writer Giorgio Moroder said that he is most proud of this song, of all the other hits he has had) plus their other fantastic Top 40 Hits, including No More Words, Dancing in Berlin as well as the seminal, Metro (which has been covered by everyone from System of a Down to Alkaline Trio). This will be BERLIN's first tour of Australia since 1984!
We gave Terri from Berlin a call to talk about the Totally 80's tour of Australia, the 80's resurgence, memories of Australia, INXS, bands reunited, the future, and more…
We're here because you're heading down to see us in July on the Totally 80's tour, what can we expect on this run of shows?
Our show is a production show, lights and a lot of video content, so it's quite visual as well as musical you could say. *laughs*
Are we up for the straight up hits?
Yeah were gonna be play hits as well as songs from our latest album 'Animal'.
These kinds of tours are quite popular now, have you toured with any of the artists before?
Real Life actually did a tour with us, they opened for us in America in 1985. Stacey Q is interesting, we've never played with her but she and we worked in the same studio, this was back in 1981 she was working with the same producer while we were working on 'Pleasure Victim' in a studio out here in Orange County, California. That's how I met her, she was doing her own thing.
The 80's resurgence has been massive over the last few years, what do you think it is about the music that people have never really let go of / gravitated back towards to?
I think it's still exciting and popular because at least Berlin was at the forefront of the electronic movement, when we started here in America it wasn't really happening here yet, it was going on in Europe, Germany and our influences were Kraftwerk and Ultravox in England, so it was going on over there but not really here. Since then in the 80's when we started it here, electronic music is still going, the songs today have drum machine sounds even now, so it doesn't sound that different than what was going on then. It's expanded, and there's a lot more to play with but electronic music is still happening and I think that's why 80's music is still so popular.
In the time when Berlin were huge it was also at a time of the big hair metal era and the huge rock scene started to take off, what was it like co existing with your pop rock / new wave music and having a huge number one with 'Take my breath away?'
Well for us it was hard in the beginning, like you said, when we started the popular thing was power pop, the skinny ties like The Knack, The Go-Gos and all the bands that we played with around here that became big later, you know people were looking at us like what the hell is that? It t wasn't easy in the beginning because they didn't get it, they didn't really understand what we were doing, but we kept going and got better and luckily people caught up. Hi. *laughs*
It's been over thirty years since your last visit to Australia back in 1984, what do you remember from that time?
I remember how beautiful your country was then, it was very similar in climate, and I also remember that the men were generally very chauvinistic with the women and yet the women were extremely strong, they were very similar to American women, yet the men were I don't know, just kind of more manly men *laughs* is it still the same way? *laughs*
So other than the shows, what are you hoping to get up to down here?
Seeing it, and interacting with people there, that's what I love the most is seeing the sights and hanging out with the people, because it's not really a vacation, we're working, so I don't get to party… I'd like to go to some clubs and check that after the shows possibly. Mostly what I love is the connection with people in different countries; it's fascinating for me to do that, so that's what I'm most interested in.
I like many watched the VH1 Bands Reunited episode and was stoked when yours worked and even thought you'd still kept the band active for a few years before that, was that a catalyst in having you back to where you are today?
Yes, it was a catalyst in many ways, it was the reunion for me with my partner John Crawford who we'd had a falling out seven years prior to that show, so I didn't think when they came to my door and asked if John would be a part of it I didn't think he would, but he did and that reconnected us which emotionally was fantastic for me which was fantastic, you know we were partners for thirteen years and the stuff we did together has helped to fund my kid's college education, so I just wanted it to be healed, and that show brought that to be. Then professionally because the exposure on VH1 was so big and so constant it really helped with bringing some light back onto Berlin and gave us a lot more opportunity.
One of those being new music from Berlin which is great, with 'Animal' out in 2013, can we expect more in the future?
Yes as a matter of fact it looks like there's going to be a reunion of the original three, John Crawford, David Diamond and I are writing together right now. David Diamond came and guested on some shows last year, and then John came in really kind of out of nowhere and I wasn't expecting this but it's happening and it's now.
I have to ask because it's awesome, how did 'The Metro' come about to be covered by rockers like System of a Down and Alkaline Trio?
I love System of a Down's version, I thought it was great *laughs* *sings a very worthy System type version* *laughs* I loved it. I haven't heard Alkaline Trio's what's it like?
Well it's much less intense than the System version *laughs*
Thanks for telling me about that, I didn't know.
You also got to tour with our Aussie boys, INXS! How was that?
Pretty wonderful, we started out on the same label, they were overseas on Phonogram and while we were recording an album over in England they came over to do their first show in England at the time, and our rep over at Phonogram said 'hey do you want to see this new band, they're called INXS… and they're playing at the marquee' which is a tiny club, so we said yeah, and we went over there, met the guys, then they went on the stage and I turned into a puddle on the floor watching Michael Hutchence on stage, I just lost my mind, I just couldn't believe his stage presence, the music, all of it, it blew me away. While they were they we dated a bit *laughs* that was fun too… so when we lost him that was completely tragic to me, and the world, and tragic because, God, the band is so incredible, it was like shit, what's gonna happen now with them? They were amazing, what are they gonna do? They did a bunch of things and then when they called us to do a tour with them that was great, and now they're done and I'm sad.
The industry is a much different place now than it was back in the 80's, what for you has been the most notable difference in music today?
For me the most notable difference is that the live show is the key, it's the most important thing for the artists now because people don't sell records any more. I mean we do a bit, but now it's so much less than it used to be where before it tilted the other way, and that's good for me because I do it for the live shows, I don't love being in the studio, I don't love recording, I do it because I have to, I love writing songs but the whole studio thing I'm not a tech person at all, I don't care, for me they're just man caves, they're not fun to be in so I get in and get out. So for me it's about the live show and the connection, again, I love the connection with people, I love the party atmosphere of shows, I just love concerts whether going or playing them. So that's the change in my world is that the concert is everything now because it's the one thing that can't be duplicated digitally.
Lastly, let's try and see if we can predict the future, so finish this sentence for me, the one thing Berlin wants to do in 2016 is…
Complete another excellent album and do a Berlin reunion tour.
Totally 80's Australian Tour Dates:
Tuesday 12th July – BRISBANE Eatons Hill
Thursday 14th July – GOLD COAST Jupiters
Friday 15th July – MELBOURNE Palais Theatre
Saturday 16th July – SYDNEY Enmore Theatre
Wednesday 20th July – PERTH Astor Theatre
Thursday 21st July – ADELAIDE The Gov
Friday 22nd July – HOBART Wrest Point
Saturday 23rd July – MELBOURNE The Palms @ Crown
Sunday 24th July – MELBOURNE The Palms @ Crown

Tickets on sale NOW from: http://www.metropolistouring.com/totally80s
Presented by Metropolis Touring
Essential Information
From: Los Angeles, CA, USA
Band Members: Terri Nunn
Website: http://www.berlinpage.com
Latest Release: 'Animal' (Out Now)