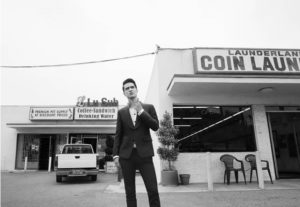 Each subsequent release has seen PANIC! AT THE DISCO push the boundaries and create unique genre bending albums.
Their 5th album, Death Of A Bachelor, is no different. A grandiose and triumphant masterpiece with songs that both allude to the past and create a uniquely contemporary sensibility with a Sinatra-esque, dance-around-your-room-when-noone's-looking feel.
"A mix between Sinatra and Queen." – Rolling Stone
Frontman and brainchild, Brendon Urie, credits fans with the inspiration and sound of Death Of A Bachelor, enthusing "I'm at where I'm at because people are still into what I'm doing. That is the most validating feeling – having people willingly take this journey with me. And I'm writing this music because I want to share it with people who care about it as much as I do."
Watch: Victorious [OFFICIAL VIDEO]
Death Of A Bachelor is another hit record with fans and critics alike, with chart topping singles and attaining gold certification in the USA to join previous successful albums: Too Weird To Live, Too Rare To Die (Gold); Pretty Odd (Gold) and A Fever You Can't Sweat Out (Double Platinum) whilst current singles "Halleujah", "Victorious" and "Don't Threaten Me With A Good Time" amassing tens of millions of streams and YouTube views.
Watch: Don't Threaten Me With A Good Time [OFFICIAL VIDEO]
Bringing their action-packed live shows and armed with a mountain of hits, fans can prepare for spell-binding energy, roof-raising beats and a live show that will leave you breathless. Having sold out their biggest shows the world over – including over 20,000 tickets in London – you won't want to miss PANIC! AT THE DISCO in January 2017.
Watch: Hallelujah [OFFICIAL VIDEO]

PANIC! AT THE DISCO 2017 AUSTRALIAN TOUR DATES
Wednesday 25th January, Metro City, PERTH 18+
Friday 27th January, Hordern Pavilion, SYDNEY Lic/AA
Saturday 28th January, Festival Hall, MELBOURNE Lic/AA
Tuesday 31st January, Eaton's Hill Hotel, BRISBANE Lic/AA
EXCLUSIVE FAN PRE SALE BEGINS: TUESDAY 5th JULY 9AM
Sign up here:  http://found.ee/PATD
TICKETS ON SALE: THURSDAY 7th JULY  9AM
PRESENTED BY SELECT TOURING AND BLUEMURDER
http://www.selecttouring.com.au/