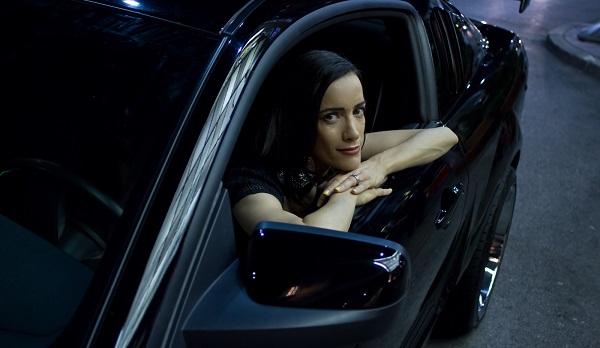 "I always thought it was cool like after the record came out I went into an LA rock club and some of the big hair rocker dudes were like 'hey Martika that 'Toy Soldiers' is pretty cool man' and I was like yeah, the rockers think I'm cool *laughs*."
From Release: Whether it was her synth-dance songs or power ballads, there's no doubting MARTIKA (USA) was a great singer. At TOTALLY 80s she will perform all of her biggest Australian hits including the #1 smash Love… thy Will Be Done (written by Prince no less), the almost #1 Toy Soldiers as well as I Feel The Earth Move and Martika's Kitchen. This will be only the second time MARTIKA has toured Australia, the last time being 1991!
Earlier this year we gave Martika a call to talk about the Totally 80's tour of Australia, the 80's resurgence, existing at the same time as the hair metal genre, Prince, and more…
You were due to come to Australia a few years back which unfortunately didn't happen, but thankfully heading to see us in July, what can we expect to hear on this run of shows?
Well you know I'm gonna be singing my hits and looking as cute as possible, and apparently there's a band that's going to be playing with me that I will be rehearsing with in Australia when I arrive, and there's a lot of really cool other acts on the bill, like Berlin, and Katrina, and Limahl, I'm sure you know all that. So I'm looking forward to just being part of the extravaganza and just hitting the stage and bringing my energy and my voice and my moves, and just be myself really and take it all in and enjoy it.
These kinds of tours are quite popular, have you toured with any of the artists before?
I haven't, no. I haven't been on a bill with any of these artists before, this will be a whole new experience for me, it's gonna be a lot of fun. I haven't actually done one of these 80's tours before, I know they've become popular, so this will be my first one. I did one show in Santiago, Chile that was just a one night of 80's acts, so I got to perform with a few acts from that era, so this will be only my second time doing something like this. First time actually doing a tour so I'm looking forward to travelling around the country.
It's also been around twenty five years since your first visit to Australia back in 1991, what are you hoping to get up to down here other than touring?
Right! I mean I've been told I'm gonna have some time off in travelling between cities because I've only been to Sydney and Melbourne, and so I just want to take it all in really and enjoy the scenery, such a beautiful country, maybe meet some interesting people, check out some restaurants, cafes, I've been told I must have coffee and wine in Australia so I'm really looking forward to just enjoying it as much as possible, and especially having some down time there just to hang out.
The 80's resurgence has been massive over the last few years, what do you think it is about the music that people have never really let go of / gravitated back towards?
Well the thing that I hear a lot from people is that it just felt like a happier time in music, and so you know things have gotten much more serious and darker and brooding and it's not really cool to smile, right? *laughs* In the 80's we were just not afraid to be goofballs I guess is what it comes down to *laughs* plus I think all of the eras when a certain amount of time goes by people have the nostalgia to go back to a time when we were younger and didn't have as much responsibility, so it's just the soundtrack of our youth I guess. Even young people that I talk to who are into 80's music they tell me that it just has a happy uplifting vibe to the music from that era, so they even really enjoy it as well.
As you know I'm a rock music website, but I cover all genres, such as pop rock and hard rock etc, but at the time when you were big, it was also the big hair metal era of bands like Bon Jovi, Poison, Warrant, but there was a nice balance of it all back then…
Yeah, I remember that too, and when I was making my record I think that's why 'Toy Soldiers' had a little more of a rock edge because I was into rock music and grew up listening to a lot of rock, so my big brothers were turning me onto rock and roll from the 70's and so I've always loved it. It was cool because being in LA I'd go and see rock bands on Sunset Strip in Hollywood and then go into the studio and do my electronic pop *laughs* and so I think that's where some of that edge bled in, but I always thought it was cool like after the record came out I went into an LA rock club and some of the big hair rocker dudes were like 'hey Martika that 'Toy Soldiers' is pretty cool man' and I was like yeah, the rockers think I'm cool *laughs*.
Well 'Toy Soldiers' for me was one of the best power pop rock ballads of the 80's, a song that's stood the test of time, what do you think it is about that song specifically that made it through the era to still be known today?
*laughs* Well thank you, I don't know it's hard to say. It was based around an idea of a nursery rhyme, maybe it's just that simplicity of it and then with the edge and the topics being heavier against the poppy drum machine groove and the children, something about that haunted me, I always wanted to put that kids choir in there, just something about the childhood aspect of it, I don't know. I don't know if people remember it or if it just had an impact, I'm just really happy that I was able to work on something that people held on to.
Plus it couldn't have hurt that Eminem picked it up and used a bit of it…
Well hey, when you get a call that says 'Hey, Eminem wants to work with you' but how cool is that, I met so many young people that only know me from Eminem and they freak out like 'oh my god, you sang on an Eminem record' they can't believe it, it's so cool. *laughs*
I have to ask in relation to you working with / using Prince's songs… how did that come about at the time?
Well I was like a huge Prince fan when I was a kid, at one point I was working on some new material for the second album and I was in a meeting with somebody and something came up and they said if you could think of anybody you want to work with who would it be and I said Prince. He said 'ok' and he thought 'Toy Soldiers' was cool which was real cool and then he came up with 'Love Thy Will Be Done' and 'Martika's Kitchen' and a few other things based on some lyrics that I'd written and I showed him. I was just really happy when I heard 'Love Thy Will Be Done' because I felt 'Toy Soldiers' had more of an impact than I would have ever anticipated so I felt a lot of pressure and could I have a record that would hold up to that? So when I heard 'Love Thy Will Be Done' I thought, ok, this will be something special, different, just a regular pop song, where 'Toy Soldiers' had more of a quirky, abstract pop thing about it, so it just felt like a good combo. So when I heard it I was thinking ok, this is the kind of record that I could do with a Prince collaboration.
Plus that ended up being a huge hit down here as well…
I know, right! That's just unbelievable to me. Thank you so much to everyone who embraced the song on that level, I was just amazed to hear it was such a success.
It would be remiss of me to not ask if we can expect new music from you in the future… Are there any plans?
Well you never know, I'm always creating stuff and you never know when I might just pop something out there. It's easy now you just upload it to the internet *laughs*
You of course have been in the industry for years and years, and yes, I was guilty of watching you in 'KIDS Incorporated' back in the day. What is it like essentially being involved in music pretty much your whole life?
I mean for me it was the most normal thing and most natural thing, and now in hindsight I realise it was kind of a different reality to be able to be a professional child in an industry at eleven years old was when I actually got my first professional job in Hollywood, so doing voice over work and then working as a dancer and then getting into KIDS Incorporated was where I could sing and dance and act. So I just never knew a different reality, so for me it's just the most normal thing to be in show business, even though I only have one family member in show business and he didn't really live around me but I guess I still kind of knew that I could make a career doing this music thing, I must have just known that my whole life, my uncle is a drummer. So, the music is my passion and that's all I've really known, so I can't help it. *laughs*
Other side of that is that the industry is a much different place now than it was back in the 80's, what for you has been the most notable difference in music today?
Well because music is supposedly free now really is a massive change because people just expect to not pay for music, so that's what I think is the most massive shift. I mean I know that the real hardcore fans will support and buy music still, but for the most part, the popular society on a whole at least here in The States, I don't know how it is in Australia, but I just think that everyone assumes that it should be free and I think the new generation assumes it, and so that's just completely different from what we all grew up with, right. I mean other than listening to the radio or watching MTV even then you could still record once the recordable cassettes came out, I mean who didn't record off the radio, right? Yeah you might make a mixtape and you might share it with a friend or two but now it's just the fact that it just goes out there on the web and everybody has access to it and it's just nobody really thinks twice about it anymore that it shouldn't be free right? I'm not gonna pay for that… that's just completely different for me, don't you think? It's just that people don't realise the economics of going into the studio and making it and the time involved in doing it, so being able to do it full time is more and more difficult for artists and that's sad because that will probably make it so the quality… and I know so many people that have been in the business for so long who are just stepping out of it completely because they can't make a living, studios close and it's just not the way it was and it's really affected the whole industry. It's really hard to make a living,
Lastly, let's try and see if we can predict the future, so finish this sentence for me, the one thing Martika wants to do in 2016 is…
Perform in Australia, and eat *laughs*. Perform in Australia, that's Martika's main mission this year, I'm doing a tour of your country and I'm gonna bring fire, and energy and focus and just all of my talents. Really there's nothing more important in a Martika life right now than that to me.
Totally 80's Australian Tour Dates:
Tuesday 12th July – BRISBANE Eatons Hill
Thursday 14th July – GOLD COAST Jupiters
Friday 15th July – MELBOURNE Palais Theatre
Saturday 16th July – SYDNEY Enmore Theatre
Wednesday 20th July – PERTH Astor Theatre
Thursday 21st July – ADELAIDE The Gov
Friday 22nd July – HOBART Wrest Point
Saturday 23rd July – MELBOURNE The Palms @ Crown
Sunday 24th July – MELBOURNE The Palms @ Crown
Wednesday 27th July – Revesby Workers – The Whitlam Theatre
Thursday 28th July – Newcastle – Civic Theatre
Friday 29th July – Penrith Panthers – EVAN Theatre
Saturday 30th July – Wollongong – WIN Entertainment Centre
Tickets on sale NOW from: http://www.metropolistouring.com/totally80s
Presented by Metropolis Touring
Essential Information
From: Chicago, IL, USA
Band Members: Martika
Website: http://www.martikamartika.com