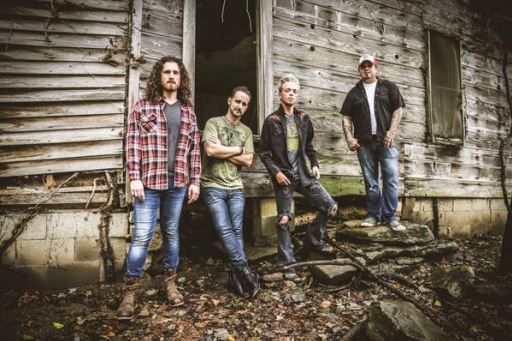 "A lot of times now a singer gets a record deal and they build a band around them but with us all four of us got the record deal, it's always been the four of us or nothing at all, we've always kept that mentality, we're equal members of everything. It works, man, if it ain't broke don't fix it, and that's what we've done from day one."
Black Stone Cherry are making their maiden voyage down under in support of their 5th studio album, entitled 'Kentucky', a tribute to their home state in the good ol' U.S. of A. Picture this – The Allman Brothers and Metallica meeting up, getting drunk, raising some hell and then crashing into a big brawl together, only to have Robert Johnson break it all up – A deliciously fun old-school hard rock romp across Australia.
While in Switzerland we gave Chris from Black Stone Cherry a call to talk about the band's upcoming debut trip to Australia, their latest album 'Kentucky', evolution, how the band works, and much more…
You're heading down to see us for the first time, what are the feelings like to finally be making it to Australia?
Man we are super excited, it's something we've wanted to do for many, many years now and just never could get to tour in a line up or there was just something to always keep us from coming and to finally be able to do that after ten years of touring and with five albums it's amazing to be able to come down there finally and do some shows and we're super excited man, we can't wait to get down there.
When coming to a territory for the first time, how do you go about putting the set together?
It's kinda hard because we don't know what songs were played on radio or whatnot, but like the set we're doing now is a good mix up, it's like three songs off of each album that we put out. We try to do something like that, we try to balance it out from records that have been out for a while and the new record but it's getting really hard now, we play about an hour and a half on a headlining show give or take a few minutes and to put together a set list it can be difficult you know, because you don't know if you need to play more songs off of one album in particular, but we try to do a general balance of the albums.
So other than the shows, is there anything you're looking forward to doing down here?
Man, you know… I am terrified of snakes, that's one thing you won't catch me doing is messing with any snakes, but we're just really excited to be coming. Any chance we get to come to a new territory and play for a new audience it's something we enjoy as much as anything.
You've just come off the carnival of madness tour with a couple of killer bands in Halestorm and Shinedown, how was that run of shows?
Man that run was awesome, we've been friends with Halestorm and Shinedown for many, many years and have opened for them in The States so it was nice for us to be able to bring them over to The UK and kind of introduce them to our fan base as they may have not known about those two bands. It was kind of like a family reunion, the last time we toured together was 2009 I believe, so to get it all back together was pretty awesome.
Let's talk about Kentucky… The album that is… I absolutely love the album, big riffs, catchy tunes, what was the process like putting it together to get this end result?
This record is the first record that we've ever self-produced, it's our fifth album and it's our first time with the band as producers. So it was actually very, very easy, we only spent about twenty days recording the entire thing, the song writing process was very easy, there's only about three songs that were written with any help from outside writers, the rest were either written on the tour bus or rehearsal house which is actually on the cover of the record back home in Kentucky.
OK, so I'm a sucker for a big rock ballad and 'Long Ride' is magnificent, with the majority of the album being a big rock monster, is it a different mindset writing a ballad?
Not really, you just get yourself in a mood for a day, and the songs ind of come out of how you feel each day and in my experience anyway, we wrote that song sitting on a tour bus in Germany and I don't know, I just tuned the guitar to a form on an open G tuning and started messing around with it and before you knew it we had the music and within about twenty minutes we had the lyrics. It's one of those great songs that just came together. That's one of my favourite songs.
Also, thanks for putting the song 'War' back in my head… how did you decide to cover this for the album?
We actually had another original song that we were gonna record and we decided not to do it at the last minute and we were like what would be a cool cover we could do and we were actually about to go and record a Stevie Wonder song and we started going down a list of Motown greatest hits album that was on my phone and when we got to 'War' we said that's the song we have to do. Literally ten minutes later we were up in the live room tracking the song. We had a lot of fun tracking that one.
Ten years since your debut. What did you is the biggest and most notable change in the way black stone cherry work now compared to your beginnings?
Everything is honestly easier now, back in the beginning we were still learning how to do everything, how to record albums and how to put on a live show and how to structure a set list and how to tour, ten years later, a decade in you start getting a better understanding on how everything works and how you work together as people, and write songs together. Everything has gotten a lot smoother, we're a lot older now and I don't know, it's easier and more fun now that it ever has been. That's my thoughts on the whole thing.
What is it about you guys that just works, same four guys for fifteen years, what is it that just works?
Man I think more than anything is that we were friends before we were ever a band you know what I mean? A lot of times now a singer gets a record deal and they build a band around them but with us all four of us got the record deal, it's always been the four of us or nothing at all, we've always kept that mentality, we're equal members of everything. It works, man, if it ain't broke don't fix it, and that's what we've done from day one.
So because it's the first time you're coming here, and the first time we've chatted let's do some quickfire questions…
What was the first album you bought?
First album I ever got was for Christmas one year I got the Jimi Hendrix ultimate experience and the Hootie and The Blowfish 'Cracked Rear View' album, those were the first ever bought for me.
Who is your favourite band to see live?
Hmm… that's a tough one… my favourite band of all time is Lynyrd Skynyrd and I guess for that reason they'd be my favourite band to see live.
What is your guilty music pleasure?
Man I like a like a lot of pop… from Justin Timberlake, Pink, Adele all that stuff, that's one of big fixes.
Lastly, do you like the song 'Cherry Pie' by Warrant?
Yes… I hate to admit it but yes, it's just one of those songs that just gets stuck in your head and dammit now it's gonna be stuck in my head for the rest of the night.
Lastly finish this sentence for me… The one thing Black Stone Cherry wants to do in 2016 is…
Play as many places as possible, we're trying to figure out some other territories to go to this year, we're coming to Australia for the first time and we're wanting to go to South America and a lot of other places. That's it, man, just kind of spread the love all across the world.
Catch Black Stone Cherry on tour with Steel Panther at the following dates:
FRIDAY 17TH JUNE – BIG TOP SYDNEY, NSW
Tickets available from www.oztix.com.au
SATURDAY 18TH JUNE – FESTIVAL HALL MELBOURNE, VIC
Tickets available from www.ticketmaster.com.au
MONDAY 20TH JUNE – EATONS HILL HOTEL BRISBANE, QLD
Tickets available from www.oztix.com.au
WEDNESDAY 22ND JUNE – THEBARTON THEATRE ADELAIDE, SA
Tickets available from www.ticketmaster.com.au
THURSDAY 23RD JUNE – METRO CITY PERTH, WA
Tickets available from www.megatix.com.au
Essential Information
From: Edmonton, Kentucky, USA
Band Members: Chris Robertson – vocals/guitar, Ben Wells – guitar/vocals, Jon Lawhon – bass/vocals, John Fred Young – drums
Website: http://www.blackstonecherry.com
Latest Release: 'Kentucky' (Out Now)