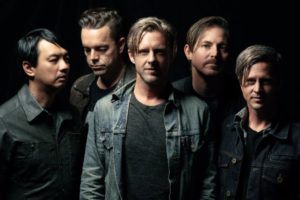 Multi-platinum selling alternative rock band SWITCHFOOT announced their upcoming album, Where The Light Shines Through,  be released on July 8th, 2016 via Spinefarm/Vanguard Records.  Where The Light Shines Through, the band's tenth album and the first since 2014's highly acclaimed Fading West, was produced in collaboration with John Fields, who helmed the multi-platinum breakthrough The Beautiful Letdown. The band have also shared the premiere of their new video for single "Float" via VEVO.  The video was shot March 28, 2016 in Manila and features the band performing in the streets with a local crowd growing larger and larger as the song progresses.
"We have an amazing connection with the Philippines, especially since I'm Filipino" says guitarist and keyboardist Jerome Fontamillas, "so when we decided to film the video for "Float" right outside Manila, it was truly a special moment for me. Not only did we film it a few miles from where I was born, but we were able to immerse ourselves into the Filipino culture and way of life. We learned that no matter what their living conditions are, Filipinos know how to embrace life, make the most of their circumstances, and just have a good time!"
CNN Philippines covered the shoot, which included the band having their lunch break with several kids of Young Focus Philippines, a non-government organization that works with underprivileged people.  PRESS HERE to watch. For more info, visit http://www.youngfocus.org.
Watch the music video for "Float" HERE.
This album marks an important milestone in the band's hugely successful career. SWITCHFOOT's journey began in 1997 with the first of three indie releases before signing with a major label in 2003.  Since then, the San Diego, CA based outfit have sold 5.7 million copies worldwide of their nine studio albums (including 2003's The Beautiful Letdown and 2009's GRAMMY Award-winning, Hello Hurricane).  Where The Light Shines Through marks the band's return to the indie world and showcases that, two decades from their start, they're able to have a career filled with longevity, revitalization and rejuvenation.
Watch the album trailer below.
The album is currently available for
pre-order
with two new songs "Float" and "Live It Well" both of which are offered via instant grat download.
SWITCHFOOT consists of Jon Foreman (vocals, guitar), Tim Foreman (bass), Jerome Fontamillas (keys, guitar), Drew Shirley (guitar) and Chad Butler (drums).
Where The Light Shines Through track listing:
Holy Water
Float
Where The Light Shines Through
I Won't Let You Go
If The House Burns Down Tonight
The Day That I Found God
Shake This Feeling
Bull In A China Shop
Live It Well
Looking For America (featuring Lecrae)
Healer of Souls
Hope Is The Anthem