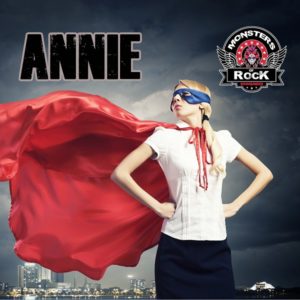 Monsters Of Rock Down Under are set to release their debut single 'Annie' on June 12.
Classic Rock at its finest from truly authentic rock legends! 'Annie' is an anthem illustrating the journey to empowerment of a single mother escaping a dark relationship. Inspired by a strong woman whom decides to 'fly down the highway' to start a safer life.
'Domestic violence is such a hot topic at the moment and it refreshing to see a band with such a high pedigree getting behind this topic and supporting women globally'… says anonymous fan and former victim.
Annie was co written by the band and produced by Grant Walmsley Freebird as part of a forthcoming EP and Album scheduled for later this year.
Monsters of Rock are Australia's Hottest Rock Show!
Oz Rock Royalty from the SCREAMING JETS, ROSE TATTOO and FACEPLANT fronted by the super powered and super stunning Holly Wilson!
Live, the band smashes out their own greatest hits and a mix of the most awesome ROCK CLASSICS of ALL TIME.
Guitar hero Grant Walmsley Freebird, the founder of Oz Rock Legends 'The Screaming Jets' is responsible for writing a fair share of the soundtrack of Australia in the 90's including the smash hit "Better". His 'brother in rock', Craig 'Rosie' Rosevear, one of rock's nicest guys and one of the greatest drummers Australia has ever produced form the nucleus of this supergroup.
The band that actually inspired Guns n Roses; Rose Tattoo, provides Australia's number one rock blues slide guitarist Dai Pritchard, making up a dual guitar attack which has become unsurpassed.
The bass and thunder from down under comes from the Faceplant frontman, the multi talented Paul Coxon whom also belts out power vocals.
The Jewell in the Crown of this OZ Rock Supergroup, and Australia's next first lady of rock, is Holly Wilson. Having shared the stage with Grant for the past few years, her explosive voice and dynamic and captivating presence, combine with the boys as 5 forces to form the awesome Monsters of Rock Down Under.
http://monstersofrock.com.au https://www.facebook.com/monstersofrockdownunder
See Monsters Of Rock perform at:
Lizottes Newcastle on June 12 Tix at www.lizottes.com.au