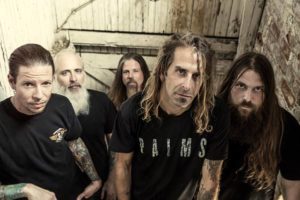 The Legendary heavy metal group and Nuclear Blast artist: Lamb of God will open for Slipknot on their upcoming tour of Australia and New Zealand.
Lamb of God will appear on all dates!
Tickets for the heaviest tour of 2016 go on sale tomorrow morning at 11am Monday 23RD MAY.
SLIPKNOT DATES with guests LAMB OF GOD
VECTOR ARENA AUCKLAND
WEDNESDAY OCTOBER 26
BRISBANE ENTERTAINMENT CENTRE
FRIDAY OCTOBER 28
QUDOS BANK ARENA, SYDNEY
SATURDAY OCTOBER 29
ROD LAVER ARENA, MELBOURNE
MONDAY OCTOBER 31
(Melbourne Cup Eve)
Tickets are on sale Monday 23 MAY at 11am local time from http://lvna.co/LambOfGod16
For all its depth, diversity and cross-pollinated ambition, modern metal needs its figureheads, its heroes and its leaders. LAMB OF GOD have been blazing mercilessly away at the forefront of heavy music for the last 15 years, upholding metal's intrinsic values of honesty, intensity and creativity while also daring to push boundaries and think outside the heavy box. Exploding into view with 2000's seminal debut »New American Gospel«, the Virginian quintet inadvertently kick-started the so-called 'New Wave Of American Metal' at the dawn of the 21st century; and have notched up a succession of huge commercial hit albums and remorselessly toured the globe ever since. The combination of vocalist Randy Blythe's excoriating growls and roars, guitarists Willie Adler and Mark Morton's precision attack and the bowel-shattering rumble of rhythm section John Campbell(bass) and Chris Adler (drums) has both refined and redefined the notion of aggressive metal in the modern era. LAMB OF GOD's most recent album»VII: Sturm und Drang«, released via Nuclear Blast Entertainment charted at # 2 on the ARIA charts being the band's highest EVER Australian Chart debut.