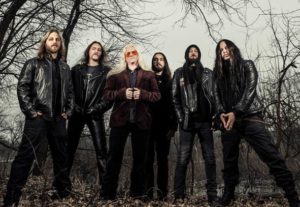 Recognized globally as one of the most prolific drummers in metal, Joey Jordison has unveiled details of his new band, Vimic.   Rounded out by Kalen Chase [Vocals], Jed Simon [Guitar/Vocals], Kyle Konkiel [Bass/Vocals] and Matt Tarach [Keyboards], Vimic has debuted Simple Skeletons, the first single from their debut LP Open Your Omenwhich is set to arrive later this year on Roadrunner Records.  Simple Skeletons is streaming on VIMIC's official YouTube channel and is available to pre-order now.
Jordison spoke with Sirius XM's Liquid Metal host José Mangin about forming Vimic and the significance of the band's forthcoming album. "I decided that I really wanted to start fresh. I did not want to keep rehashing some old ideas, if I'm going to keep going I really want to break loose, wipe the slate clean and start fresh," Jordison stated.  "We went into the studio with (producer) Kato Khandwala and started hashing it out… kind of old school. We went in and said, 'let's just go back to being in the studio, jamming as a band, getting together with our instruments… and just creating from the ground up.  That was one of the coolest things about creating this record.'"
Recorded at Sound Farm Studios in Jamaica, Iowa, Open Your Omen was produced, mixed and mastered by Kato Khandwala, whose production and engineering credits include My Chemical Romance, Blondie, Breaking Benjamin, Paramore, The Pretty Reckless and more.
The career of Joey Jordison is one that, by any measure, stands among the most creative, and impressive in the history of modern American metal.  It is a career that really has been many careers – musician, songwriter, and producer – from small town beginnings to global prominence.  Jordison's journey has included an extraordinary string of hits, 11 platinum and 40 gold records, and a Grammy Award as well as numerous industry accolades for his top tier musicianship and, above all, an immeasurable influence on countless fellow artists and passionate fans around the world.
FOLLOW VIMIC
OFFICIAL WEBSITE | FACEBOOK | TWITTER | INSTAGRAM | YOUTUBE